Sometimes in life, luck, unlike lightening, strikes many times. And every time it strikes, your life experience enriches. I have been fortunate enough to have luck strike about once a decade: In the 60's, a twist of fate brought me to Dr. King's March on Washington; in the 70's, Dick Gregory and I connected on ways to continue King's dream; in the late 80's, I was lucky enough to have a front row seat to the Human Rights Now Tour with Sting, Bruce Springsteen and Peter Gabriel; in the 90's, on a whim, I met Michael Aris, the late husband of Aung Sung Suu Kyi, and later in that decade I had a chance meeting with the imprisoned rightful leader of Burma herself. Recently, thanks to my friends at Causecast, a new start up to help non-profits, I met Shepard Fairey.
If there was one symbol that galvanized Obama's movement of hope and change, it was Shepard's red and blue image. The minute I saw it, I knew Obama would win.
Shepard has been kind enough to use his talents to create a dazzling image of Aung San Suu Kyi. My sense is that it will turn the tide and be the lift this campaign needs. Why? It strikes you immediately, one of the portraits that immediately morphs into an icon because it does what Aung San Suu Kyi does: waits, and in its simplicity, inspires. It is the canvas equivalent of Peter Gabriel's "Biko" or U2's "Sunday Bloody Sunday" or Sting's "They Dance Alone."
When I met Aung San Suu Kyi, in Rangoon in February of 1999, I promised her husband I would do everything possible to get his wife the "freedom to lead." The US Campaign for Burma and Human Rights Action Center (HRAC) joined forces over ten years ago to give this movement more force.
Helping this cause is not easy. Few know where Burma is. Even fewer can pronounce Aung San Suu Kyi's name. But the facts are impressive. She won the Nobel Peace Prize; she won as the candidate of her party, the National League for Democracy, with 82% of the vote. Her protest is non-violent. She could easily leave and live a grand life, traveling the world to receive awards, appropriate doctorates, etc. Instead she stays with her people as a prisoner. But unlike other leaders of her sort, she is not yet the Mandela of Asia. Nor the Gandhi of Burma. And yet, torture and rape remain state policy of the military and there are more villages destroyed in Burma than in Darfur. But no one notices.
We've all been inspired by the recent and courageous movement for democracy inside Iran. We've been horrified by that oppressive government's response. This has been the status quo inside Burma for nearly two decades. What will it take for people to get outraged at this oppression?
I hope Shepard's icon can help inspire people to care. It gave this seventy-one year-old radical a new lease on hope. Below is the image. If it moves you, please visit this site and do something. Time is running out.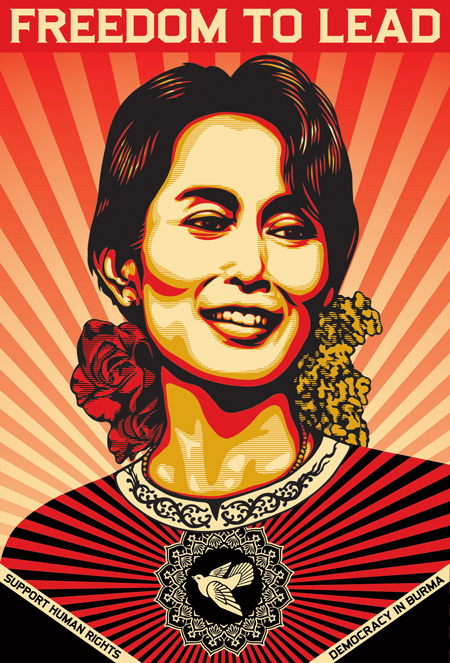 Support HuffPost
The Stakes Have Never Been Higher
Related
Popular in the Community