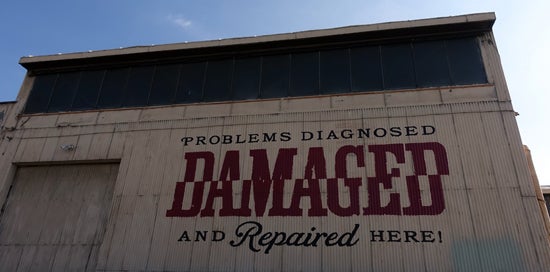 One may associate the word damaged with an irreparable situation. However, Shepard Fairey's choice of names for his new exhibition "Damaged" offers a peripheral view which includes hope…the word that put him on the map during the 2008 U.S. presidential election for then candidate Barack Obama. His Barack Obama Hope poster went viral before viral was a widely used term. Needless to say, the artist's work has continued to be relevant as his empire grows with each new print. His We the People series, which he created to protest Donald Trump, has attracted unwavering attention as well.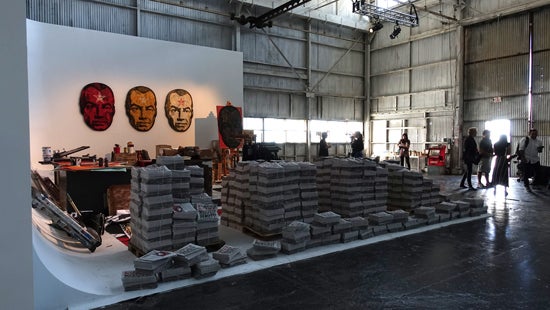 Presented by Detroit-based gallery Library Street Collective in a downtown LA industrial space, "Damaged" features printmaking, sculpture, painting, mixed media, collage, etc. It encompasses a full spectrum of Fairey's work – his largest solo exhibition to date.
At a press preview of his new exhibition yesterday (November 10, 2017), Fairey stood in front of his newsstand installation to greet the crowd. The installation included stacks of newspapers titled The Damaged Times. Additional headlines were lined across the shelves, shouting out to onlookers – "Greed is your Religion," "Watch TV," "Consume," etc.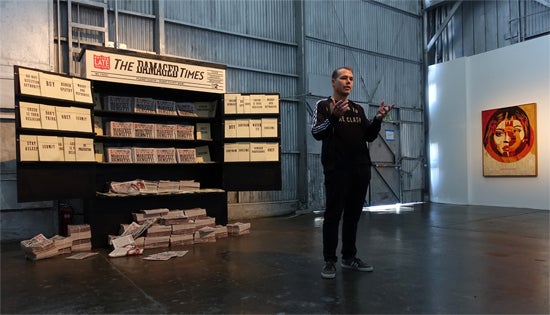 A scaled down art piece unto itself, the newspapers included articles by other activists within the artist's circle of friends such as Henry Rollins, Naomi Klein, David Degraw, etc. These newspapers were also stacked in a news-box by the front door for attendees to take home.
"The state of our society is damaged," said Fairey. "I know it sounds pretty dire, but acknowledging that we need to do better is the first step." He reflected that "Damaged" also happens to be the name of his favorite album by the punk band Black Flag, attributing a positive connotation to the exhibition name.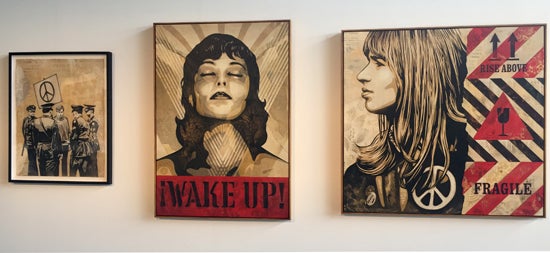 He continued to cite other dark forces impeding on our society...such as the power of corporations over government policy, corrupt Wall street shenanigans, not to mention sexism, racial bias and a misguided approach to the environment…all adding to the chaos of a divisive time in America's history.
Anthony and JJ Curis started Library Street Collective (LSC) six years ago and first met Fairey at Art Basel in 2014. "The gallery is a passion project for us," said Curis, who admitted he did not have a background in art and just fell into it. A real estate developer, he was working on re-doing a space in Detroit which ultimately did not work out, and it inadvertently led him to creating an art space. He chooses to work on beautification projects in Detroit with his wife and the community that means so much to them. The gallery has collaborated with Tony Hawk and artist Ryan McGinness to create a skate park in Detroit. LSC continues to step up to the plate to lend a hand to many artistic endeavors taking place in the city.
This will be the third pop-up exhibition in Los Angeles that LSC has organized. Curis said each pop-up venue was chosen with the specific artist and exhibition in mind - commenting, "Where else can you find a space large enough to put up a billboard?"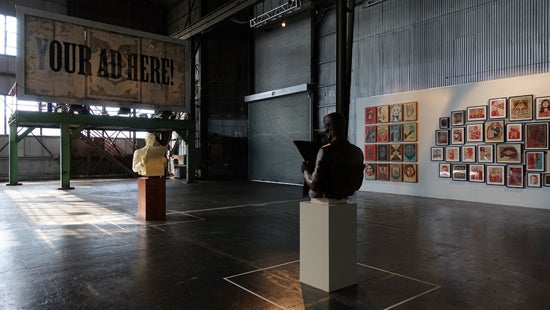 Curis went on to say that although he and his wife love Los Angeles and the city has been good to them, as of this moment there are no plans to open an LA gallery. Pop-up venues will continue to be the way that LSC speaks to its LA audience.
Los Angeles has been a longtime home for Fairey, who has had much success with his LA gallery Subliminal Projects which opened in 2003. He said his work was informed by the culture of LA. He added that the LA art scene has changed dramatically. It is much more inclusive and accepting of all types of art.
"I choose to create media through my art," said the artist. "I critique capitalism – yes, I am selling prints, but yes I am also giving some away." Fairey explained that one of the sculptures was a working press and would be printing letterpress prints as giveaways for the attendees. Some posters on thicker paper will also be printed so stencils can be cut out to empower and encourage other artists.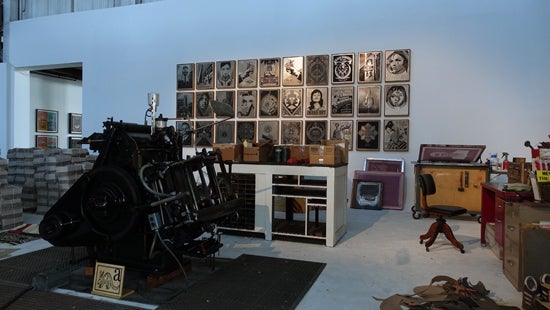 I was able to nab a bit of time alone with the artist and asked, "What came first…art or activism?" Fairey replied, "Art, but activism was always a part of my life." He added, "As a teenager I was inspired by bands with a social message." He cited bands such as the Dead Kennedys, the Clash, and Bob Marley (whose music was infused with activism) as being inspirational to him.
Finally, Fairey said, "This is my therapy. It allows me to both escape and engage."
Catch this fantastic exhibition opening tonight, Saturday, November 11, 2017 from 8-11pm; On view through December 17, 2017 at 1650 Naud Street, Los Angeles, CA 90012. Call for viewing hours after reception at (313) 600-7443; http://www.lscgallery.com/; https://obeygiant.com/;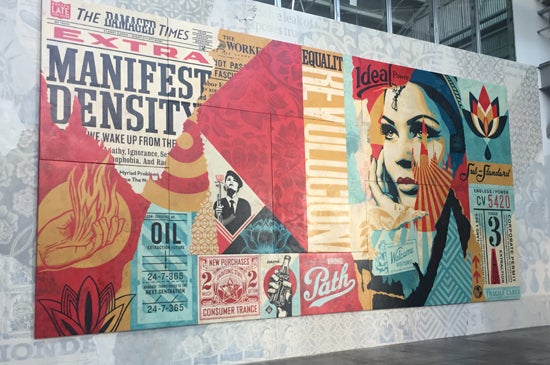 Popular in the Community