Well, color us surprised.
Back when we learned that Shepard Fairey, Robbie Conal, Kenny Scharf and Ron English were going to be guests on an episode of "The Simpsons," we assumed that the show would be a celebration of street art with a wink to "El Barto," who's been spray painting on buildings back when it was just known as good, old-fashioned graffiti.
But "Exit Through The Kwik-E-Mart" was anything but a celebration. While street art fans are treated to a few good one-liners (Robbie Conal pastes one of his iconic "CONTRA Diction" posters and says, "Take that, Ronald Reagan! Even in death, you're not safe from me"), Shepard Fairey's role in the episode is a bit confusing.
Enraged by Homer's abuse (this time, forcing Bart into a rabbit cage and, of course, the requisite neck-choking), Bart stencils his father's face on "Dope" silhouettes all over Springfield. Fairey fans will of course, note that Bart's pieces pay homage to Fairey's "Obey" stencils and posters.
But when Bart and Milhouse run into Shepard Fairey and his cohort in a dark Springfield alleyway, "Simpsons" writers get a few digs in at street art as a whole -- while literally and figuratively having a laugh at Fairey's good name.
First, the street artists are mistaken for bullies, to which Fairey replies, "We're not bullies, we're artists! And so are you. Urban vandalism is now the hottest art form there is."
And when Fairey offers Bart a gallery exhibition for his art, Bart shoots back, "If it's in a gallery, how is it street art?" Fairey barks back, "Bart! Street art is not about questioning authority!"
Fairey's answer clues viewers into the surprise twist at the end of the episode. At the art exhibit, Fairey reveals himself to be an undercover cop working the graffiti beat -- but not before the episode mocks idiot art collectors who would pay millions for "something some amateur put on a wall for nothing." For Fairey, who has benefitted tremendously from the cultural acceptance of street art, that must have been a hard line to read. Brutal satire -- it's what "The Simpsons" does best, right?
For what it's worth, Fairey seemed unironically excited about the episode last night. Before it aired, he tweeted, "I'm on the Simpsons tonight! #soexcited !!! Who else is going to watch it?"

The Simpsons has inspired its own subculture of street art. Check out these graffiti piece from around the world that pay homage to America's yellowest family.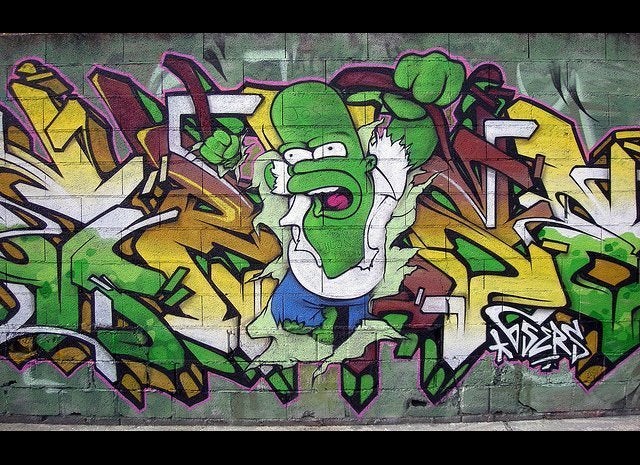 Related
Popular in the Community