And there were shepherds living out in the fields nearby, keeping watch over their flocks at night. An angel of The Lord appeared to them, and the glory of The Lord shone around them, and they were terrified. But the angel said to them, "Do not be afraid. I bring you good news that will cause great joy for all the people. Today in the town of David a Savior has been born to you; he is the Messiah, The Lord. This will be a sign to you: You will find a baby wrapped in cloths and lying in a manger."
Suddenly, a great company of the heavenly host appeared with the angel, praising God and saying: "Glory to God in the highest heaven, and on earth peace to those on whom his favor rests."
When the angels had left them and gone into heaven, the shepherds said to one another, "Let's go to Bethlehem and see this thing that has happened, which The Lord has told us about." (Luke 2:8-15)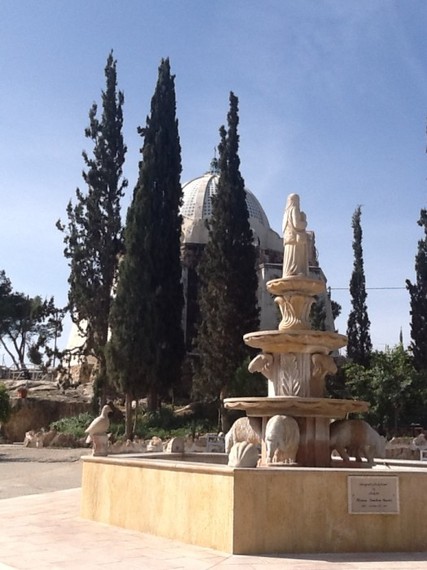 Shepherd's Field -- the Holy Site in Beit Sahour where thousands upon thousands of pilgrims travel every year to spend time in the place where the angels made this proclamation to the local shepherds. It is a field well known in our Christmas stories -- we know the proclamations of peace that the angels sang over the shepherds who first heard the good news that Jesus had come to earth.
One Sunday morning last spring I sat in that field. Sunday -- a day of Sabbath and rest and time set aside to meet in fellowship and community with the body of Christ and with our Creator. It is such an incredible privilege to work and spend time in that holy place. The opportunity to regularly enter into the pilgrim's experience -- to see and breathe and rest in the holiest of places where Jesus lived, breathed, and ministered on this earth. I pray regularly to have the opportunity to see and experience God in this place.
That Sunday morning as I sat in the field I heard a rooster crow and a cat meow. A group of worshipers in the chapel up on the hill sang unto God in a language that I do not understand. Waves of pilgrims came -- at first with a few dozen and then the crowd seemed to abate.
Many times I have trouble making sense of the Holy Land. A land of contradictions. A land with historic value and profound spiritual significance. A land of great beauty, sacred space, and incredible people. Jews. Christians. Muslims. Israelis. Palestinians. Many call the Holy Land home.
It is also a land of great suffering and brokenness. A land of impoverished people seeking freedom and independence. A land of a people who have experienced historic suffering and are seeking peace, security, and safety.
In my devotions that morning I read, "For my thoughts are not your thoughts, neither are your ways my ways," declares The Lord. (Isaiah 55:8)
I rest into these words. May the Lord give us a better understanding of His heart, mind, and thoughts as we enter into the silence and waiting of this advent season. Glory to God... and on earth -- and here in this place -- peace to those on whom his favor rests.
REAL LIFE. REAL NEWS. REAL VOICES.
Help us tell more of the stories that matter from voices that too often remain unheard.