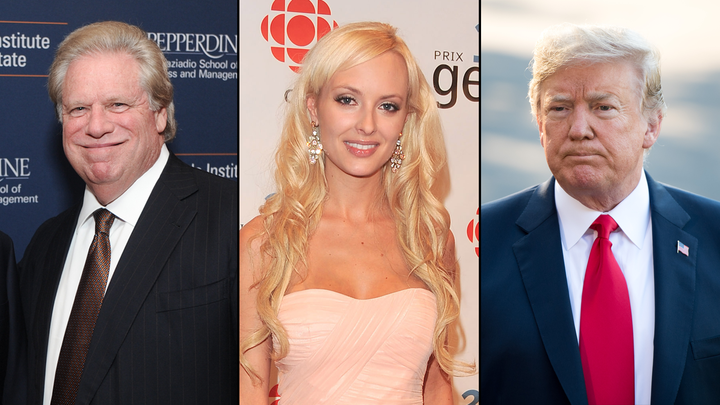 Shera Bechard, the Playboy Playmate who had an affair with a former Republican National Committee deputy finance chairman, Elliott Broidy, and later entered into a hush-money agreement with him, has never met or spoken to President Donald Trump, two sources familiar with the matter tell HuffPost. This news comes after weeks of speculation that Bechard had in fact had an affair with Trump and that Broidy had acted as a middleman to settle Bechard's claim.
The sources, who are unaffiliated with the president, asked not to be named in order to speak frankly about sensitive information. When asked by HuffPost about the speculation that Broidy acted as a conduit, both sources denied the rumors and said there had been no affair — or even any contact — between Bechard and Trump.
The speculation that Broidy, a major GOP donor, might have covered up for Trump's affair escalated in April after Michael Avenatti, the attorney for adult film actress and director Stormy Daniels, suggested in an interview on MSNBC's "Morning Joe" that Bechard could have had the affair with someone else (many assumed he meant Trump) and that Broidy was the fall guy.
"I think at some point we are going to find out if, in fact, the client in connection with the ($1.6 million) settlement was, in fact, Mr. Broidy. I'm going to leave it at that," Avenatti said on the morning show.
In May, New York Magazine (this reporter also writes for New York) added more fuel to the fire when it published two essays by Paul F. Campos, a law professor at the University of Colorado Boulder, who speculated that Trump was the person who had the affair with Bechard and that Broidy had paid the hush money as a favor to Trump.
Campos speculated that two Oval Office meetings Broidy had with Trump in 2017 were Trump's way of repaying the venture capitalist for handling the Bechard matter. The involvement of Michael Cohen, who at the time was Trump's longtime personal lawyer, who represented Broidy in the negotiations with Bechard, is what led some to believe that Bechard had the affair with Trump instead. Cohen's decision to use the same pseudonym (David Dennison) in the 2017 Broidy/Bechard agreement as he did in the 2016 Trump/Daniels agreement, to keep her silent about a Trump affair, added to the speculation.
Broidy, 60, who is married, and Bechard, now 34, had a relationship that lasted at least a year. The affair led to a pregnancy, and Bechard had an abortion. The news of the affair and settlement was first reported by the Wall Street Journal in April. Broidy resigned his post at the RNC after the article was published.
Bechard hired controversial attorney Keith Davidson to represent her in a claim against Broidy. According to a follow-up story in the Wall Street Journal earlier this month, Davidson contacted Cohen to see if he had a business relationship with Broidy. Cohen later contacted Broidy and offered to help him settle with Bechard. Broidy, who usually is represented by the global law firm Latham & Watkins, agreed to allow Cohen to settle the claim with Bechard. The agreement said that Broidy would pay her $1.6 million in eight payments of $200,000 each.
Broidy has stopped payments to Bechard, claiming that the non-disclosure agreement that was part of their agreement had been violated. Broidy's attorneys told the Wall Street Journal that Davidson violated the agreement by telling Avenatti about it.
"Elliott specifically was paying for confidentiality that would shield his family from the embarrassing mistake he made," Chris Clark, a Latham & Watkins partner, told the Wall Street Journal, which first revealed that Broidy was backing out of the agreement. "We can prove there was an intentional breach that renders the contract null and void," Clark added.
Dave Wedge, a spokesman for Davidson, told the Journal that Davidson never breached the agreement. "Any accusation to the contrary is false and defamatory."
The day before the Journal published the news of the affair and settlement, Avenatti tweeted, "In last 18 mos, Mr. Cohen negotiated yet another hush NDA, this time on behalf of a prominent GOP donor who had a relationship with a LA woman, impregnated her and then made sure she had an abortion. The deal provided for multiple payments across many months. #basta"
Bechard's current attorney, Peter Stris, has filed suit against Broidy for breach of contract and named Avenatti in the lawsuit for reasons that are not clear yet, as a judge has ordered that the complaint be kept under seal for 20 days.
Follow Yashar — or send him a tip — on Twitter: @yashar.
CORRECTION: A previous version of this story mischaracterized a quote that Dave Wedge, the spokesman for Davidson, gave to the Wall Street Journal. Wedge told the outlet that Davidson, not Bechard, never breached the agreement.
Support HuffPost
The Stakes Have Never Been Higher
Popular in the Community