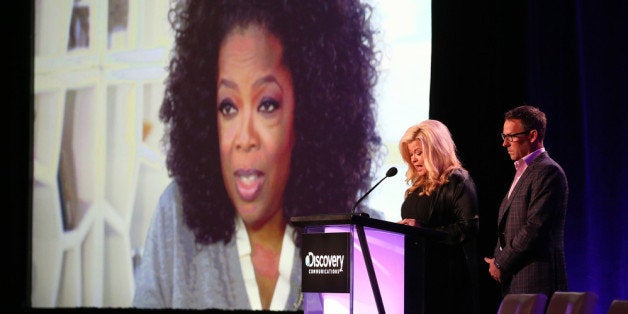 In the bedroom of his home in South Bay, Calif., Erik Logan keeps an email he once received from his boss, Oprah Winfrey. "It's a very personal email and no one knows what's in it," he told The Huffington Post. "She sent it only to me, and I framed it, and it's in my closet where I get dressed. I see it every morning, and I look at it and I go, 'That's why I do this.'"
What he does every day, along with his co-president Sheri Salata, is manage the Oprah Winfrey Network, the television channel that is a pillar of Oprah's entertainment and lifestyle empire. OWN came to life just as "The Oprah Winfrey Show" came to an end in 2011, after a 25-season run and a legacy as the highest-rated talk show in TV history. As Oprah's top deputies, Salata and Logan are a model of partnership in the high-profile -- and frequently high-stress -- effort to extend that legacy, a challenge that puts them at the intersection of show business and the shifting ground of 21st-century digital media.
Chicago has always been the center of the Oprah universe, and fittingly, Logan and Salata are both Midwesterners. He's an Oklahoma-bred former Eagle Scout who got a few semesters of college under his belt before leaving to pursue a career in radio. She's a native Iowan who in 2013 gave the commencement address at her alma mater, the University of Iowa's Tippie College of Business. He strives to get home each evening in time to put his daughters, 9-year-old Jacksyn and 6-year-old Hudsyn, to bed. She's up every morning to walk her English bulldogs, Bella and Kissy.
Logan came into Oprah's world in 2008 and still identifies as a new guy -- an avowed risk-taker who recently took up surfing and decorates his Los Angeles office with posters that read "Move Fast, Break Things," "Fail Forward" and "Smile and do the f'ing work." While proud of his Midwestern roots, he's picked up a few West Coast flourishes (his motto: "Living the dream"). Salata, a 19-year Oprah veteran, peppers her speech with playful phrasings -- she speaks of "having a hoot and a holler" on the air, and how, for years, she "dibble-dabbled" in meditation. As Salata says, she's the first person he calls in the morning and he's the last person she calls at night.

As Logan learned quickly, in the world of Oprah, everything is amplified. "She can [endorse] a Breville panini maker and it can be worldwide news on the CNN crawl before I hang up the phone, whereas other organizations can restructure and you wouldn't even know about it," he said.

Which is to say, when OWN debuted to surprisingly low ratings and widespread media skepticism in 2011, people noticed.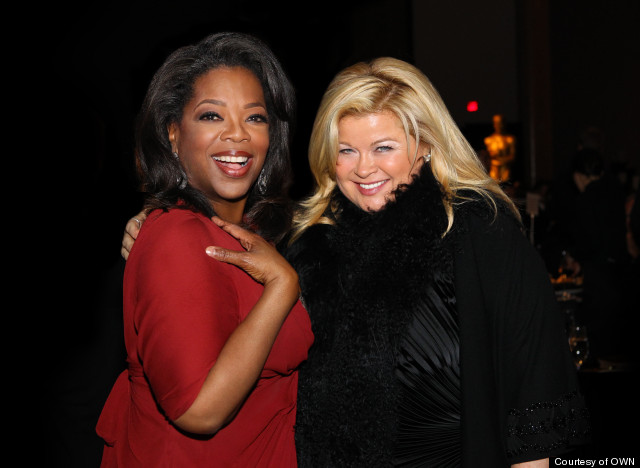 Salata and Oprah at the Jean Hersholt Humanitarian Award ceremony in 2011

Searching For Significance

Long before she made her way into Oprah's orbit, Sheri Salata was like a lot of young people: eager to find her place in the world, and intent on finding that place as soon as possible. Fresh out of Iowa University in the early 1980s, she was filled with energy and ambition -- though looking back, she says her definition of success at the time was misguided.

"I had this false notion that I had to have it all figured out by the time I was 22," she said. That notion didn't leave time for much else besides thinking -- and stressing -- about her career. "I could have had a lot more fun trying different hats on and seeing what fit instead of trying to be significant every three months. I think that was my definition of success at the time -- being significant." She spent more time thinking about what people might say about her accomplishments than what those accomplishments might actually be. She felt a lot of eyes on her, people from all stages of her life, thinking, as she put it, "Wow, we can't wait to see what you do." She desperately wanted to rise to the occasion -- whatever the occasion might be. "I was like, 'Yikes! It had better be something significant. And I'd better hurry up."

Salata's first job, as an assistant to Perry Stebor, an executive at Grey Advertising in Chicago, didn't look all that significant. But it was her entry into the world of television production, and when an opportunity arose at "The Oprah Winfrey Show," Salata jumped. Stebor, perhaps aware that Salata always tended to be thinking three steps ahead, gave her what she says is the best advice she ever received. As she remembers it, he told her: "All you have to do is your job. Don't be worried about what everybody else is doing, don't try to figure out what your next move is. Just do what is right in front of you, do it really well and put your whole heart into it. The promotions, the advancement, the trappings of career life will take care of themselves."
The ensuing years proved him right. Salata rose to the top of the Oprah world, and after years of helping make "The Oprah Winfrey Show" the most successful show on television, she was charged with the task of bringing it to a graceful end. It was a high-pressure, around-the-clock job that, as Salata puts it, "could have turned my hair gray." And long before Oprah bid farewell, plans were being laid for the network that would succeed the show.

"I could see OWN out of my peripheral vision, and I was lighting my candles and hoping for the best," Salata said. And then significance knocked again: Oprah asked Salata to take the helm of the new venture.

"Oprah told me maybe just a few days after the end of 'The Oprah Show,'" she said, laughing. "It can be very challenging to try to learn a completely new business in a week and a half."

Salata and Logan on the set of Oprah's Lifeclass


A Small Piece Of Something Greater

Learning a new business in a week and a half was just the kind of challenge Erik Logan loved. His career in radio had taken him, as a fixer of sorts, to stations in Seattle, Milwaukee, San Francisco, Chicago, New York City and Washington, D.C., culminating in an executive role at XM Satellite Radio. And he had come to Harpo Studios, Oprah's TV production company, in 2008, with zero TV experience.

A few years into his job as an executive vice president with Harpo, Logan took up stand-up board surfing. It wasn't just the rush that appealed to him -- it was the way surfing steadied his mind and took him far away, physically and mentally, from the stress and strain of work.

"It's like the water is my meditation. I'm out there. I'm locked in," Logan told HuffPost. "There's a saying in surfing that you don't 'kind of' surf a wave. You either do or you don't. The only way you do is you have to commit fully to what it is you're doing."
"There are mornings when I'm out and I'm literally surrounded by a pod of dolphins, or I see a great white [shark], or I see seals," Logan added. "It gives you a great perspective that you are just a very small piece of something much greater."

Salata and Logan are both aware that linking up with Oprah has given them a chance to do more -- to be a part of something greater -- than they might otherwise have ever done.

But the Oprah Winfrey Network had a rocky start. During the 2011 launch, a mix of intense scrutiny and weak initial ratings made OWN a media punching bag: Reports surfaced of a "network seemingly in free fall" and "turmoil behind the scenes as several of the shows tanked." One report, noting minuscule ratings, christened 2011 a "year of dashed expectations at OWN," and Logan has described OWN's early days as a "really, really dark period for the network." In interview after interview, Logan and Salata acknowledged challenges and talked about the long haul.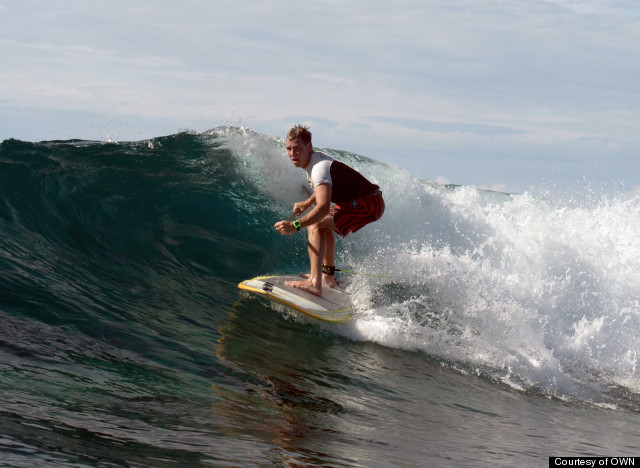 Logan catches a wave

A Mindful Network

As radio and television veterans, both Logan and Salata were accustomed to the pressure of delivering ratings. Those early days at OWN -- which gave Logan the biggest challenge of his career, and Salata a chance to prove she'd been through a crisis or two before -- also thrust them into a less-publicized role as living, breathing models of one of Oprah's mantras, "Live Your Best Life." And it gave them a chance to ask themselves, and each other, exactly what that might mean.

For Salata, the answer, or at least part of it, lay somewhere in Iowa. In 2012, the OWN program "Next Chapter" featured the town of Fairfield, Iowa, which has a sizable community devoted to Transcendental Meditation. To prepare, Salata and several other OWN employees gave the practice a try, which led to Oprah's decision to make meditation a regular offering at the company. Now, at the offices of Harpo Studios in Chicago, a chime sounds five times a day, inviting employees to the building's meditation space -- a former theater where, once upon a time, Oprah execs would decide which movies to promote on her show. Salata makes a point to drop in twice a day. "There is a potential to have a very stressful life in my world," she says. "Twenty minutes twice a day makes a huge difference. It's easy to say you don't have time for it and you let it get away from you, but boy, it sure feels better when I make time for it."

Today, Oprah's lifestyle empire includes O magazine, Oprah Radio, a film production company, the Oprah Book Club, several philanthropic initiatives and a series of meditation challenges in collaboration with Deepak Chopra. And then there's OWN, the TV network that places Oprah-centric programming alongside scripted shows, including Tyler Perry-produced shows like "The Haves and the Have Nots" and "Love Thy Neighbor."

But it's "Super Soul Sunday," with its explorations of questions of spirituality, happiness, awareness and fulfillment, that Salata calls the network's crown jewel. The simple, intimate segments find Oprah in conversation with guests ranging from authors Eckhart Tolle and Brené Brown to Starbucks CEO Howard Schultz and the parents of 6-year-old Benjamin Wheeler, a victim of the Sandy Hook shooting.
Oprah frequently talks about how much "Super Soul Sunday" means to her. In a segment with the poet Mark Nepo, she asked Nepo what is sacred to him. Nepo replied, "Conversations like this are sacred to me," prompting Oprah to say, "They're so sacred to me I created a whole show to have them!"

As Salata puts it, "There is a hunger for meaning. There is a hunger for something that speaks to you directly about yourself, and your life, and for illumination. And for having a moment in the week where you are participating in something that really becomes a little piece of light. An opening. Having your heart opened just a little bit."

Hearing this, it seems Salata may have found the significance she was looking for.

"I sincerely think we have this whole network just to be able to do that show," she said. "And everything else is gravy and wonderful."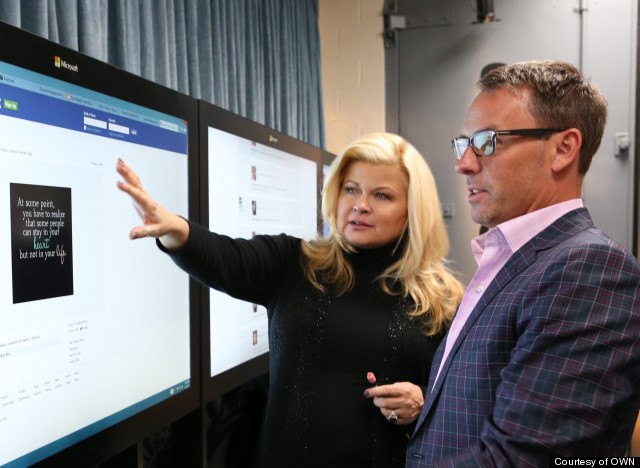 Spreading Oprah's gospel, on Facebook
Calling all HuffPost superfans!
Sign up for membership to become a founding member and help shape HuffPost's next chapter