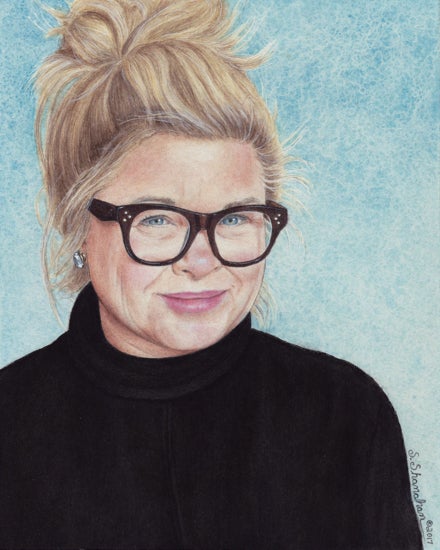 Sheri Salata is best known for her association with The Oprah Winfrey Show. She began working for Oprah in a basement office at Harpo Studios when she was 35. Over the next twenty years she moved up to executive producer and then to president of Harpo. When The Oprah Show stopped production in 2010, Sheri moved to California to become co-president of OWN (Oprah Winfrey Network). In 2016, she stepped down from that position to form media company, Story, with her longtime friend, Nancy Hala.
"A person who inspires is a person who changes the world in a million ways they will never know." – Sheri Salata
The first time I met Sheri Salata would be considered a chance encounter by many, but I know it was a matter of divine timing. The minute I ran into her at a hotel coffee shop, I already felt like we were friends. Sheri is warm, funny and candid. It just so happened that the day before I was a part of an audience that she spoke to about re-visioning your life at any age. She made everyone there feel like she wasn't a fancy CEO but one of us. Leaving soon for a flight, Sheri was dressed in traveling clothes, with her hair thrown on top of her head. When I asked if I could schedule an interview with her for my Porch Light Profiles and take a picture of her to base my watercolor on she responded with an enthusiastic, "Sure!" I love her for that. It confirmed to me that the realness she projected on stage was no act.
When I interviewed Sheri over the phone the following week, I felt the same genuineness. We talked about the twists and turns and all the wrong doors she's walked through to get where she is. "It wasn't like I knew what I was doing. After college I went from a typing pool, to 7- Eleven, to moving into my parent's basement to regroup." If I would have known her then, I would have considered her a party girl but Sheri assured me that wasn't so.
"I was always a seeker but I don't think I felt at home in my own spirit until I begin to understand what I was really looking for in a job was meaning. That's why no matter what I was doing I would try to do my best. I wanted to feel like what I contributed mattered to me in my mission."
Over time, Sheri uncovered that what was important to her is empowerment, illumination, enlightenment and joy. She wanted to use her energy to have an impact and be of service. In moving through different jobs, Sheri learned what was bringing fulfillment to her and what wasn't. Today she defines success as meaning. "As long as I'm in alignment with meaning, everything else falls into place."
In 1995, when Sheri got the call to work at the Oprah Winfrey Show, she plugged right into her new environment. For the next twenty years, she worked 80 to 90 hours a week. She was happy to do it. Working under the tutelage of the of the "Queen of Dreams" served her well. She learned much about doing what she loves, trusting her gut and that anything is possible.
The year Sheri turned 56 she knew it was time for her to step down from OWN. It was the ride of a lifetime but Sheri had some dreams of her own to realize ("If not now when?). Along with her BFF, Nancy Hala, she cofounded, Story, a media company that develops content and tells stories across print, TV, film and digital platforms. Its name reflects Sheri's and Nancy's belief about how life works. "We christened it Story because people's stories are one of the things we love most. The fact that it completely connects to what we believe spiritually just makes it more powerful. The stories that we tell ourselves is what makes our dreams come true."
At this time in her life, Sheri is ready to not work at such a frantic pace. She want to do what she feels prompted to do. No more pushing. She is consciously aware of the difference between "doing" verses "being." After the magnificent experience that she's come off in Oprah Land, she can see that "doing" ruled the day for her time there. Now she's ready to transcend to the place of "being." That means I'm gently letting go of that doer, even though at times I still feel like that doer was super successful," she laughs.
Sheri's decision to leave OWN never brought up a speck of fear in her. After so many years of being filled with all the love, support and grace, leaving felt like a natural evolution. It was a beautiful launching and also a time of completion. "You have to let go of one thing to hold out your hand for another."
The inkling to sing her own song has been with Sheri for as long as she can remember. When she was younger she went from job to job because she didn't have the courage to launch her own company. It just wasn't in her zeitgeist. Over her years under the wing of Oprah and seeing everything she created, taught her that there are no limits. She also got much inspiration from the young entrepreneurs they partnered with at OWN. They were building incredible businesses that were a culmination of their own dreams coming true. "I was like, 'I need to do that before I really don't want to work anymore.'"
When Sheri and Nancy founded Story, they didn't have super complex strategy or a deeply detailed business plan. They just had found themselves at a time in there lives where they wanted to shine their own lights and do what they wanted to do. "We want to be intuitively guided to the things that we want to create and to the people we want to partner with. Story is really for our own delight and joy. Sometimes I feel like I'm just having a conversation with myself about what I most want to hear in midlife."
Sheri believes that making a living following your heart is the best way to make a living. And yes, she believes it's possible for everyone but they have to believe it's possible. "That belief piece is no small thing. All things require your belief to make them happen. Many people are afraid of not getting what they want so they drop the ceiling on their dreams. I've learned to stand in the light of possibility."
The best advice Sheri can share with women is the same advice she gives to herself three or four times a day.
"The story you're telling yourself is the most important story you are going to tell. What you are
telling yourself about what's possible, about your worthiness, about your ability to manifest joy, and about the power of love, is really going to determine everything. It will dictate what you look like, how you feel, and what kind of ride you create for yourself over the next 30, 40, or 50 years. Are you just beginning or are you done? Is the world your oyster or did you already have your spot at the fair?"
Anyone who knows Sheri Salata knows how she is answering those questions. While many women her age are winding their lives down she is amping hers up. Through her podcast, This is Fifty with Sheri and Nancy, and her memoir, A Year at Belle Vie (scheduled to come out May 2018) she will be inspiring her DreamTribe, as she calls it, to go along with her in redefining their lives. To help she'll be bringing in experts for ideas on how to live a more joy-filled existence. Sheri wants to share her revelations about how life works and shine a little light on the world, too. To some it may seem like a tall order but not to Sheri. She is already living it.
*Coming up next: American folk singer/songwriter Lori McKenna, winner of Best Country song at the 2017 Grammy Awards for Humble and Kind performed by Tim McGraw.
Popular in the Community