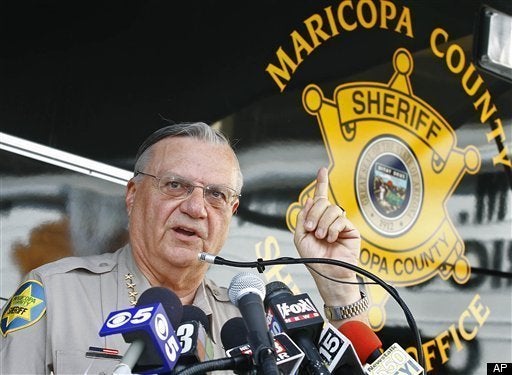 PHOENIX, AZ -- Sheriff Joe Arpaio, famous for his aggressive prosecution of illegal immigrants, has become mired this week in a whirlwind of back-and-forth accusations, investigations, indictments, arrests, and general animosity between warring factions of local politicos in Maricopa County, the fifth largest county in the country. Disputes have become so overheated that Sheriff Arpaio has been barred by one judge from searching the home of another judge.
Arpaio, equally loved and despised by anti-immigration and pro-immigration activists respectively, is known as "America's Toughest Sheriff" for his hard line stance on immigration lawbreakers and his tent-based jails.
This week, Arpaio and County Attorney Andrew Thomas indicted Maricopa County Supervisor Don Stapley for the third time. They also indicted Maricopa County Supervisor Mary Rose Wilcox. Both Stapley (R) and Wilcox (D) have been vocal opponents of Arpaio's hardline immigration enforcement policies. Stapley has been charged with fraud, theft, perjury, forgery, and false swearing. Wilcox has been charged with conflict of interest, perjury, forgery, and false swearing. The merit of the charges, though, are lost on a public who is becoming increasingly cynical of the persecution of political foes in Maricopa County even for a local folk hero like Arpaio.
Last week, Thomas and Arpaio alleged in a RICO (racketeering) suit that Stapley, Wilcox, Judge Gary Donahoe, Judge Barbara Mundell, another judge, attorney Tom Irvine, and attorney Ed Novak have engaged in "a pattern of using their offices to benefit themselves" and have conspired to hinder the investigation and block the prosecution of conflicts of interest related to a new $347 million court tower. Then on Wednesday, after Judge Donahoe refused to recuse himself and just hours before Donahoe was set to hear a case that could have resulted in Thomas being barred from prosecuting county officials (i.e., Stapley and Wilcox), Thomas and Arpaio filed criminal charges against Donahoe for bribery, obstructing a criminal investigation, and hindering prosecution.
Much of the current back-and-forth between warring local political factions in November 2008 when Arpaio and Thomas first indicted Stapley on 188 criminal counts. They alleged that Stapley failed to disclose conflicts of interest and failed to declare income from land on his taxes. The Maricopa County Board of Supervisors (on which Stapley sits) retaliated within weeks by revoking Thomas's ability to represent the Board in civil cases.
After the Board contended that Thomas has a conflict of interest in prosecuting the case because his office provides legal advice to the Board, Thomas referred the case to Yavapai County where months later half the charges were dismissed and the other half thrown out. In September of this year, just days after the first case was dismissed against Stapley, Arpaio's office arrested Stapley on 100 new counts. When Yavapai County refused to take the new case, Thomas tried to appoint a special prosecutor, but the Board, citing inappropriate procurement procedures, refused to ratify that appointment.
Reportedly, the FBI is investigating Arpaio, who works hand-in-hand with Thomas on these corruption cases, for alleged abuses of power. Besides Maricopa County Supervisor Don Stapley, other local political opponents of Arpaio have also found themselves subjects of investigations by Arpaio and Thomas, including Phoenix Mayor Phil Gordon, former Mesa Police Chief George Gascon, former candidate Dan Saban, Arizona Attorney General Terry Goddard, Maricopa County Manager David Smith, Superior Court Presiding Judge Barbara Mundell, ACLU attorney Dan Pochoda, and Phoenix New Times reporter John Dougherty. (Read KPHO Channel 5's detailed account of Arpaio's investigations of political opponents here.)
This week, the Phoenix Business Journal reported that the U.S. Department of Justice (DOJ) had set up an Arpaio-specific hotline for Maricopa County residents to report suspected wrongdoing by MCSO related to "crime sweeps, traffic stops, and immigration raids." In March, the DOJ announced an investigation into alleged patterns of racial discrimination based on national origin. Although the DOJ has not been specific, the consensus among Arpaio's critics is that the investigation relates primarily to racial profiling and illegal searches and seizures. In October, Arpaio complained publicly that DOJ investigators had posed as reporters to gain access to one of his press conferences.
When connecting to the DOJ's Arpaio tip line, it says, "You have reached the U.S. Department of Justice Civil Rights Division, Maricopa County Sheriff's Office investigation line." Then it prompts the listener to choose between English and Spanish. By lunchtime Wednesday, both the English and Spanish mailboxes were full. They have been full throughout the week and are still full as of Saturday morning. The toll free number for the tip line is 877-613-2137.
In the new indictments against Stapley, Arpaio and Thomas allege that Stapley obtained loans through fraudulent means and misappropriated campaign funds from his campaign for President of the National Association of Counties, which is not a public office. According to the indictments, Stapley used campaign funds for personal use, including hair implants, furniture and decor for his home, tickets to a Broadway show, electronics, massages, groceries, a family vacation in Hawaii, a vacation in Orlando, and a ski trip for his son.
Arpaio alleges that Wilcox did not disclose business loans from Chicanos Por La Causa, a nonprofit that assists the disadvantaged, before voting on grants and contracts that the organization benefited from. Arpaio also executed search warrants on the nonprofit organization this week while they were holding a conference in their offices.
Donahoe is also the same judge who suffered the retaliation of an entire cadre of Arpaio's deputies last week after he held Deputy Adam Stoddard in contempt of court for taking an attorney's privileged papers out of her briefcase and make copies of them in the middle of a court session (a stunt so outrageous that it made national headlines). After Stoddard was ordered to serve jail time, Arpaio called Stoddard a "political prisoner" while other deputies disrupted court proceedings by holding a "sick out." The same day, the courthouse was evacuated because of a bomb threat, and deputies held a candlelight vigil outside of the courthouse that evening. Stoddard was released this week pending an appeal.
Though Thomas indicted Judge Donahoe for bribery (among other things), Thomas concedes that no money has changed hands. However, he says Donahoe stood to gain indirectly by the completion of the court tower (where Donahoe's court offices would be located). Thomas contends that Donahoe failed to disclose a conflict of interest, namely that attorneys Tom Irvine and Ed Novak were hired by the county and by the court (which will occupy the tower) to represent both in relation to Thomas's investigation into the new court tower. If the "indirect" benefit definition of bribery is confusing, you are not alone, as this story by Phoenix New Times explains well.
There was also a kerfuffle this week over the disclosure of Judge Donahoe's home address on court documents prepared by MCSO on Wednesday. Critics pointed out that Arpaio and Thomas went after reporters two years ago for publishing public documents that listed Thomas's home address. By the end of the day, the court ordered the removal of Donahoe's home address from the record.
Thomas is also alleging that Superior Court Judge Barbara Mundell has been purposely assigning cases, including the court tower and Stapley cases, to judges who are biased against both him and Arpaio. These accusations, which are part of the racketeering suit filed last week, prompted Mundell to take pre-emptive action Thursday night to obtain a court ordered stay prohibiting Thomas and Arpaio from executing any future search warrant on her private residence and her court chambers. The ruling says that search warrants by MCSO would exceed legal authority and would "represent an arbitrary and capricious abuse of discretion."
On Friday, Arpaio executed a search warrant on local computer firm Calence (owned by Insight) in relation to the racketeering suit and possible additional charges of fraud, computer tampering, and procurement irregularities against the Maricopa County Board of Supervisors, County Manager David Smith, Maricopa County information technology employees, and the Maricopa County budget office.
At a press conference earlier this week, Thomas described the county government as a corrupt "triad" of corrupt judges, attorneys, and county officials. He promised that more criminal charges will be filed against the others named in the racketeering suit. Thomas says his office will prosecute each of these cases and maintains that he has no conflict of interest, regardless of appearances. He bristled Tuesday at questions that he and Arpaio could be acting out of political vendettas, saying, "I think there's a perception that they are trying to generate so they can beat the rap, but it's not going to work. Nobody is above the law in this country."
Popular in the Community