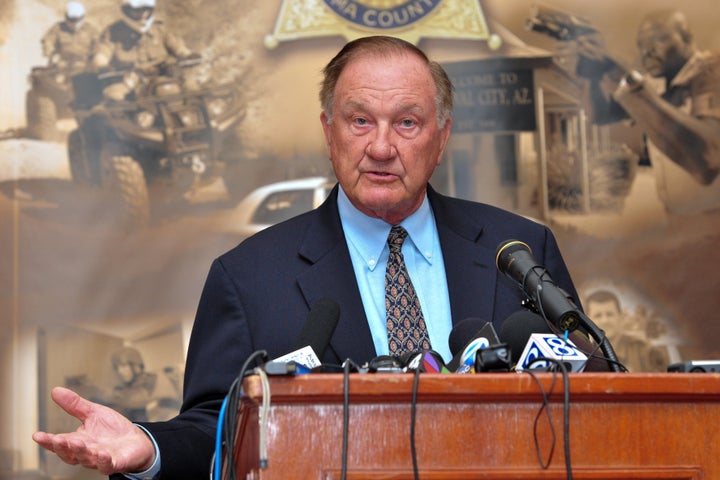 After Rep. Gabrielle Giffords was shot in the head and a number of others were wounded or killed in a shooting in Tucson, Ariz. on Saturday, Pima County Sheriff Clarence Dupnik said that the state has "become the mecca for prejudice and bigotry."
Addressing the tragedy at a news conference, the sheriff said that law enforcement had reason to believe that Giffords was specifically targeted in the attack. He added that evidence suggests one suspect -- 22-year-old Jared Loughner, who is already in custody -- likely did not act alone.
"When you look at unbalanced people, how they respond to the vitriol that comes out of certain mouths about tearing down the government. The anger, the hatred, the bigotry that goes on in this country is getting to be outrageous," said the sheriff. "And unfortunately, Arizona I think has become sort of the capital. We have become the mecca for prejudice and bigotry."
When asked by a reporter if Giffords being shot could have been motivated by "prejudice and bigotry," Dupnik responded, "All I can tell you is that there's reason to believe that this individual may have a mental issue. And I think that people who are unbalanced are especially susceptible to vitriol."
While speaking, the sheriff said that himself it included, "it's not unusual for all public officials to get threats." However, he said the sentiment doesn't come without consequences.
"And that's the sad thing of what's going on in America," he explained. "Pretty soon, we're not going to be able to find reasonable, decent people who are willing to subject themselves to serve in public office."
(Click here for the latest developments unfolding following the incident.)
Support HuffPost
The Stakes Have Never Been Higher
Popular in the Community