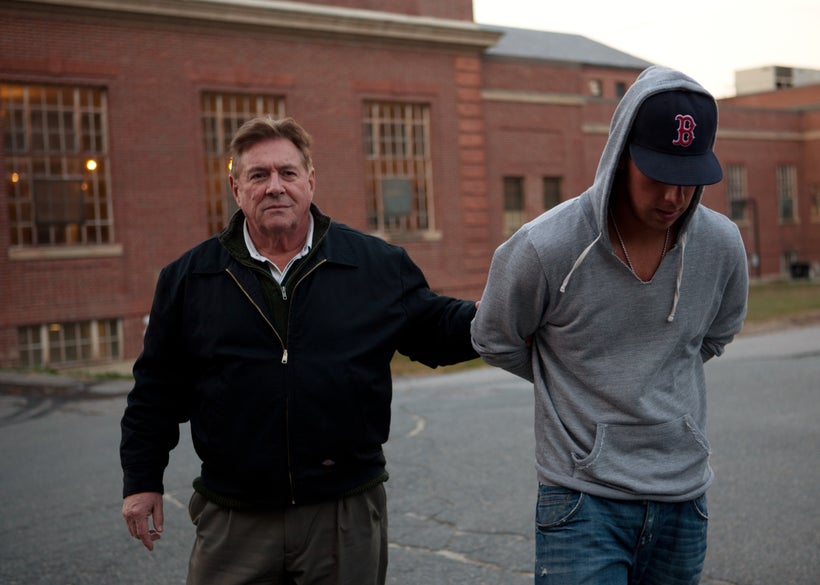 Like a doctor performing microscopic surgery, I pour the heroin into my cooker. I reach for a bottle of water, insert the syringe, and draw up about 20cc. I squirt the water into the cooker and watch it slowly move across the white powder. I flick on my lighter and move it back and forth under the cooker until the heroin bubbles.
I bite off a small piece of cotton, spit it into the middle of the burning liquid, put the plunger end of the syringe between my teeth, and pull the plunger back with my teeth until the cotton goes dry. I have 10cc. My heart races. I throw away the cooker, shake the syringe up and down, and tap the top to remove any air bubbles.
I find a good vein and insert the needle. There's a little sting as I pull back on the plunger, and a dash of red-blue blood snakes up the middle of the clear liquid. A direct hit. Nothing left to do. Everything goes warm. I begin to nod off. I can't feel my face. I can't breathe. I am dying.
That was 30 years ago. First responders saved my life with Narcan. Ten years later, I climbed the Low Memorial Library stairs at Columbia University to accept the prestigious du-Pont-Columbia Award for Excellence in Journalism.
How did I beat a 10-bag-a-day heroin habit?
It wasn't easy. Perhaps the perfect blend of persistence, commitment, education, and exercise. But It all began with Narcan. Everything I have accomplished since my last bag of heroin is a direct result of what took place on the floor of a broken down mill building in Lowell, Massachusetts when emergency responders revived me.
Now, for the sake of full disclosure, Narcan is not the magic bullet to end this the worst health crisis in our nation's history. Rather, it is the genesis to the potentiality of hope for countless mothers and fathers who have squandered their retirement or mortgaged their future on the prayer of saving their child life.
I do not have the answer. However, I do know there is a solution if we mobilize Americans. To accomplish this, we must smash the stigma of opioid addiction. We must never allow elected officials like Sheriff Richard Jones of Butler County, Ohio to prevail.
When Mary Beth Murphy, Program Director at Megan House, a holistic opioid treatment center in Lowell, Massachusetts read about Sheriff Jones' decision, she said, "There should never be an option to deny a life-saving drug to any individual. Would you deny insulin to a diabetic because they ate too much cake?"
Mr. Rodriguez was hanging drywall at a construction site when Sheriff Jones arrested him and deported him along with his wife and two children. They had lived in Southern Ohio for eleven years working, paying taxes, and attending a local Christian Church. Until the settlement, they had been living in poverty in Mexico.
Sheriff Jones forgot that due process and equal protection embodied in our Constitution and Bill of Rights apply to every "person" and are not limited to citizens. The framers of the Bill of Rights understood that when the government has the power to deny rights and due process to one person, everyone's rights are at risk.
But in this case, the reckless logic of one man does not threaten immigrants. Sheriff Jones is playing Russian Roulette with his deputies.
The names above are not just a list of the "good ole' boys" Command Staff at the Butler County Sheriff's Office with one female deputy to avert a discrimination lawsuit. These deputies are decent human beings that Sheriff Richard Jones has placed in extreme peril with his bravado unquenchable addiction for media attention.
Sheriff Jones must recall the night in May, when a police officer in East Liverpool, Ohio, helped with a drug bust and brushed fentanyl powder off his uniform. The officer, Chris Green, started to feel his body shutting down, was given Narcan and taken to the hospital, where he fully recovered.
Sheriff Jones, it is never too late to do the right thing. I appeal to your love for America. Please toss aside the John-Wayne-poppycock. This isn't about being a Democrat or a Republican; it isn't about a wall, or about playing God and deciding if a person dies. It's about respecting human life.
The choice is simple. Three hundred seconds and Narcan carried by all you deputies could make the difference between your deputies taking their son to a ballgame on a warm summer evening, walking their daughter down the aisle of a church or you meeting their extended family at their wake and funeral.
Sheriff Richard Jones, Please Do Your Job.
Follow Ritchie Farrell on Twitter: www.twitter.com/ritchiefarrell1
Need help with substance abuse or mental health issues? In the U.S., call 800-662-HELP (4357) for the SAMHSA National Helpline.
REAL LIFE. REAL NEWS. REAL VOICES.
Help us tell more of the stories that matter from voices that too often remain unheard.
This post was published on the now-closed HuffPost Contributor platform. Contributors control their own work and posted freely to our site. If you need to flag this entry as abusive,
send us an email
.