WASHINGTON -- A federal appeals court threw out a lawsuit on Friday from Arizona Sheriff Joe Arpaio over President Barack Obama's deportation relief, agreeing with a lower court that the hardline sheriff had no standing in this case to sue over undocumented immigrant policy.
The three judges on the U.S. Court of Appeals for the D.C. Circuit panel -- two appointed by Obama and one by then-President George W. Bush -- unanimously upheld a lower court's decision to dismiss the case.
The point of the proceeding was simply to establish whether the Maricopa County sheriff could even bring his lawsuit, not to decide the issues he raised. Arpaio argued that Obama's policies suspending deportation for certain undocumented immigrants cause him and his county "harm" by driving up the number of unauthorized immigrants and thereby increasing crime, leading to more people in the local jail. He and his lawyer, Larry Klayman, claimed that this had already happened after the president began the 2012 Deferred Action for Childhood Arrivals (DACA) program, which Arpaio was seeking to stop along with a newer deportation reprieve program for parents.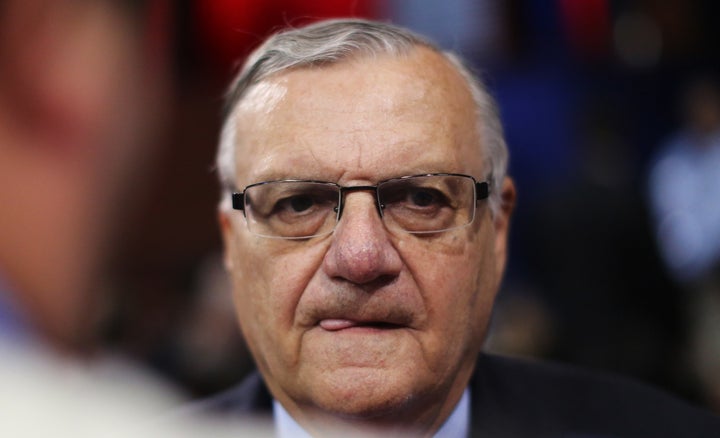 The judges weren't convinced. Writing for the court, Judge Nina Pillard held that Arpaio had "failed to allege an injury that is both fairly traceable to the deferred action policies and redressable by enjoining them." She called his claim that deferred deportations would lead to more crime in Maricopa County "unduly speculative."
"Projected increases he anticipates in the county's policing burden and jail population rest on chains of supposition and contradict acknowledged realities," Pillard wrote.
Arpaio's lawsuit targeted the older DACA program and a new corresponding policy for parents, Deferred Action for Parents of Americans and Lawful Permanent Residents (DAPA). The latter, along with an expansion of DACA, is currently blocked from going into effect under a different lawsuit brought by 26 states, which contends that Obama's actions were unconstitutional.
The states' case, known as Texas v. U.S., has proved more successful than Arpaio's so far. A federal judge issued a preliminary injunction in February against DAPA and the expansion of DACA, and the U.S. Court of Appeals for the 5th Circuit is currently considering whether to allow that injunction to stand.
Although the D.C. Circuit decision was unanimous against Arpaio, the one judge who had been appointed by Bush wrote separately to observe that the ruling should not be interpreted as an endorsement of the constitutionality of Obama's actions.
"The Sheriff's claims on the merits may well raise a constitutionally cogent point," Judge Janice Rogers Brown wrote, according to Politico. She said the DACA and DAPA programs might "arguably cross[] the line between implementing the law and making it."
Immigrant rights groups said the D.C. Circuit ruling was another step toward showing that the president's programs are constitutional and would benefit millions of people. Marielena Hincapié, executive director of the National Immigration Law Center, called the lawsuit "a baseless attack, on behalf of the country's most anti-immigrant sheriff."
"Let this be another reminder to Sheriff Arpaio and his allies that they are standing on the wrong side of the law, public opinion, and history," Hincapié said in a statement. "This is just the latest decision following a long line of legal precedent and showing that the decisions in the Texas v. U.S. case have so far been outliers."
Cristian Farias contributed reporting.
Popular in the Community