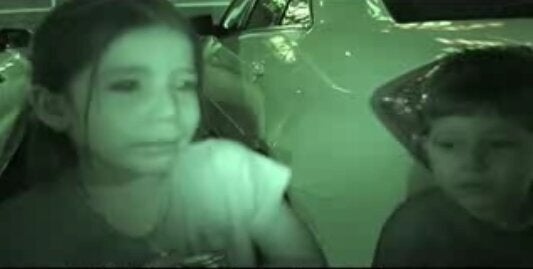 Two young children were separated from their mother, Ciria Lopez, in Maricopa County, Arizona earlier this week when she was arrested for an unpaid traffic ticket. The arrest was the result of an immigrant suppression sweep by Sheriff Joe Arpaio, who gained infamy for reinstating chain gang labor and dressing predominately Latino inmates at his county jail in pink underwear, pink handcuffs, and striped jumpsuits.
Salvador Reza, a local community organizer, captured video of the arrest and the reaction of Mrs. Lopez's frightened children. The video below was featured this morning on The Board, a blog shared by editorial writers at The New York Times. Mrs. Lopez's children are staying with her niece while Mrs. Lopez remains in custody.
Ciria Lopez appeared in court today, facing fines for an unpaid traffic ticket from 2006. Judge James Mapp cleared Mrs. Lopez of all municipal charged after the ticket was paid. Sheriff Arpaio continues to hold Mrs. Lopez under his 287(g) agreement with Immigration and Customs Enforcement (ICE).
Despite criticism from Amnesty International, the American Civil Liberties Union, the Arizona Ecumenical Council, and the Anti-Defamation League, The Fox Reality Channel offered Sheriff Arpaio a reality TV show entitled, "Smile, You're Under Arrest." The show centers around elaborate sting operations run by Sheriff Arpaio to capture people wanted on outstanding warrants.
According to the East Valley Tribune, the focus on immigration enforcement has negatively affected other areas of law enforcement in Maricopa County. Response time to 911 calls has increased, arrest rates have dropped, and overtime costs related to immigration enforcement ran up a $1.3 million deficit over the final three months of 2008.
Calling all HuffPost superfans!
Sign up for membership to become a founding member and help shape HuffPost's next chapter