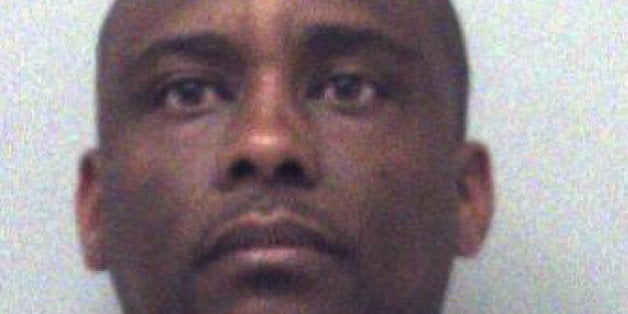 A Georgia sheriff has been charged in connection with the questionable shooting of a real estate agent.
According to the Gwinnett County District Attorney's Office, Clayton County Sheriff Victor Hill faces a misdemeanor count of reckless conduct in the shooting of Gwenevere McCord. The 43-year-old real estate agent was shot in the abdomen Sunday, while inside a model home in Gwinnett County.
The arrest warrant alleges Hill exhibited a conscious disregard for public safety and grossly deviated from "the standard of care a reasonable person would exhibit" when he shot McCord.
Hill, according to Gwinnett County authorities, said in a 911 call he was "practicing police tactics" at the time of the shooting. However, he later "refused to speak with investigators" about the shooting, authorities said.
Gwinnett County District Attorney Danny Porter did not return calls for comment from The Huffington Post on Thursday. In a Wednesday interview with The Los Angeles Times, Porter said he questions "the reasonableness of practicing police tactics in a business open to the public."
In a Tuesday statement, Hill called McCord's shooting a "tragic and heartbreaking accident." He also referred to McCord as someone who is "dear" to him.
"I have been entirely focused on Gwenevere and her family," Hill said. "I will continue to pray unceasingly for her recovery."
McCord, who is hospitalized in critical condition, has been unable to speak with investigators about the shooting.
"They're close friends," McCord said. "All this speculation right now, it doesn't make any sense."
Hill, who was released from the Gwinnett County Adult Detention Center Wednesday night on a $2,950 bond, is accustomed to the media spotlight.
On his first day in office in 2005, Hill, under the watchful eye of a team of sharpshooters he strategically positioned on nearby rooftops, fired more than two dozen employees. The incident prompted Atlanta-Journal Constitution columnist Cynthia Tucker to call Hill a "tyrant in uniform," according to The Atlanta Magazine.
The magazine also reported Hill is a huge fan of the Batman, and has a 3-foot-high replica of the fictional crime fighter in his office.
A lawsuit was filed after the mass firing, and the former employees were eventually re-instated and awarded an undisclosed sum of money.
Hill was later under a felony indictment that accused him of running the sheriff's office like a criminal enterprise, WGCL-TV reported. He was eventually acquitted of the charges.
Despite Hill's new legal issues, he remains in command of the Clayton County Sheriff's Office, according to a Thursday statement he posted to the department's Facebook page.
"While focused on the recovery and healing of Gwenevere, I will simultaneously continue with my duties and responsibilities as the Sheriff of Clayton County," the statement reads.
McCord's shooting will likely renew questions about Hill's competency as sheriff, something that was explored in a 2006 story the Atlanta Magazine wrote, which referenced his "unorthodox" methods.
Hill, the publication said, has "his detractors wondering whether Hill might be the best argument yet that the office of sheriff has become, at best, an embarrassing anachronism and, at worst, a dangerous liability."
REAL LIFE. REAL NEWS. REAL VOICES.
Help us tell more of the stories that matter from voices that too often remain unheard.
BEFORE YOU GO