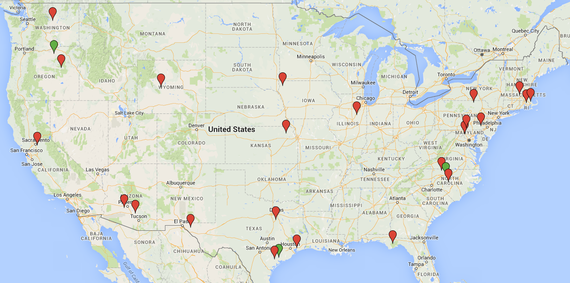 This Friday, sheriffs from around the country will converge in McAllen, Texas, for a two-day border event led by the largest anti-immigrant hate group in the United States, the Federation for American Immigration Reform (FAIR). These sheriffs will be neglecting their public duties to collude with an organization that works to advance deeply racist immigration enforcement measures and has roots in white nationalism.
While taxpayers pay these sheriffs' salaries, they will be spending an entire workday--and perhaps longer--collaborating with a hate group instead of doing their jobs. Worse, at least one sheriff, Terry Johnson of North Carolina, is using additional public funds to cover his expenses as well as those of his staff.

This anti-immigrant summit comes at a time when racial profiling and unfair enforcement practices are disproportionately affecting communities of color and immigrant communities. In recent months, we have seen police officers exposed for their affiliations with extremist hate groups. Even stricter scrutiny must be applied to public officials who use work hours or public funds to collaborate with a known hate group.
Unfortunately, this border event is hardly unique. It is part and parcel of a much broader trend of sheriffs working closely with FAIR to advance a decidedly anti-immigrant agenda. In fact, FAIR has already insinuated itself into the good graces of a national network of sheriffs.

Sheriffs are useful to FAIR and the broader anti-immigrant movement as respected supporters of their extreme policy positions who can influence state and local legislatures or even directly adopt anti-immigrant policies in their policing. These sheriffs speak at FAIR events, adopt FAIR talking points, and work with FAIR on state and local policies. In past years, sheriffs have come from across the country to participate in this border summit. Some of the same officials are likely to be there this year.
For instance, Sheriff Chuck Jenkins of Frederick County, Maryland, has a history of collaborating with FAIR, including attending last year's event. It's no coincidence that he has also become well known as an advocate for harsh immigration enforcement measures. Frederick County is the only county in Maryland that maintains a 287(g) agreement with Immigration and Customs Enforcement (ICE), a controversial program that allows local law enforcement agents to carry out federal immigration policy.

Sheriff Tom Hodgson of Bristol County, Massachusetts, has similarly worked with FAIR. He has publicly disparaged undocumented immigrants, accusing them of "creating public health hazards" and "public safety concerns."
The stakes are high, as the most notorious anti-immigrant sheriff, Joe Arpaio of Maricopa County, Arizona, has demonstrated. His anti-immigrant policing tactics, including racial profiling, have led to flagrant violations of constitutional rights and countless family separations and are projected to cost taxpayers $50 million in fees.
So what exactly will sheriffs be doing at this border summit?

FAIR advertises the summit as an education and training event featuring presentations on terrorism, drug cartels, so-called sanctuary cities, and more, no doubt designed to stoke fear about immigrants. That's bad enough, but the event will also feature a border tour and social event with the founders of the Texas Border Volunteers, a border vigilante group that has been accused of violating the law.

An offshoot of the notorious Minutemen movement, Texas Border Volunteers has unsuccessfully tried to distance itself from the extremist label. The group is known to unlawfully detain people, effectively operating as a militia. Sheriffs attending the Summit will have a BBQ on the ranch of Linda Vickers, a founder of the group who has bragged about sending her dogs out to chase immigrants.

FAIR is making possible the collaboration between local sheriffs and the Texas Border Volunteers, which can be read as a disturbing endorsement of their extra-judicial practices. That should concern each and every resident of the counties policed by sheriffs who work with FAIR.
Collusion between elected officials, especially those tasked with protecting public safety, and a recognized hate group violates values that Americans claim to hold dear: fairness, equality, and the right to be judged by our actions--not our race, religion, national origin, or immigration status.
Residents must call on their local sheriffs to cut ties with FAIR and disavow all extremist anti-immigrant policies and practices. It's the only way to begin making our communities truly safe for all.
Popular in the Community