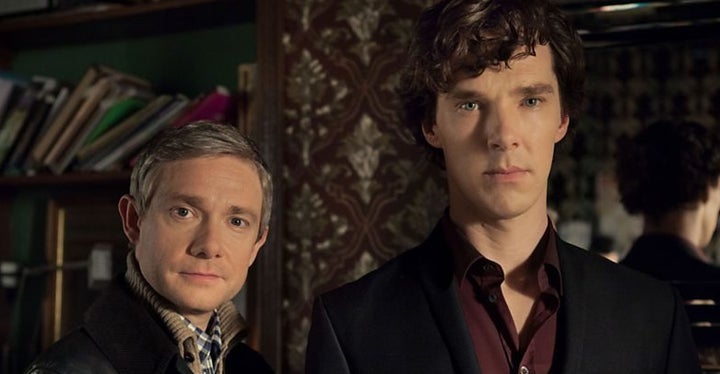 "Sherlock" will go on as long as Benedict Cumberbatch wants to continue starring in it -- and not a moment longer.
Steven Moffat, one of the co-creators of the hit BBC One show, recently spoke with Variety and mostly talked about "Doctor Who," his other show. In the course of the interview, he attributed the amazing longevity of "Doctor Who" to its unusual policy of having different actors play the lead character in different seasons -- in contrast to shows that are reliant on a few actors for their success.
"For example, once Benedict Cumberbatch gives up 'Sherlock,' what are we going to do? We are going to stop, that's what we are going to do," Moffat said.
Cumberbatch's performance in "Sherlock" is singular; he's a big part of what makes it feel more vibrant and intelligent than, say, Robert Downey Jr's "Sherlock Holmes" movies or "Elementary" on CBS. So as sad as it is to imagine "Sherlock" ending, it's probably better than imagining "Sherlock" continuing on without Cumberbatch.
Luckily for fans, Cumberbatch has said that he's committed to the show for the foreseeable future.
"I'm fine with it. I'm going to keep going with it," the actor said at a panel in January 2014. "It's a schedule-providing thing ... I love it. I find it very invigorating." 
On the other hand, Cumberbatch's packed schedule has already started to affect the show. The gaps between seasons get longer and longer. Season 3 aired at the beginning of January 2014, two years after season 2, but season 4 won't even start filming until spring 2016. There is, to be fair, a Christmas special set in Victorian England coming out on New Years Day, which will even play in some movie theaters. But one episode just isn't enough. 
PHOTO GALLERY
The Best Sherlock Holmes Of All Time
Calling all HuffPost superfans!
Sign up for membership to become a founding member and help shape HuffPost's next chapter