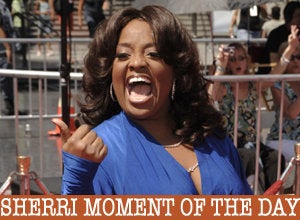 "Before I converted to Christianity, I was a Jehovah's Witness. In 1993, my mother was dying from diabetic complications. My sister was heavy into drugs, and we would have to go and get her from crack houses. I was in a very physically abusive relationship. I was sleeping with a lot of guys and had more abortions than I would like to count. I had very low self-esteem and just wanted to die. I felt if someone killed me, it wouldn't even make a difference. But God showed me that it would make a difference."
Sherri also told the magazine that some days, she wishes her "View" boss, Barbara Walters, would be "saved":
"Oh sometimes I say, 'Lord, Juanita Bynum or Joyce Myers would be so good at this table. They could lay hands on Barbara Walters and get her saved. I ask the Lord, 'Why am I here?' I have to trust God when He says, 'Because I said so.'"