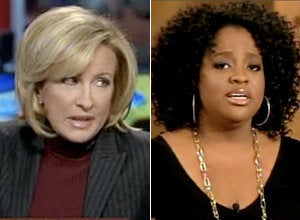 It's a sex toy morning TV showdown!
"The View" cohost Sherri Shepherd wants to buy "Morning Joe" cohost Mika Brzezinski a vibrator.
It all started Monday when Barbara Walters cracked a vibrator joke on "The View," as seen here. Then, Tuesday morning, Willie Geist featured the clip during "News You Can't Use" on "Morning Joe," during which Mika pulled pained faces while saying, "that's just not right." The Mika clip can be seen below.
Well, Walters was watching.
On Tuesday's "View," Walters recounted watching in her bathroom Tuesday morning as "Mika has a face like she has just eaten the most sour apple and she is plainly disgusted with me..."
Sherri's response? "Maybe we should send Mika a vibrator!"
Elisabeth Hasselbeck agreed. "To Mika, love Barbara. Just a little something..."
The sex toy talk wrapped up with Walters talking directly to the camera. "Mika, I still think you're wonderful, even if I disgust you."

WATCH "THE VIEW" FROM TUESDAY:
THE 'MORNING JOE' CLIP:
Related
Popular in the Community