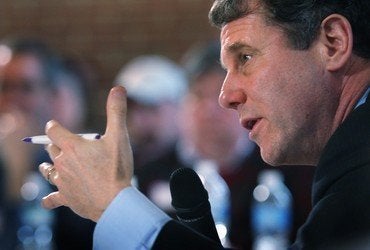 One of the leading progressive Democrats in the Senate warned on Thursday that Congress threatens to become even more politically timid if it fails to pass a comprehensive legislative response to the recent Supreme Court ruling on campaign finance law.
"It's going to make it difficult for people to show the courage they need to show here," Sen. Sherrod Brown (D-Ohio) said of the Court's recent ruling that allowed corporations to spend unlimited funds in political campaigns. "I mean, courage is in pretty short supply anyway in Congress and it will clearly be harder."
"If somebody here's got guts and stands up and takes on an interest group that's powerful here, win or lose in terms of the issue... the companies are going to come in and take him out or come close to taking him out," Brown added, in an interview with the Huffington Post. "You can bet that fewer people are going to stand up and show any courage."
Such concerns, as well as legislative remedies, have been abundant in the aftermath of the Court's ruling in the Citizens United case. To date, at least seven bills have been introduced to reform the campaign finance system and stem the impending flood of corporate influence.
On Thursday, Brown added his own legislation, which has three distinct components. As he noted:
"It requires corporate shareholders to vote for election spending. Everything from its affect on pension funds to hiring practices and all the things that companies do, they should have a say and obviously expenditure of money for something like politics."
"Secondly, it promotes transparency by requiring the corporate CEO to disclose sponsorship of the political ads just like a politician." (This, Brown says, would apply even if corporations form front groups)
"Last, it would close the loophole that would permit foreign corporations, including those owned by foreign governments, to influence U.S. elections."
Missing in the legislative language is another reform that other senators have been discussing: a prohibition on companies which get a certain amount of contracts from the government from using money to influence political campaigns.
"We thought about that," Brown said. "I think that may be an issue still... We want to get something in and talked about and organized around. As it goes through the process we're fine with making it stronger, obviously."
On Wednesday, the Huffington Post reported that House Democratic leadership was forming a task force designed to craft a strong legislative response to the Citizens United ruling. That effort is being spearheaded by Rep. Chris Van Hollen (D-Md.) and comes as more than half a dozen lawmakers in that chamber have already introduced campaign finance legislation.
Over in the Senate things are progressing as well. Sen Chuck Schumer (D-N.Y.) is working with colleagues to find a legislative vehicle that will get the 60 votes needed to break a Republican filibuster. Asked if he envisions that his efforts could merge with Schumer's, Brown replied:
"I don't care if it's my bill [that wins out], I just care that we deal with this. Schumer's chairman of the Rules Committee, so there's likelihood that it's his bill. I just think we need multiple approaches to get grass-roots support for this."
Calling all HuffPost superfans!
Sign up for membership to become a founding member and help shape HuffPost's next chapter