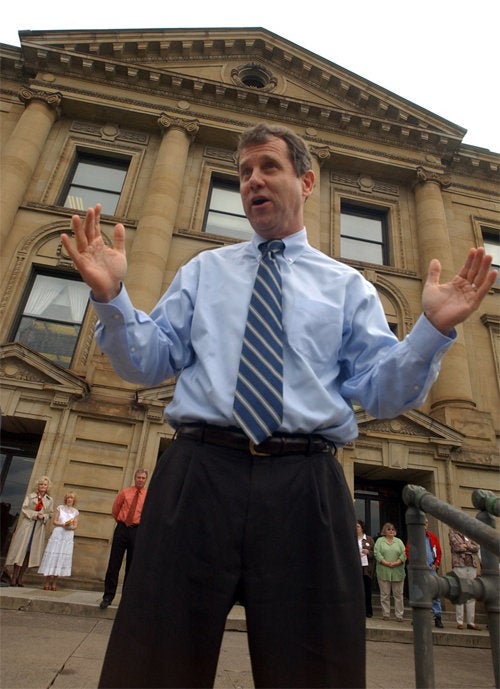 In another sign that the Democratic Party is unifying behind Barack Obama, Sen. Sherrod Brown, who had stayed neutral throughout the primary process, will today announce his support for the Illinois Democrat, The Huffington Post has learned.
The move could help Obama recruit the working class white votes that he had trouble connecting to during the Ohio primary. Brown, an Ohio Democrat, is a populist progressive leader on labor issues in the Senate. His nod comes in the midst of Obama sweeping up the support of a slew of previously uncommitted or formerly Clinton-backing congressional leaders. Earlier on Thursday, members of the New York delegation which had been some of the most committed supporters of Hillary Clinton, switched their support to Obama - a symbolic signal of the closing of ranks behind the New York Democrat.
Brown is not considered a top-list vice presidential option at this point in time, despite having tremendous appeal in a key swing state. If Obama were to target Ohio, the consensus seems that he would choose the state's governor, Ted Strickland, as a running mate.
The fact that Brown waited so long to announce his endorsement is a reflection, in a way, of just how uniquely heated and contested the Democratic primary was. While Obama has long appeared to have a mathematically solid lock on the nomination, Clinton continued to real in support from states and constituencies with political sway. Brown, it seems, was caught in the middle of this pull - understanding that the New York Democrat had won his state but cognizant that she also was unlikely to end up the nominee.
A fellow freshmen member of the Senate, Jim Webb, had not officially endorsed a candidate either. The Virginia Democrat, however, is scheduled to appear alongside the now-presumptive Democratic nominee on Thursday evening, another sign that the party is coalescing around its new standard-bearer.
REAL LIFE. REAL NEWS. REAL VOICES.
Help us tell more of the stories that matter from voices that too often remain unheard.