Progressive Sen. Sherrod Brown (D-Ohio) and the more conservative Sen. Joe Manchin (D-W.Va.) switched roles on Monday, with Brown voting to confirm Wilbur Ross as commerce secretary and Manchin opposing the 79-year-old billionaire.
The senators represent opposite sides of the Ohio-West Virginia border. Both states went to Donald Trump in the 2016 election, and both have significant manufacturing and mining industries. But their representatives came to starkly different conclusions on Ross.
Brown put his decision in the context of the American steel industry. The commerce secretary has the ability to pressure China when it comes to steel prices, and Brown suggested Ross may be willing to do that.
"I look forward to working with him in his new role as commerce secretary to address the urgent need to reduce China's steel overcapacity, which has devastated the U.S. steel industry and its workers," Brown said.
He added that Ross will be implementing Trump's trade agenda ― something Brown supports but that most free-market Republicans oppose.
"Mr. Ross will play a key role in the overhaul of U.S. trade policy President Trump has promised, and I will press him and the Administration to strengthen enforcement against those who cheat our trade laws," he said.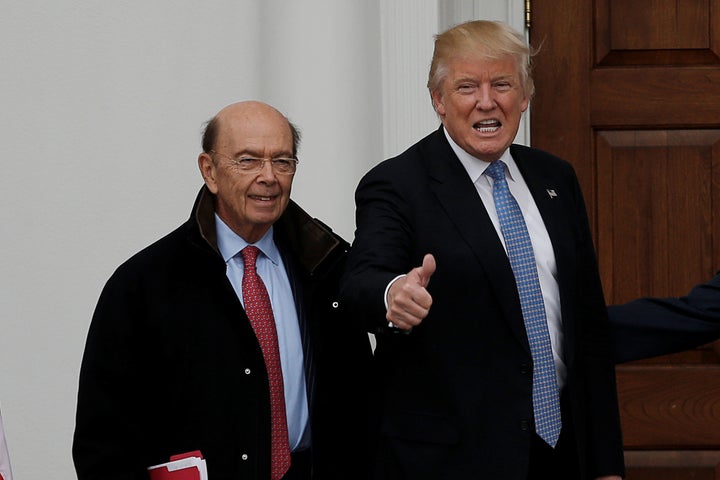 Manchin said his decision partly came down to Ross' connection to the death of 12 West Virginia miners.
"Because of his extensive dealings in our state, I felt it was necessary for me to conduct an intense vetting of this nominee," he said, noting that Ross had owned Sago Mine when the workers died there.
But Manchin, too, touched on the steel industry.
Ross bought Weirton Steel in 2004 and folded the bankrupt company into his International Steel Group. As part of the purchase, Ross negotiated a new union contract that cut jobs, benefits and work rules, the Pittsburgh Post-Gazette reported at the time. Ross completed other such acquisitions through ISG, sometimes dumping the liability of workers' pensions onto the federal government in order to cut his company's costs.
"Because of his extensive dealings in our state, I felt it was necessary for me to conduct an intense vetting of this nominee."
The Sago Mine explosion of 2006 came seven years after Ross began investing in the coal industry. He began buying stock in the Anker Coal Group in 1999; just two years later, he owned 47 percent of Anker and was the company's largest stakeholder. In 2005, Ross fully acquired Anker's coal assets and put them under his newly formed corporate umbrella, International Coal Group. (ICG also owned the assets of a faltering coal company named Horizon, which Ross bought after a bankruptcy judge stripped thousands of miners, some with black lung disease, of their health benefits and shredded their union contract.)
One of the Anker properties Ross owned was Sago Mine. In 2005, two employees joined ICG from Massey, a coal company that became infamous for its disregard for safety regulations under CEO Don Blankenship. (An explosion at Massey's Upper Big Branch mine killed 29 workers in 2010, and Blankenship was sentenced to a year in prison after being found guilty of conspiring to violate mine safety and health standards. From prison last year, Blankenship endorsed Trump for president.)
In 2004, Sago was already an unsafe mine by national standards, with an accident rate more than twice the U.S. average. When regulators beefed up inspections in 2005, violations rose further. That year, the federal Mine Safety and Health Administration found 208 violations at Sago Mine and shut down work 18 times due to unsafe conditions.
On Jan. 2, 2006, an explosion trapped 13 miners underground for two days. All but one died from carbon monoxide poisoning.
Ross, who paid a total of $2 million to the victims' families, has said the deaths haunt him. He never visited the disaster site.
Popular in the Community