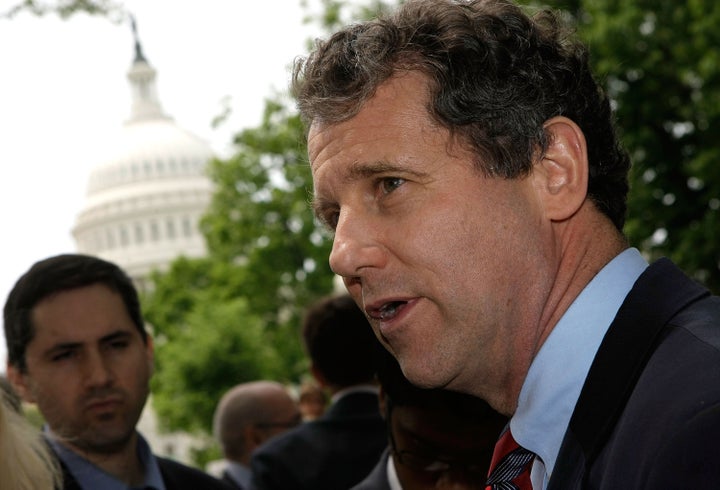 Sen. Sherrod Brown (D-Ohio) is out with his first ad of the 2012 reelection campaign, going after his opponent, State Treasurer Josh Mandel (R), on charges of cronyism.
Mandel has been under scrutiny for installing inexperienced staffers in high-ranking government jobs, despite a 2010 campaign promise to ensure the state treasurer's office would be "comprised of qualified financial professionals -- rather than political cronies and friends."
One of the hires Brown's ad mentions is Joe Aquilino, Mandel's debt management director, who attended a beginner's course in the subject he was overseeing.
The $150,000 ad buy will run in Cleveland, Toldeo, Columbus and Dayton from April 26 to April 30.
GOP groups, however, have been spending heavily in Ohio for months, pumping in more there than in any other Senate race. As The Huffington Post reported, conservative groups not officially affiliated with the Republican Party have spent nearly $2.9 million on the race.
"After more than a year of Josh Mandel's special interest friends attacking Sherrod Brown and lying about his record with 5 million dollars in negative ads, more negative ad spending than anyone else in the country has faced, we've decided to go on air," Sadie Weiner, Friends of Sherrod Brown spokeswoman, said in a statement. "Josh Mandel's decision to use the State Treasurer's office to reward unqualified friends and political cronies with high-powered and high-paying jobs, is just one of many examples of how Josh has proven he can't be trusted."
"It's not surprising that Sherrod Brown's first TV ad is negative and says nothing about his own record," Travis Considine, Mandel's communications director, told Politico's Morning Score. "Josh Mandel will gladly compare his leadership at the Ohio Treasurer's office -- where he has saved taxpayers millions by rooting out waste, stood up to big Wall Street banks, and earned the highest credit rating possible for the investments he manages -- to Brown's record of failure in Washington."