 U.S. households struggling with expensive student debt would be able to refinance into cheaper loans at no cost to taxpayers under legislation to be proposed by Ohio's senior senator.
Sen. Sherrod Brown (D-Ohio) will unveil as early as today a proposal to grant the secretary of the treasury, a position Jack Lew now occupies, the authority to create a government-backed financing vehicle that could enable millions of distressed borrowers to refinance student debt not guaranteed by the government into new loans with significantly lower interest rates, according to a draft copy of his eight-page bill.
Brown's legislation comes amid increasingly dire warnings from regulators and policymakers concerned that outstanding student debt -- now valued at nearly $1.2 trillion -- may put the economy at risk as overburdened households curtail spending, investment and savings in order to pay student loans, despite more than four years of record low borrowing costs.
"Why should our students and graduates be the last to benefit from historically low interest rates?" Brown said. "Helping graduates refinance their private student loan debt into more affordable terms frees up funds for them to buy houses, start businesses, or contribute to their communities. It makes sense for our students and graduates and it makes sense for our economy."
Last month, President Barack Obama said that the $26,000 in debt carried by the average new college graduate "holds back our entire middle class." Student loan payments "can last for years, even decades, which means young people are putting off buying their first car or their first house -- the things that grow our economy and create new jobs," Obama added.
While most lawmakers appear to be chiefly concerned with the impending doubling of interest rates set to affect roughly a quarter of all future federal student loans starting Monday, Brown joins a small but growing group of legislators including Sen. Kirsten Gillibrand (D-N.Y.) attempting to help current borrowers.
About 60 percent of all federal student loans carry interest rates above 6 percent, according to July 2012 Department of Education data cited by the Center for American Progress. About three-quarters of all new federal student loans carry interest rates of 6.8 percent or 7.9 percent, forcing borrowers to pay record relative rates on their loans.
The rates, fixed by Congress, have not been updated to reflect the near-record low interest rate environment. For example, when Congress set the rates in 2007, the average new 30-year, fixed-rate mortgage could be had for about 6.3 percent, according to Freddie Mac, the government-backed mortgage financier. The average new 30-year, fixed-rate mortgage now carries a 3.9 percent interest rate.
The gap between what students and households pay to finance a college education and what the U.S. government pays to borrow has led to record profits for the Treasury, eclipsing earnings even at Exxon Mobil Corp., the nation's most profitable publicly-traded company.
There is about $150 billion of private student debt, with new loans over the past few years carrying an average interest rate of 8 percent to 10 percent, according to the Consumer Financial Protection Bureau.
In recent years, student lenders have been able to generate increasing interest income off the loans they make relative to their own cost to borrow, something most banks are struggling with due to years of persistently low interest rates forcing them to reduce borrowers' rates, the CFPB has noted.
The consumer agency has suggested that Washington policymakers consider government-initiated loan workout and refinancing schemes for distressed borrowers. A senior CFPB official, Rohit Chopra, is due to repeat that suggestion Tuesday during a Senate Banking Committee hearing.
Brown's proposal, which he calls the "Refinancing Education Funding to Invest for the Future Act," mandates that whatever means the treasury secretary uses to enable borrowers to refinance their debt, "it shall not result in any net cost to the federal government" -- a potential boon to lawmakers eager to curry favor with young voters and middle-class families but wary of increasing government spending.
The bill in some ways resembles a 2008 law, "Ensuring Continued Access to Student Loans Act," which provided lenders with guarantees and cheap financing to stimulate new lending. Brown's legislation seeks to help borrowers who are struggling with debt repayment.
"During the crisis, policymakers employed a number of creative tools to revive the student lending market," Chopra said in prepared remarks he planned to deliver at Tuesday's hearing. "Policymakers might now focus on the following objectives to increase private capital participation and market efficiency: spurring loan restructuring opportunities [and] jumpstarting a student loan refinance market."
Brown's legislation targets both.
His bill calls on the treasury secretary to first determine whether borrowers "are unable to secure adequate credit accommodations with existing private education loans." If the secretary makes such a determination, the official then would have the authority to create a scheme to help borrowers.
The proposed legislation suggests that policymakers consider using the Federal Reserve, Federal Home Loan Banks, and Federal Financing Bank -- a government corporation that borrows from the treasury and lends to agencies and borrowers with government guarantees -- as sources of credit to refinance borrowers.
During the recent financial crisis, the Fed created numerous extraordinary programs designed to stimulate credit. The world's largest financial institutions, particularly foreign-based banks, were the biggest beneficiaries, Fed data show.
Before You Go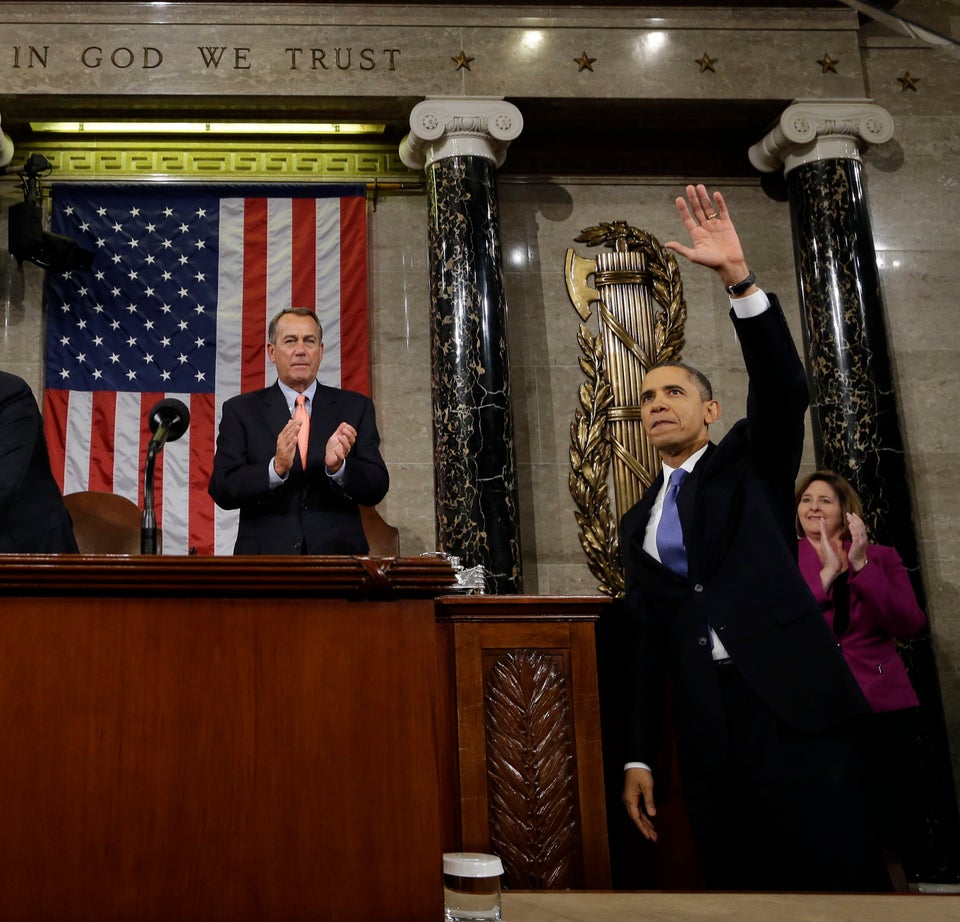 Quotes From Obama's 2013 State Of The Union Speech
Popular in the Community