There is a need for LGBT themed programming; so Sherry Vine is here with "gaySVTV world". From parody songs like "Hung Horse" (to the tune of Katy Perry's "Dark Horse") to hilarious shows all over the world, Sherry Vine is the definition of a drag legend. Sherry has taken her talents to the world of YouTube, with a full on network titled "gaySVTVworld", with content ranging from "Sherry and The Greek" and "Fashion PuhLeez"! Sherry sat down for a chat with us to talk about the new channel, the most amazing era of New York City drag, and why she thinks she has maintained all these years.
You've launched a new network online this week called "gaySVTVworld" with all kinds of amazing content online. How exciting!
We did! And the press has been amazing, especially The Huffington Post! I have gotten contacted from around the continent, it's amazing!
It really didn't start off as this concept of actually doing a network at all really. I have been doing the music parodies for seven years now, and when I started doing it, other than (drag legend and comedy writer) Jackie Beat, there weren't alot of drag performers doing them, or people doing them at all for that matter. In the past couple of years, I was ready to do something else. It's hard to get that response sometimes that you used to get, but in the end, it's all fine. It's good to try different and new things.
I kept wanting to do a weekly web series, something like that. Josh Rosenzweig was leaving Here TV and I told him I wanted to do a weekly show. We wanted to do something along the lines of "The Carol Burnett Show", a weekly series of sorts. We had a show on Here TV called "She's Living For This", kind of like a "Saturday Night Live" with skits and things like this. We had different ideas, and suddenly had ideas for a parody of "Fashion Police" and then an idea for a documentary style show. We finally decided to put a different series up every night, kind of like a season, you know? We looked at each other like "are we out of our fucking minds"? No advertisers, no sponsors, doing everything out of our own pocket, and thing just grew and grew. We now have a different video for every night for eight weeks; it's incredible.
So it's kind of like a "gay Netflix"?
Honey yes! That's what I was calling it, gay Netflix. You know, there really is nothing like this. There are gay shows and gay visibility, but this is entirely LGBTQ creators for a LGBTQ audience and adjacent. Queer content created by Queer people for Queer people!
Recently, Sirius OutQ decided to shutter after twelve plus years of being on the air. It raised the question of whether or not there really is a need for the LGBT community to have specialized media programming.
I'm so glad you brought that up. One question we keep getting is whether or not there is a need for specific LGBT programming. My answer is that yes we do need it; why not?! Alot of the gay characters that I see in mainstream television and movies are wonderful, but they don't necessarily speak to me and my friends, you know? Where are the freaks and the drag queens? My comedy is a little raunchier than what you would see on LOGO or on Bravo, it's too dirty. This is the perfect platform for things like that; there is definitely a need for that.
There is something for everyone on here. We tried to make each program different and make them something that would appeal to the gay community in that way. Hopefully people will like more than one though! There really is a great deal of diversity in the content.
You literally are a parody machine! It seems like every time your fans turn around, you have released a new parody featuring the latest hit from Adele or Katy Perry!
Honey, I make a joke all the time; you know why I'm single? I'm sitting at home in Manhattan looking for songs that rhyme with "cock"! (LOL) Honestly, that's my life, I've been doing it since I was in high school. Way before i even thought about Sherry Vine. I used to perform parodies out of drag even before drag, so I've been doing parodies for about thirty years.
Since you approximately six years old correct?
Actually since I was three (LOL). It's funny when I'm with Jackie Beat, she's my best friend, and I will give her the title she is the "Queen of Parodies" there is no one funnier than her. When we're in the car it's like a race to see who will come up with a parody faster!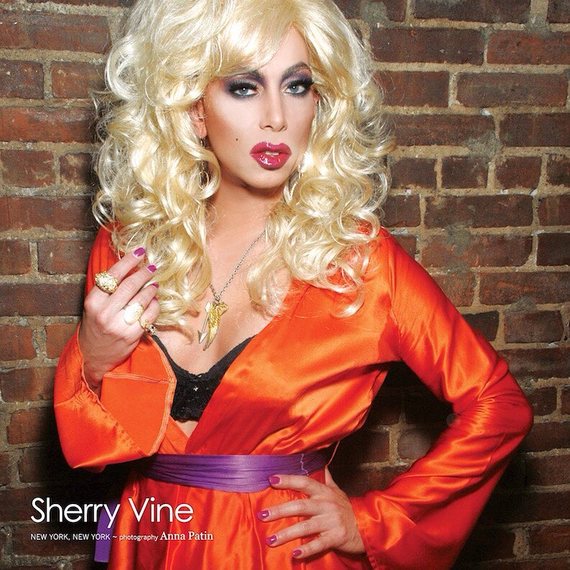 So many girls from such a classic era, from you and Jackie Beat, to Candis Cayne to Edie have gone off to do such amazing things in the world of entertainment. Do you think there was something about those girls and that time in New York City?
You know, I really do. I think it was almost like a kind of drag renaissance. If you look at that time, say 1991-1993, Mistress Formika, Candis Cayne, Sweetie, Lina, Jackie Beat, Varla Jean Merman, Coco Peru, Shequida, Hedda Lettuce, all of us started around the same time and are such incredible talents. Now some of them are not performers any more like Formika, but I look back at those clips of Formika and it's like "Oh My God"! I did a shows recently with both Varla (Jean Merman) and Coco (Peru) and I hadn't seen them both in many years. They are so fucking good!
Not to take anything away from the newer queens, because some of them are really talented, but it does make me wonder what exactly was in the water in 1992 in New York City...
Speaking of the new girls, there is such an huge influx of drag nowadays, with much of it obviously influenced by "RuPaul's Drag Race". Who do you think right now could be your heir apparent?
You know, I never think about it as being replaced, but I'll tell you this; another well known drag queen who has been around longer than me said to me once "girl, you shouldn't perform with girls who are more talented than you, they'll upstage you". That's the least of my worries; when I see someone who is talented I want to work with them. I'm not worried about that at all. I think Bob the Drag Queen (who is cast on this season of "RuPaul's Drag Race") is super talented and funny and wonderful, I love her! Pixie Aventura is one of my favorites, she's funny, she's sexy, just the way she moves, I'm like wow! We went through a stage here with alot of "look" queens and now we are going into a stage with queens who may have a stage or dance background, they're singing live, and I'm happy about that.
If you want to have a career, you gotta have a show. You can look gorgeous, but can you carry an hour show? Get an act. For example, (drag icon)Raven O posted something where she said "bitches, a costume change is not an act".

You are performing at the Borgata in Atlantic City, N.J. on February 20th as part of "America's Drag Stars". Is the Borgata ready for Sherry Vine?
I hope so! I've never met Katya, but I heard she's super nice. I've worked with Ginger last month when we did the "Drag Queens Of Comedy" and I've done quite a bit with Pandorra, I love her. We have four dancers and it's going to be a gorgeous show! I've never been to the Borgata so I am very excited to finally get there!

Why do you think you have lasted this long in such a hard business?
I think I've lasted this long because I work really, really hard, and I'm a performer; I'm a showgirl. That's the only thing that will really make me happy. A couple of times I've had moments where I thought I was too old to be doing this anymore, and I mean, I have a Masters degree. I was thinking I would go get a PHD and teach theatre. I realize I know that I won't be happy though. Even with relationships, I don't think I would ever be able to put someone before a show. It's not hard now, since I've just resigned and accepted that as who I am and as what I choose. Nothing will make me happier than performing, period. You may have moments of self doubt, but who cares? I work my ass off and try to stay relevant and current. I'm doing what I love and that is so important.
Sherry Vine can be found @ sherryvine.com and the "gaySVTVworld" can be found @ https://www.youtube.com/user/misssherryvine.
Sherry Vine, Ginger Minj, Katya and Pandora Boxx perform as part of "America's Drag Stars on Saturday, February 20th @ 9:00 in
the Event Center http://out.theborgata.com/events/
Calling all HuffPost superfans!
Sign up for membership to become a founding member and help shape HuffPost's next chapter