 Bronx, New York native Sherry Williams re-located to Washington, DC to chase a goal. With a background in logistics, Sherry has a passion for envisioning a goal and ensuring that it is implemented. That passion, paired with the need for women empowerment and leadership, lead Sherry to create Her Way -- the brand that promotes the power of the collective. Read more and listen to how this businesswoman has been directing the narrative, and turning #HashtagsIntoHandhsakes.
On a Friday evening, Sherry and I spoke over the phone. A sprained ankle had slowed her down, but you would never Sherry guess by the energy in her voice. I wanted to know how Her Way began -- how one woman could relocate, readjust, and begin transforming a passion into a business. and turn a passion into a brand.
With Sherry, it started as a brunch.
Sherry is the mother of one. And saw a need for change in her child's life, but the community of female leaders at large. Her Way's first initiative, Conversations Her Way, stemmed from an outbreak of popular reality television series often focusing on women. These shows did not, in Sherry's opinion, portray the best views of women in America.
"I couldn't even sit down and watch TV with my daughter," said Sherry of the images she too frequently saw. "For me, I'm really big about being in action. If you're not intentionally implementing change, then you're basically enabling the problem. So, I decided to have a brunch. And a conversation around that."
"Conversations Her Way" was the event that got the ball rolling! The relationships that were made, and the support that was felt, proved the need for Her Way. "A lot of our events will never look the same," says Sherry. "It's studying what the culture and where there is a need."
The network built while working in logistics in New York was diminished once she came to DC. But with her skill set, Her Way continued to develop.
Her Way's second event, "Leadership Her Way," was the first woman's conference from the brand. Women who attended and facilitated the workshops had all one thing in common -- drive. Women from all backgrounds and stages in their careers flocked to the District Architecture Center in Washington, DC. The venue has glass walls for each of its rooms, keeping the sentiment of collective motivation alive. The early morning began with Emilie Aries, founder and CEO of Bossed Up -= a personal and professional training organization that helps women build sustainable careers. Aries broke down the figures behind gender bias, and highlighted the way in which women are cut short in the workplace, firing up guests for the string of dynamic women to come.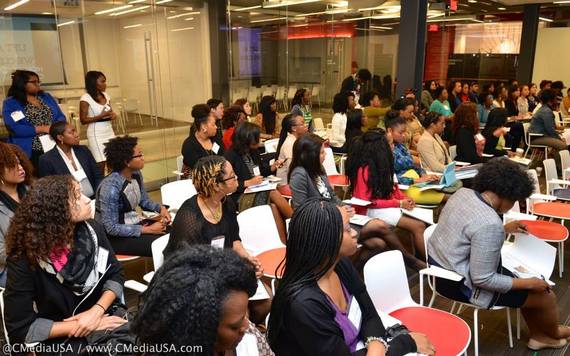 Ladies in the fields of technology and information systems, brand management, financial literacy and journalism attended in great numbers, hungry and eager to hear and learn from their fellow females. A Latina Panel opened the floor for discussion about women and the factors that played in both their trials and successes. A discussion on interracial friendships and relationships, and another about challenging the cultural stigmas placed upon Latina women, further opened the floor to candid conversations. The Latina panel included professional women representing the Society of Professional Women of Color, Worldwide Boss, Be Moxie and Ain't I Latina.
The conference then transitioned into break out sessions. These sessions allowed guests to pin point some of the areas they desired to learn more about. "How to Wear Your Power," presented by designer Laurie Underwood of Wanda Grace, explored the basics in building a transferrable wardrobe. Self investment workshop, "The Wage War," was presented by financial coach Dominique Broadway, and lead guests in learning the ins and outs of balancing, budgeting and enjoying what she earns. "Developing a Mogul Mindset," a professional branding session, was instructed by creator of The Branding Box, Amanda Miller Littlejohn; and "Poise and Passion," by Michelle in Training's Kat Calvin rounded out the days session.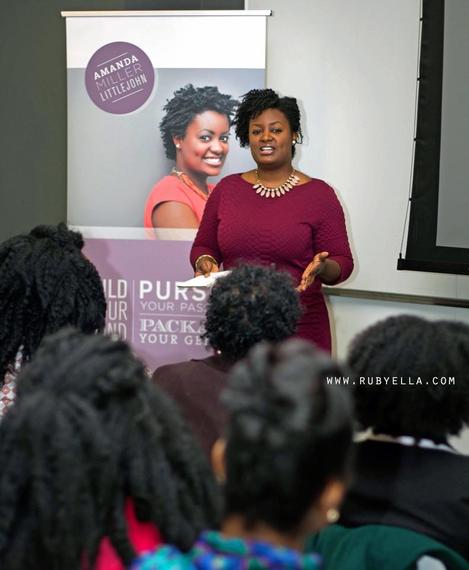 To conclude what had been a inspiring day was a panel that included Sherry herself with a few power players in women empowerment. Meagan Lyles, founder of Creatively Flawless and The Powerful Women; Marsha Murray, founder of Northern Belle; and Brandi Richard, Founder of BR Communications joined Sherry in an open forum to close out the day. Questions and discussion topics ranged from overcoming peer adversity, to finding inspiration in working with others.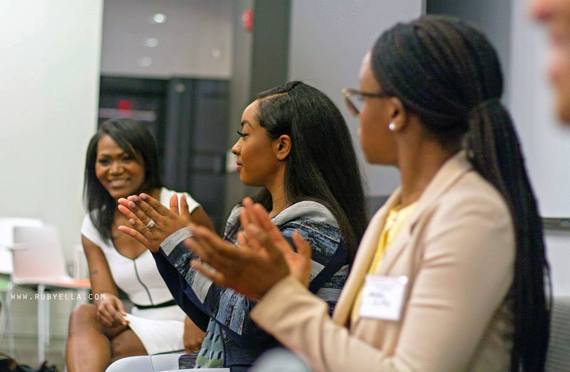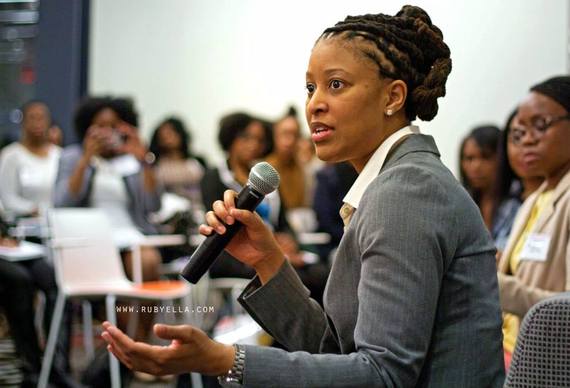 During our conversation, Sherry's passion about Her Way's Mission was evident and is reinforced in the recent success of "Leadership Her Way." The sold out event featured women who varied in age and profession with a common interest in furthering their goals. Her Way, supports the mantra of "lifting as we climb." With the many adversities female leaders face, the encouragement from fellow go-getters is imperative.
As Sherry approaches the first anniversary of "Conversations Her Way," she reflects on what the future holds for Her Way. "Next year this time, I am grateful to likely be in a space where i can continue to create moments and spaces for women to be their true selves"
The power of the collective is the driving force behind Her Way and its events. What women need, is what the brand will provide to ensure female leaders have the platform they deserve to do just that -- lead.
You can look forward to Her Way's 3rd event, Leadership Her Way 2 taking place
Saturday, June 6, 2015 at The Loft in Washington DC. Information and details can be found here.