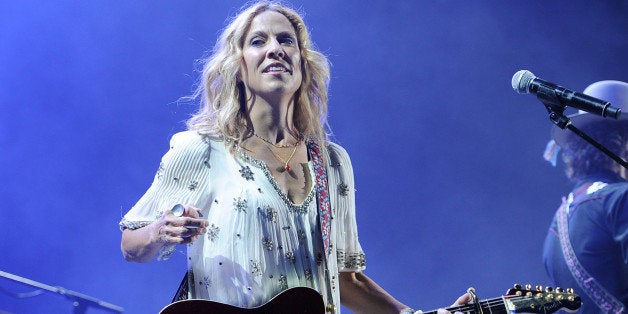 Last week I stumbled upon Variety's positive review of Diner, a musical running for a limited time at Arlington's Signature Theater. The production, based on Barry Levinson's 1982 film, Diner, teamed Levinson up with Sheryl Crow. For the first time, Crow has scored a musical, and the result is a sold-out show for seven weeks. As I read the review, I battled conflicting emotions: happy for the play's positive reception and angry that I wasn't on the East Coast to see it -- disappointed that I'd miss this latest turn in Sheryl Crow's refreshingly unpredictable and musically liberated career.
Sometime during the fall of 1993, I was driving home from middle school with my mom listening to WNEW, New York City's now-defunct legendary rock 'n' roll radio station. At the time, it played mostly classic rock standards, but on rare occasions a contemporary artist would slip through into rotation. These were still the days when DJs could handpick songs for their shifts and, if a new artist filtered into sets of Led Zeppelin, Bob Dylan, the Rolling Stones or Eric Clapton, listeners noticed. I was sitting in the front seat of the car and had already begun flipping through my math homework when I heard Scott Muni's gravely voice interrupt his daily 3 p.m. block of afternoon music. "This is the first time we're playing this here on WNEW," he began. I could hear him fumbling with the plastic CD case and flipping through the liner notes to read from the track listing. "She's Sheryl Crow, a singer from California, and this is her single, 'Leaving Las Vegas.'"
The drums started, a simple beat amid handclaps. But when Sheryl Crow started to sing, the crackling rawness of her voice broke the song open and out poured a barely optimistic tale of a woman whose desperation to leave one life behind allowed for splinters of hope to start anew. It was a mesmerizing sound, a captivating tale -- and something that filled a critical void in contemporary music. By the early-1990s, I was conveniently flopping between two musical landscapes: grunge had exploded and permeated my school hallways, but having Baby Boomer parents, I also grew up on the musical greats of the 1960s and 1970s. When I heard "Leaving Las Vegas" for the first time, it was as if these two musical eras had collapsed into one.
A month later, when I bought Tuesday Night Music Club at the local record store, I felt as though I had finally found my music. The album was a whirlwind to listen to -- a fluid trip through sounds and emotions that had the lyrical angst of the mid-1990s Gen X culture, but the music of a modern-day Big Pink. "The Na Na Song" spit out a force of cosmic-manic energy that somehow balanced "I Shall Believe" with enough poignancy to close the record with a pleading hymnal beyond just a gentle ballad. I'd listen for hours, painting pictures in my imagination of the characters in those songs. I promised myself that when I got older, I would travel through life to find my own set of characters -- to grasp the excitement and adventure that Tuesday Night Music Club awakened in me.
For the next 20 years, Sheryl Crow's music played against the background of my life, becoming a steady companion through adolescence and into adulthood. There was the summer after high school graduation when my friends and I sang along to "Everyday Is a Winding Road" as we whipped our cars around deserted country roads into the early morning hours. Or the night of September 11, 2001 when I left a candlelight vigil and cried in my car listening to "Riverwide" in the parking lot, too upset to drive. Or those endless months of 14-hour workdays when I walked home from the subway on cold, snowy Brooklyn nights listening to "There Goes the Neighborhood." Or the day that I moved to Los Angeles and played "Long Road Home" while I carried boxes into a new apartment in a new city. Every album was like a new book with each song telling a unique story of a specific time and place -- sometimes through the linear reality of everyday life and others through an existential journey of amorphous self-realization.
I thought about these memories as I learned more about Diner and read about the "delicious harmonies... enhanced by insightful lyrics" that Crow had written for the 1950's rock musical. I wondered how, in this post-MTV age where it is rare for musicians to maintain careers beyond a flash of massive popularity, Sheryl Crow has navigated decades-long relevance within a swiftly changing musical and cultural landscape.
Sure, there's the versatility of her songwriting -- and years of touring and promotions. But, there is also a willingness to stray from any singular musical path that audiences have come to expect from Sheryl Crow. This freedom to take risks -- to release a contemporary country album on the heels of a Memphis R&B soul album, to duet with Pavarotti, Loretta Lynn and Kid Rock -- has led to one of the more winding musical paths of any singer-songwriter in the past 20 years. And somewhere along the way, audiences began to invest in the mystery of what twist may come next, because what is playing in a diner in Arlington today could become a new masterpiece tomorrow.
Diner will be playing at the Signature Theater in Arlington, VA until January 25, 2015.
REAL LIFE. REAL NEWS. REAL VOICES.
Help us tell more of the stories that matter from voices that too often remain unheard.