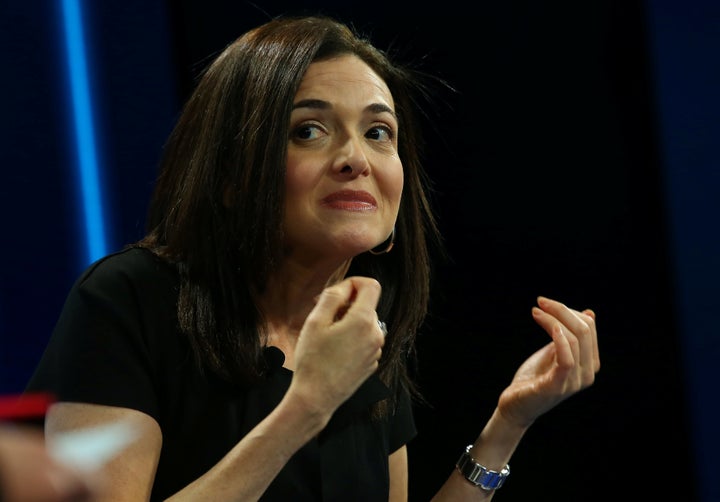 The Facebook chief operating officer and author of the corporate feminist tome Lean In, is known for speaking up for women's rights in the workplace. Yet she has been relatively silent as the Trump administration's anti-women agenda takes shape.
She was conspicuously absent from last weekend's women's marches. "She wishes she could have gone," a spokesperson told The Huffington Post on Friday. Sandberg supported the march but couldn't attend for personal reasons, the spokesperson said.
Then this Thursday, after less than a week of President Donald Trump, Sandberg spoke up. In a post, she warned against the horrors of the Trump administration's reinstatement of the Reagan-era anti-abortion Mexico City rule, known by opponents as the global gag rule. 
"[The] policy could have terrible consequences for women and families around the world," Sandberg writes, sharing a long New York Times piece that explains how the Trump rule would ripple throughout the developing world, leaving women without health care and endangering lives.
The global gag rule prohibits health care providers around the world who receive funding from the United States from even talking about abortion as a component of family planning. Even if the funding for the abortion counseling comes from another source, a clinic would still lose the money under the Trump rule, which he signed on Monday ― surrounded by men.
Sandberg said she supported a bill proposed by two congresswomen that would permanently get rid of the rule.
"[The] policy could have terrible consequences for women and families around the world," Sandberg writes. "I started my career working at the World Bank on health care in India. I saw firsthand how clinics funded by foreign aid are often the only source of health care for women. When women are given even the most basic health care information and services, they live longer, healthier lives ― and they give birth to children who live longer, healthier lives."
Trump's reimagining of the gag rule is even more severe than the original prohibition devised by President Ronald Reagan, which was limited to clinics that provide family planning services. The Trump gag extends to any health care providers around the world ― which would cut an estimated $8.5 billion in aid. 
"And this ban is harsher and broader than past orders by past presidents," Sandberg writes, "because it covers every program that falls under global health assistance. That means it'll hurt more people."
The rule is even more absurd, as Sandberg notes, because it has proved to be ineffective and counterproductive. Abortion rates doubled the last time the rule was in place, one study showed. 
Corporate feminism is a tricky thing. An executive at a public company is ultimately accountable to her shareholders and can't just say whatever is on her mind politically. Other prominent female executives (there aren't many) have been quiet on Trump.
Although Sandberg is outspoken about the need for more women leaders, she's said nothing about the conspicuous lack of women in Trump's cabinet ― he's appointed the whitest and most male cabinet since Reagan.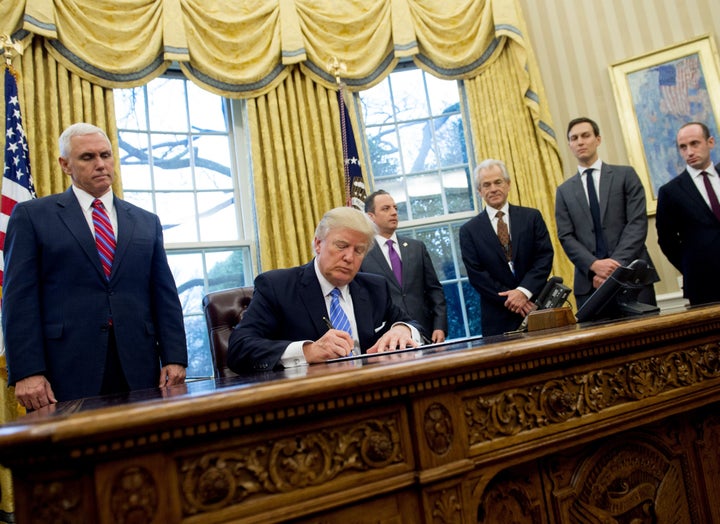 Sandberg's also kept mum about Trump's effort to make women's health care in the U.S. more expensive by getting rid of the Affordable Care Act or Congress' moves to make abortion more expensive.
Still, some hoped she'd say something. The Facebook executive endorsed Hillary Clinton during the presidential race and was rumored to be under consideration for Treasury secretary had the Democrat won the election.
There are also rumors that Sandberg, who has a book coming out soon about how she coped with the unexpected death of her husband in 2015, is considering a run for the presidency herself.
In December, she showed up for a meeting with Trump along with several other tech executives at Trump Tower. She's reportedly reached out to Ivanka Trump about women's issues.  
The gag rule perhaps is a less touchy subject. Though over the years, it's been a political hot potato. Reagan put it in place, Clinton removed it, George W. Bush reinstated it and then Obama got rid of it.
In a Facebook post, right after Trump won, Sandberg wrote about a "divisive election" and the need for women to keep fighting.
"We must encourage more women to run for office across every party at every level of government until our representation matches our share of the population," she wrote. "History is on our side – and we will get there."
Maybe so ― if leaders like Sandberg keep talking.
Calling all HuffPost superfans!
Sign up for membership to become a founding member and help shape HuffPost's next chapter