After facing down a barrage of criticism in the wake of an editor's job posting, Sheryl Sandberg's Lean In foundation plans to launch a formal paid internship program, Lean In's President Rachel Thomas wrote in a new Facebook update late Thursday.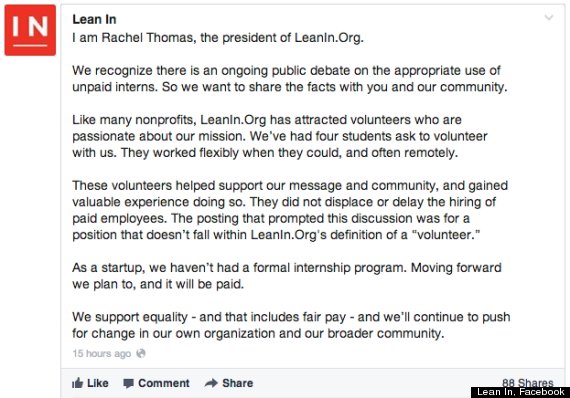 The Lean In foundation is a nonprofit based on Sandberg's book about empowering women in the workplace. The organization is "committed to offering women the ongoing inspiration and support to help them achieve their goals," according to the foundation's website. Sandberg is a Lean In co-founder, and she is currently ranked six in Forbes' list of the world's most powerful women.
Bennett later noted that the posting was not for an official Lean In job -- rather, she wrote, she was looking for a volunteer. "This was MY post, on MY feed, looking for a volunteer to help me in New York," Bennett wrote on her Facebook page.
When reached for comment, a representative from the Lean In foundation said that Thomas' comments stand for the organization.
While Lean In is a nonprofit, the Atlantic Wire wrote that being a "volunteer" for Sheryl Sandberg's foundation is different from volunteering for the Red Cross, as those helping with Lean In could be looking for some level of professional experience.
The legality of unpaid internships has been called into question over the past few years, and this past June a federal judge ruled that Fox Searchlight Pictures broke labor laws when it employed unpaid interns to work on the film "Black Swan."