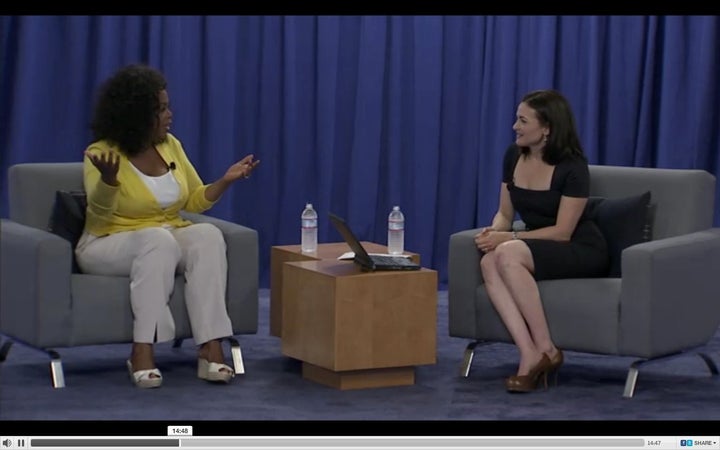 On Thursday, Oprah Winfrey sat down with Facebook COO Sheryl Sandberg for a live Facebook chat in which the two women discussed why all Oprah employees are required to meditate twice a day, the beauties of the Breville panini maker (which, according to Oprah, makes some mean bacon), and the role fear plays in their lives and careers.
Oprah confessed that being CEO of OWN, her new cable network, is "A lot harder than I ever imagined," but that she took heart from Sandberg's commencement speech at Barnard, in which Sandberg asked the audience, "What would you do if you were not afraid?"
While Oprah was wrestling with what to do after her show ended, she confessed to waking up in the middle of the night and realizing, "Oh, this is what fear feels like." After examining that fear and posing Sandberg's question to herself, she said, she knew there was only one answer: "creating a platform that reaches the in such a way that allows people to be who they were meant to be."
Oprah also shared her recollection of the instant when, as a young woman, she first felt her inner self come through:
I remember a specific moment, watching my grandmother hang the clothes on the line, and her saying to me, "you are going to have to learn to do this," and me being in that space of awareness and knowing that my life would not be the same as my grandmother's life. All of us have that space where we are willing to get still because the world will try to tell you everything about yourself and we have so many voices in our heads and in our Facebook pages telling us everything, but to know really what to do and how to be guided in your life you have to go to that space where the bigger you, the greater you, resides.
It was moments like these, she said, that have led her to require that her staff to mediate twice a day.
The conversation wasn't without humor: In a hilarious lightening round of questions, Sandberg grilled the famous talk show host on her preferences on everything from wine and tequila (an enthusiastic "Tequila on Thursdays," preferably Dragones brand), music (Jay-Z on Tuesdays, Sundays are for Paul Simon), and caffeine intake (she prefers chai tea over coffee.)
In a rare allusion to sex in the context of her own personal life, Oprah claimed that her mother and father only had sex once: When she was conceived. "I was considered an accident," she said. Her father told her that he convinced her mother to show him "what was under her poodle skirt," and, as she put it, "voila!" Oprah went on to say, "it does not matter how you came into the world...what matters is that you are here."
"The struggle of my life created empathy…I could relate to pain…being abandoned..having people not love me," Oprah continued.
Oprah also talked about her financial success: "I had no idea that being your authentic self could make me as rich as I've become. If I had, I'd have done it a lot earlier."
We can't all be COOs of Facebook, Oprah said, "but it is possible for every person to reach with what is the highthest fullest expression of yourself."
What are you afraid of, and what would you do if you didn't have that fear?
Popular in the Community