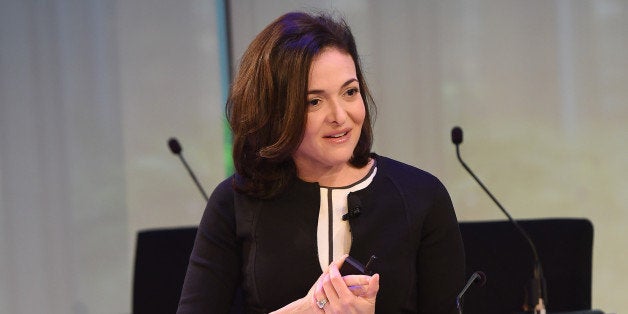 "No industry or country can reach its full potential until women reach their full potential. This is especially true of science and technology, where women with a surplus of talent still face a deficit of opportunity," says Sheryl Sandberg, Chief Operating Officer of Facebook and founder of LeanIn.Org, in her new video as a champion for Global Fund for Women's online multimedia project, IGNITE: Women Fueling Science and Technology.
Sheryl Sandberg, whose bold leadership I admire, offers her own powerful voice to amplify the voices and echo the messages of women leaders from around the world in IGNITE: to demand a global revolution for women and girls in science and technology, who face a dismal reality when it comes to leadership, professional development, and mentoring opportunities.
The fact that too few women are leaders, innovators, and decision makers in an increasingly technological and connected world points to the larger gender gap in STEM. We know that access to and control over technology is critical for the future of women's human rights and that now is the time to change it. The women and girls on the ground in Global Fund for Women's network want greater access to and fluency in technology to drive innovation and use technical skills to create a more equal world. We must call on the world to recognize that technology is a women's rights issue and demand better.
This starts by sharing the stories of women around the world, profiling women trailblazers and innovators, and making sure that their voices are being heard. These stories are at the heart of IGNITE's new LEADERS gallery, for which Sandberg is lending her influence to encourage others to listen to the voices of other women leading the movement for gender equality science and technology.
Listen to the voice of the first Jordanian woman ever to attend a solar-energy engineer training program at the Barefoot College in India in "Solar Mamas," an inspiring documentary on the transformative power of technical education and skills to shatter the entrenched gender disparity in many cultures. Women, girls, and men in the republic of Georgia who are part of Global Fund for Women grantee partner Women's Information Center which works to improve the political, economic, and social conditions of women by improving access to information technologies, created a powerful video to share their own voices and experiences to demand a future in which women and girls have equal access to and control of technology.
"I think that women are so fundamental to helping tech get one step further," says Maria Rita Spina Bueno, who co-founded MIA Women Angel Investors (Mulheres Investidoras Anjos) when she noticed that there were very few women tech entrepreneurs and investors in her native Brazil, to foster the greater participation of women in the sector.
Sheryl Sandberg has been outspoken in encouraging and mentoring other women and girls to be leaders -- a critical component that is often overlooked in discussions around the lack of women leaders, which we hope to highlight in IGNITE. After publishing her book Lean In: Women, Work, and the Will to Lead, Sheryl Sandberg started a movement -- and sparked many contentious conversations - encouraging women and girls everywhere to lean in, take challenges, buck stereotypes, and take the actions necessary to make their dreams a reality.
The lessons in LEADERS transcend the boundaries of science and technology as well, highlighting the importance of mentoring programs and encouraging other women to foster their own leadership and entrepreneurial skills -- core to our work in economic and political empowerment and participation at Global Fund for Women.
We launched IGNITE to change the narrative through creative storytelling and by amplifying the voices and innovations of women and girls who are shattering stereotypes in STEM around the world. Listen to their call for gender equality, and let them know that their voices are heard: sign our petition with UN Women to close the gender technology gap.
In her video, Sheryl Sandberg adds her voice to this call and asks for collective action: "I know from my own experience that the path to change is best traveled when we travel together." Join the #BeTheSpark movement today and together, let's flip the script on women leaders and the future of women and girls in science and technology globally.
This blog post is the third in a series focused on elevating the stories and issues highlighted in IGNITE: Women Fueling Science and Technology, a global campaign and media project from Global Fund for Women that explores the roles of science and technology in advancing gender equality. IGNITE features stories of women and girls who are leading and innovating in science and technology, highlights the gender gap in technology, and advocates for women and girls' increased access to and control of technologies. Global Fund for Women is a grantmaker and global advocate for women's human rights.