 The very thorough instructions called for an intimate space, and since the cozy office suite near Manhattan's Union Square used to be an apartment, it fit the bill.
Six women gathered there last Sunday, handpicked because they were up-and-coming entrepreneurs -- the young CEO of an online networking site; another who had recently sold her fashion website; the editor of a startup literary journal; the co-founder of a sustainable commerce company; a digital marketer. They were all in the first 15 years of their careers, full of ambition and looking for guidance. After spreading the take-out from Whole Foods on the dark wood table, they settled in on cozy white couches, took turns snuggling with the resident puppy, and began. They'd planned to come for lunch, they said, describing the meeting, but at dinnertime they were still talking.
These women were "leaning in," creating one of the first instances of what some hope will become a movement to increase the number of women in power -- and others dismiss as just another way to find flaws in women, rather than in a workplace culture that makes it harder for them to succeed. Called "Lean In Circles," gatherings like these are being encouraged in tandem with the highly anticipated book Lean In, by Sheryl Sandberg, the COO of Facebook, which will be published by Knopf on March 11.
Sandberg's message -- that women sabotage themselves at work in ways that men do not -- has been viral and controversial since she introduced it, first in a TED talk in 2010 and again in a speech at Barnard College's graduation the following year.
It became even more divisive recently, when drafts of documents from Sandberg's new nonprofit foundation, LeanIn.org, leaked to the press, outlining her plans not just to promote her book, but to launch a crusade, teaching women practical strategies for getting ahead in the workplace. The resulting coverage was hardly friendly. "People come to a social movement from the bottom up, not the top down," warned Maureen Dowd, who described Sandberg as "tone-deaf to the problems average women face." That wave of critical commentary was followed by a second, chiding the critics for reaching conclusions without first having read the book.
The Huffington Post was given an exclusive look at the LeanIn.org website (which officially launches Wednesday) and at the final version of the documents that lay out the Lean In model, all of which make it clear that the broad-stroke criticism does not reflect the more nuanced reality of what Sandberg is trying to do.
The movement Sandberg champions consists of three parts, according to LeanIn.org president Rachel Thomas and others who created the foundation and who spoke for the first time to The Huffington Post for this article. First is the community Sandberg hopes will gather on the website, sharing stories of "leaning in" -- times when women took a risk and followed their ambitions in spite of their fears or insecurities. Contrary to early reports, however, there is no ban on stories about what Sandberg calls "leaning back" -- deciding that it is not the right time to take on a new challenge, for reasons such as a child's birth, a parent's health or a need to regroup and recharge. Thomas points out that Sandberg herself tells the story of turning down the job of CEO of LinkedIn because she was 37, wanted to have a second child, and, as she writes in Lean In, "I didn't think I could handle both a pregnancy and a new job." (Seven weeks after that baby was born, Mark Zuckerberg recruited Sandberg to Facebook.)
The second pillar of Lean In will be education, particularly a series of videos prepared for the foundation by the Clayman Institute for Gender Research at Stanford University. That organization has been "redesigning and redefining work" for years by translating data on gender bias into practical workplace strategies, says Lori McKenzie, associate director of Clayman. McKenzie believes that a partnership with Lean In will allow the institute to bring its message, which had previously been used in small workshops of executives, to far more women.
Five videos already exist on the LeanIn.org website, presenting both research and advice on such subjects as body language, negotiation strategies and likability, and how expectations differ for men and women. Early descriptions of those videos have brought mockery, with some critics suggesting that giving women a tip to stand like Wonder Woman -- hands on hips, chest proudly forward, feet planted hip-width apart -- is sexist, or at least simplistic. Deborah Gruenfeld, one of the Stanford professors in the videos, responds that it's neither: It's science. Such "expansive" use of the body is shown to increase testosterone and risk tolerance in men and women, she told HuffPost, while the more constrictive stance that women usually take increases the hormone cortisol, which in turn increases stress.

The videos will be free and available on the website and will also form the core of the third piece of Lean In -- the one the women gathered in the Union Square apartment last weekend were experimenting with. The foundation hopes to promote the formation of small groups of women, known as "Circles," to coach, support and educate each other -- sometimes as clusters of friends or acquaintances, sometimes under the sponsorship of the 120 companies, women's organizations and non-profits that have signed on as Platform Partners (The Huffington Post is one) agreeing to offer Lean In materials to their employees.
Researching the practices of groups ranging from the Young Presidents' Organization to Weight Watchers led Sandberg to conclude that their success hinged on a promise of confidentiality and a commitment from members. (Early drafts of the Lean In framework included the requirement that members be allowed to miss no more than two monthly meetings per year, but later versions describe this as a suggestion. It's not clear whether the change came before, or as a result of, the criticism that such rules were overly prescriptive and controlling.)
Pre-launch, just a handful of Circle groups have held meetings, and all of those have a direct connection to Sandberg, meaning they don't offer an unbiased sample. They include the one described above, created by Caroline Ghosn, the founder of Levo League, which has been called "the LinkedIn for Gen Y." Sandberg is an investor in Levo, and having learned about the Circles plan, Ghosn invited five other women who were in similar stages of their careers to the Sunday gathering in her homey office space, where they talked for hours beyond the 90 minutes the Lean In guidelines suggest.
"There is a crisis of confidence in our generation," said Ghosn, who is 26. "We are hungry for a structured, guided way to lead us through that. Lean In provided the materials and the framework, but doesn't dictate from the top down."
On the other side of the country, Bianca Gates reached a similar conclusion. She applied for a job at Facebook after hearing Sandberg's Barnard commencement speech, and, as a member of the company's Global Sales Division, concedes she is not unbiased about LeanIn.org. But she also says that the Lean In Circle she's created in San Francisco began independently of Sandberg. On maternity leave with her second child last summer, Gates, who is 34, hatched the idea of getting a group of her accomplished friends together to talk business, but she couldn't figure out what exactly they would talk about. At the Facebook holiday party in December she mentioned this to Sandberg, who offered her the nascent Lean In curriculum.
Gates invited 18 women to her first meeting in January -- all in their mid-30s, all with young children or with plans to have kids soon. All of them came. That group has now split into two smaller ones, per Lean In suggestions that the ideal Circle size is six to 10 people. Word of mouth from these groups, in turn, led to the formation of two more in the San Francisco area and one in New York.
Each meeting, Gates said, has left her with advice she could use at work the next day. Gruenfeld's video about "Power and Influence" taught her that "impressions are based only 7 percent on what you say and 93 percent is how you present yourself," she said. So now Gates is careful to be the one who holds the door for others, rather than scooting through it, to relax in meetings, because doing so conveys authority, and to speak far more slowly, a mark of power. "I can't say whether it's caused people to treat me differently," she said. "But I can say I feel way more confident."
Is that enough? Even if one could measure improved perception of women who learn the Lean In lessons, would that shift eliminate the gap between where women should be and where they are -- 21 of the Fortune 500 CEOs, 20 percent of the Senate and earning 77 cents for every dollar earned by men?
Sandberg is the first to say it will not. In her book she writes:
This is the ultimate chicken-and-egg situation. The chicken: Women will get rid of the external barriers once we achieve leadership roles. The egg: We need to eliminate the external barriers to get women into these roles in the first place. Both sides are right. They are equally important. I am encouraging women to address the chicken, but I fully support those who are focussing on the egg.
That focus, in turn, is supported by some who have spent their careers advocating for women in the workplace.
"She is zeroing in on the question of ambition and perception," Jennifer Allyn, managing director of the office of diversity at PricewaterhouseCoopers, one of the Lean In partner companies, said in an interview. "That is one piece of the dialogue, what women need to do. The second part is what does the firm need to do. I applaud her for using her platform as a woman in business to draw attention to this. Those of us who care deeply can use this opening to have the conversation that companies need to lean in, too."
CORRECTION: An earlier version of this article stated that the suggested size of Lean In circles is six to eight members. The suggestion is eight to ten members.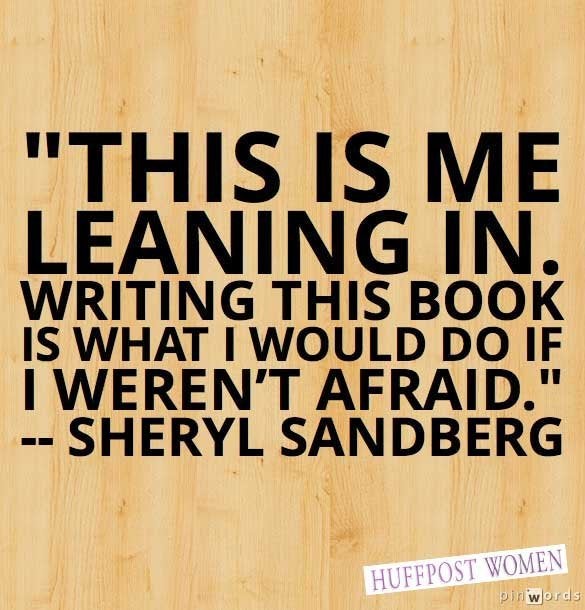 11 Quotes From Sheryl Sandberg's "Lean In"
Related
Popular in the Community