 In elementary school, Sheryl Sandberg was already hard at work honing the leadership skills that she would later bring to bear as chief operating officer of Facebook.
According to Sandberg's forthcoming book, Lean In: Women, Work, and the Will to Lead, she had two charges -- her younger siblings -- whom she taught to "follow me around, listen to my monologues, and scream the word 'Right!' when I concluded."
"People laugh at these accounts, but to this day I always feel slightly ashamed of my behavior," writes Sandberg, "which is remarkable given that I have now written an entire book about why girls should not be made to feel this way, or maybe this partially explains my motivation."
Lean In, an advance copy of which was obtained by The Huffington Post, presents Sandberg's views on what men and women could do differently to help women advance in the workplace, with personal anecdotes drawing on her tenure at Facebook, Google, McKinsey & Company and the U.S. Treasury. Though some of the anecdotes may already be familiar to close followers of her career -- as she herself notes, female business leaders generally receive far more scrutiny than their male counterparts -- we've combed through the text to bring you highlights about Sheryl Sandberg before she was Sheryl Sandberg, COO.
Sandberg Took Charge As A ChildIn addition to enlisting her siblings as her personal cheerleading squad, Sandberg writes that she "allegedly spent my time organizing shows that I could direct and clubs that I could run."
"To the best of our knowledge Sheryl never actually played as a child, but really just organized other children's play," Sandberg's brother and sister told guests during a speech at Sandberg's wedding. "Sheryl supervised adults as well. When our parents went away on vacation, our grandparents used to babysit. Before our parents left, Sheryl protested, 'Now I have to take care of David and Michelle and Grandma and Grandpa too. It's not fair!'"
Tip O'Neill Asked Sandberg If She Was A 'Pom-Pom Girl'During a high school internship working for a congressman in Washington, Sandberg was introduced to House Speaker Tip O'Neill. Sandberg recalls the speaker patted her head, told her boss, "She's pretty," and asked Sandberg a single question: "Are you a pom-pom girl?"
Even Sandberg Received A 'C'In her freshman year at Harvard University, Sandberg's political philosophy professor assigned the class a five-page paper that students had one week to complete. As Sandberg had written only one five-page paper in her life at that point (which she'd had a full year to complete, at that), she "panicked":
I stayed in every night, plugging away, and based on the time I put in, I should have gotten an A for effort. I got a C. It is virtually impossible to get a C at Harvard if the assignment is turned in. I am not exaggerating -- this was the equivalent of a failing grade. I went to see my dorm proctor, who worked at the admissions office. She told me that I had been admitted to Harvard for my personality, not my academic potential.
She Crashed Harvard's Network, Just Like ZuckerbergOn the whole, Sandberg's experience with computers in college bears little in common with Mark Zuckerberg's. While he spent his tenure at Harvard writing code for TheFacebook.com, she used the university's computer system only once during her four years.
She Was An Aerobics Instructor -- For Four YearsHer takeaway from the experience (which, in the 1980s, naturally included "a silver leotard, leg warmers, and a shiny headband"): Fake confidence until you feel it. Sandberg remembers that forcing herself to smile through the routines eventually left her feeling better.
Sandberg Was Divorced By Age 25In encouraging women to lean in to their careers and not compromise before they must, Sandberg recalls the pressure she felt to get married at a young age -- her parents told her to "get the 'good men' before they were all taken" -- and recounts how her first marriage went awry.
Sandberg married her first husband when she was 24 years old. But "the relationship quickly unraveled," she recounts. "By the age of twenty-five, I had managed to get married ... and also divorced. At the time, this felt like a massive personal and public failure. For many years, I felt that no matter what I accomplished professionally, it paled in comparison to the scarlet letter D stitched on my chest." (Sandberg has since remarried.)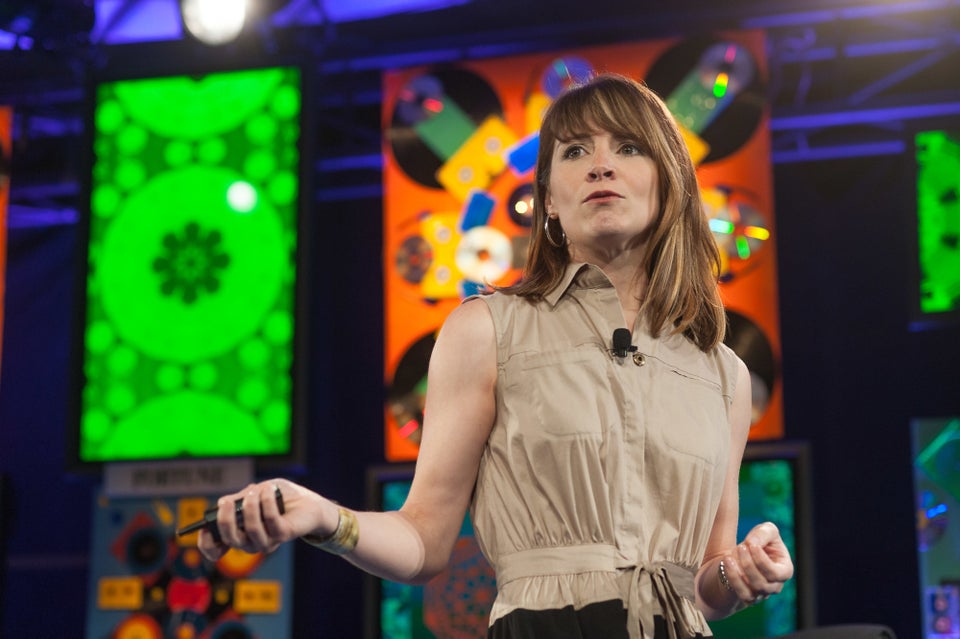 Women Startup Founders To Watch