She doesn't shout at you. She's not big and brassy, not like some of our other acclaimed cabaret performers. And yet, Sheryl Spanier, in her simple red-sequined jacket, in her almost-offhand stage presence, commands the room as if she were whispering to each of us and we all stopped talking so we could hear the important things she wanted to tell us.
Her most recent success, on June 9, was at the cozy Don't Tell Mama room on West 46th Street, in the heart of Hell's Kitchen.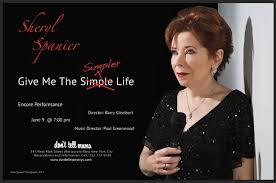 You think you've heard the clever lyrics and melodic strains of a Rodgers and Hart tune before? Think again. You remember those old Technicolor movies about turn of the (20th!) Century music? You will re-hear them in a completely different mode as Ms. Spanier brings a modern, but respectful, quality to standards we have been humming since childhood.
Watching her on the stage is like listening to your sister (oh, if I only had one) talk about her life. Yes, Ms. Spangler is singing, but she is also talking, talking to you and not bringing attention to herself, but rather explaining how love works, reflecting on the world, reflecting on feelings. It's really a philosophy lesson as much as a cabaret performance.
The title of her performance--no, let's call it a dialogue--is "Give Me the Simple(r) Life." And in a way, the show is that simple. She brings the most sophisticated music of the American Songbook down to an earthy intelligence, sparked by her intuitive understanding of the lyrics. She doesn't have to be pedantic, or holler. She's in command of her subject and she shares it without having to show off.
In this Twitter-frenzied world of celebrities who abuse their 15 minutes of fame, who seem to be obsessed with self and selfies, who mistake four-letter words for gravitas, it is more than refreshing to spend 45 minutes with a lady who respects you, the words and music, and herself. And how many performers could end their show by saying to their husbands, "I love you, David," without sounding corny? But like the totality of her show, it worked. Let's hear some more.
REAL LIFE. REAL NEWS. REAL VOICES.
Help us tell more of the stories that matter from voices that too often remain unheard.