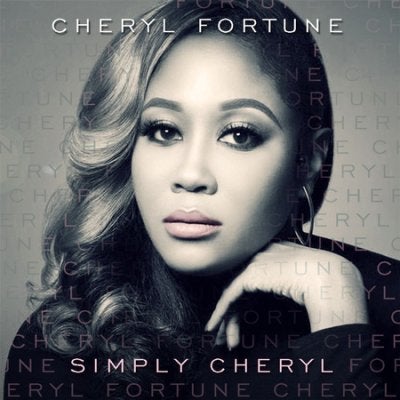 Cheryl Fortune's "Simply Cheryl" released today and it's an early favorite of mine! Of the tons of music released today, most of it has been greatly anticipated. This album is the latest chapter in Fortune's story of triumph. Years removed from victimhood, Fortune has emerged with a new identity, a survivor and a fighter! The lead single "Fighters" has done well on radio and among fans and supporters, peaking at #22 on Billboard's Hot Gospel Songs chart. Kudos to Fortune and her astounding creative team who have done well creating this futuristic, nostalgic mix of music for her debut album.
From the opening track, I loved it. My favorite 90's RnB album is a 2017 gospel music album! In a brief introduction, Fortune tells us that she loved the sound she grew up with and for the next five tracks takes us back! It captures the feeling the fans of New Edition felt following this year's BET biopic. These songs feel oh so good! Synthesizers, talkbox, electronic drums...it's all there and it's all good! If there were any drawback, I'd say that the album is over too soon! Her radio single "Fighters" signals a switch up on the sound and direction of the remaining tracks. For many experiencing Cheryl Fortune's sound for the first time, they'll discover that she's a well rounded vocalist who moves seamlessly through traditional/contemporary, urban adult contemporary, RnB, soul and even 'trap' like a seasoned veteran. In my honest opinion, she does trap gospel a little better than the current offerings currently clogging the gospel music airwaves!
"...during that time, the music just felt so right! The vibe, the substance, the lyrics-everything just took to heart...so I said "why don't I mix something?" Mix the message with the vibes!"
After a jaunt down memory lane, Fortune turns a musical corner and closes out the album with strong adult urban contemporary tracks. The message is in the music, but this album speaks to listeners who've experienced or are experiencing real life! Real life has been quite a challenge for Fortune who endured a very public bout of spousal and domestic abuse at the hands of her now estranged husband, James. As Fortune emerged from the darkness of the time as a background vocalist for Kirk Franklin's "Twenty Years in One Night" tour, many wondered about any long-term effects.
Fortune has emerged triumphant and the album shows her heart, the true spirit of a fighter. "...coming out of what I came out of, I really wanted to create an anthem that really touched the heart of women who've gone through what I've gone through." She didn't stop there, the anthem reaches beyond those affected by domestic violence. "To just...people in general. It's a part of life, we deal with obstacles and challenges every single day so I wanted to create an anthem."
It's a song with a message. A message of hope, unity and love. A message saying don't give up, don't quit. I promise it's rewarding on the other side!
The idea for the song came from her daughter who in a card calling her a "fighter, you never give up and you always fight for what's right!" Concerning the album, Fortune says "I'm going to take you on a little journey, it's not any victim music. I'm not in a bitter place, I'm in a better place. I'm taking you on a vibe, taking you on a journey to share my story and shed some light, peace and hope in someone's life!"
"...so this is the moment that you get to hear my heart and no longer acting on a stage. It's me...simply Cheryl!"
I thought about sharing my favorite tracks with you, then I realized that all of them are really good! That's sometimes a rarity, but I urge you to judge for yourself. Songs like "Figure It Out" may induce a random dance routine, don't say I didn't warn you! Just move to the beat! What a message, though! I wasn't sure which move was right, so I did them all! "Give It Up" is oozing with classic soul we have only heard from a few artists like D'Angelo and Anthony Hamilton in the last 20 years. "The Walk" is a deep long look in the mirror for anyone who has ever had to face the difficulties of life. "Oh, life don't work that way. You don't just throw it all away..." In a word, "Simply Cheryl" is cathartic. Expelling the lingering trauma of yesterdays and embracing the newness life brings. When you're a fighter and you survive the worst of times, you like Cheryl Fortune will say: "Truth is He loves me. Truth is I don't have to be perfect. He sees the beauty in my scars, my ugly truths He loves them all. Truth is...He loves me!"
"Simply Cheryl" released today and is available everywhere music is sold.
Calling all HuffPost superfans!
Sign up for membership to become a founding member and help shape HuffPost's next chapter
This post was published on the now-closed HuffPost Contributor platform. Contributors control their own work and posted freely to our site. If you need to flag this entry as abusive,
send us an email
.