When conservatives and strict constitutionalists start bloviating about the intentions of America's Founding Fathers, it's interesting to think about which of those men still hold a place in popular culture. The success of Lin-Manuel Miranda's new hip-hop musical, Hamilton, led me to see who else's name appears in the list of:
Those who signed the Declaration of Independence in 1776.
Those who signed the Articles of Confederation in 1777.
Those delegates to the 1787 Constitutional Convention who actually signed the U.S. Constitution.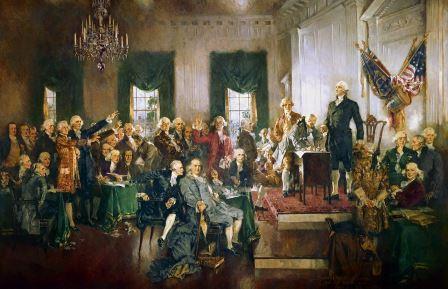 Howard Chandler Christy's painting depicting George Washington
presiding over the signing of the United States Constitution in 1787
A quick survey identified George Washington, Benjamin Franklin, Samuel Adams, John Hancock, James Madison, and Alexander Hamilton. What about other men (real and fictional) who have made their way into American folklore? Easy picks include Davy Crockett, Daniel Boone, Paul Bunyan, John Henry, Paul Revere, Abraham Lincoln, The Lone Ranger, Mark Twain, Thomas Edison and Alexander Graham Bell.
Among the women who have become icons of Americana, one can easily point to Margaret "Molly" Brown, Annie Oakley, Clara Barton, Carrie Nation, Harriet Tubman, Rosie The Riveter, Florence Nightingale, Betsy Ross, Sacajawea, and Amelia Earhart. While all of these figures are famous for contributions that helped to build and strengthen America, one woman is notable for a much more destructive form of behavior.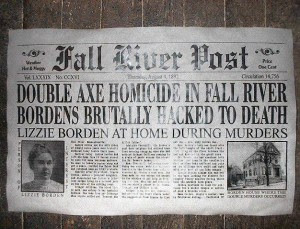 Born on July 19, 1860 in Fall River, Massachusetts, Lizzie Borden gained instant notoriety for murdering her tightwad father (Andrew Jackson Borden) and her stepmother (Abigail Durfee Gray Borden) on the morning of August 4, 1892. The story had no trouble capturing the public's imagination (since 1996, the house that Lizzie drenched in blood has been run as a bed and breakfast).
Over the years, the legend of Lizzie the ax-murderer has popped up in numerous cultural formats. One of her earliest ventures into the public domain was sung to the tune of "Ta-ra-ra Boom-de-ay" (a popular song from Boston's 1891 musical vaudeville and minstrel show, Tuxedo). The lyric stated:
Lizzie Borden took an ax
And gave her mother 40 whacks.
When she saw what she had done,
She gave her father 41.
On April 22, 1948, American Ballet Theatre presented the premiere of Fall River Legend starring Alicia Alonso as Lizzie dancing to an original score by Morton Gould (with choreography by Agnes DeMille).
On May 16, 1952, when Leonard Sillman's revue New Faces of 1952 opened at the Royale Theatre, a skit entitled Fall River Hoedown included the song "You Can't Chop Your Papa Up In Massachusetts."
On March 25, 1965 the New York City Opera presented the world premiere of Lizzie Borden starring Brenda Lewis as Lizzie with Anne Elgar as Lizzie's sister, Margret Lenora Borden, Herbert Beattie as Lizzie's father, Andrew Borden, and Richard Fredericks as Margret's love interest, Captain Jason MacFarlane. Composed by Jack Beeson (with a libretto by Kenward Elmslie), the opera featured a bone-chilling performance by Ellen Faull as Lizzie's stepmother, Abigail Borden (you can listen to the original cast recording by clicking here). After the one live performance I ever saw of the work, the murder scene nearly gave me nightmares.
If Beeson's operatic adaptation aims to capture the high levels of anxiety infecting the Borden household, a new rock musical by Steven Cheslik-DeMeyer, Alan Stevens Hewitt and Tim Maner goes much, much further. With a cast of four women and a six-piece band, Lizzie is a full-on assault filled with sibling rivalry, feminine rage, and the kind of hunger for revenge that Electra felt for her mother (Clytemnestra) and stepfather (Agamemnon).
This show has undergone a long and interesting developmental process. Lizzie Borden: An American Musical was first created by writer/director Maner and songwriter Cheslik-DeMeyer in 1990 as a hybrid between experimental theater and rock concerts for the American Living Room Festival. Not only did the creative team love the idea of casting a musical with female rockers, after their four-woman, four-song piece finished its first performance at a former factory in SoHo, the audience was clamoring for more.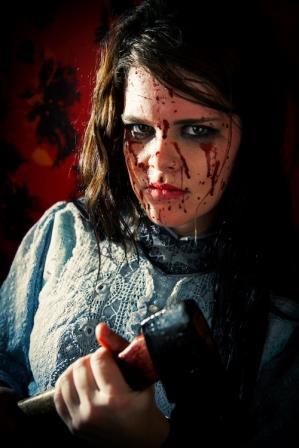 Elizabeth Curtis stars in Ray of Light Theatre's
production of Lizzie (Photo by: Erik Scanlon)
In 2010, Lizzie's songs were featured in a Songwriter Spotlight evening by the National Alliance for Musical Theatre. The final version of the show debuted in Houston, Texas during the fall of 2013 as part of a developmental production directed by Kent Nicholson for Theater Under the Stars (a studio album was also created that year).
In March 2014, Lizzie received its European premiere (sung in Danish) in Fredericia, Denmark. In May 2014, Lizzie was given a new production by the Portland Center Stage in Portland, Oregon.
The following clips (from NAMT's 2010 Songwriter Spotlight program and a 2012 production by The Baldwin-Wallace Conservatory of Music performed at Cleveland's Playhouse Square) give a healthy dose of the musical's angry, sarcastic style.
San Francisco's adventurous Ray of Light Theatre recently presented the Bay Area premiere of Lizzie in a thrilling, throbbing, and thrumming production directed by Eliza Leoni that was aggressively choreographed by Nicole Helfer. The show benefits immensely from the intensity of Teddy Hulsker's sound design and Joe D'Emilio's lighting. Add in Melissa Wortman's period costumes and a lesbian love affair between Lizzie Borden (Elizabeth Curtis) and her neighbor, Alice Russell (Taylor Jones), and you get a pretty hot show!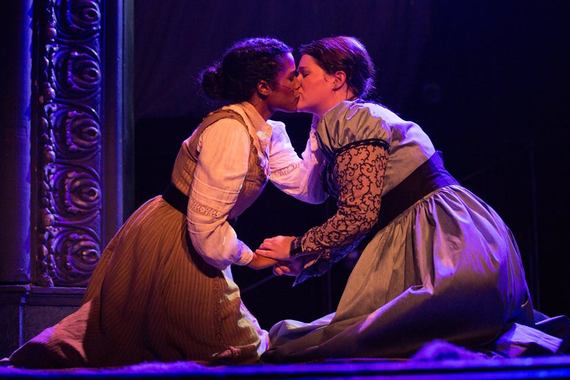 Taylor Jones (Alice Russell) and Elizabeth Curtis (Lizzie Borden) in
Ray of Light Theatre's production of Lizzie (Photo by: Nick Otto)
Eliza Leoni's staging does a superb job of reshaping the legend of Lizzie Borden by telling it through the four women who were actually involved in the incident. In addition to Lizzie and her neighbor, Alice Russell, the audience meets Lizzie's older sister, Emma (Jessica Coker), who has discovered that her father named Abigail as his beneficiary. Not only does Emma hate her stepmother with a white-hot fury, she fears that "something might happen" which could prevent Abigail from ever inheriting Mr. Borden's estate.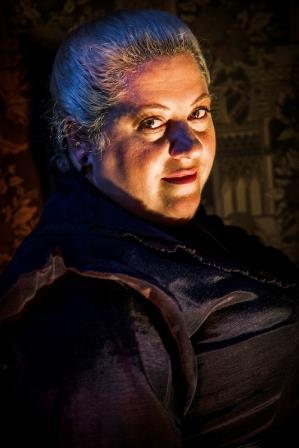 Jessica Coker as Emma Borden in Ray of Light Theatre's
production of Lizzie (Photo by: Erik Scanlon)
Surprisingly, it is the family's sarcastic Irish maid, Bridget Sullivan, who consistently brings down the house with hints of the explosion of female rage that is yet to come. Looking a bit like a demented and determined Kathy Griffin, Melissa Reinertson drove the bloodthirsty trio at the end of Act I ("Somebody Will Do Something") to a fever pitch.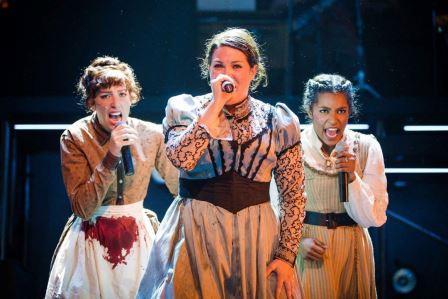 Melissa Reinertson, Elizabeth Curtis, and Taylor Jones in a scene from
Ray of Light Theatre's production of Lizzie (Photo by: Nick Otto)
REAL LIFE. REAL NEWS. REAL VOICES.
Help us tell more of the stories that matter from voices that too often remain unheard.