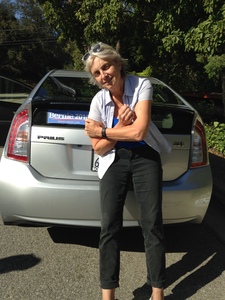 Deborah Dentler is giving her right arm for Bernie Sanders and has no regrets.
The 63-year-old lawyer is a veteran political campaigner. Her first volunteer experience was in high school, door-knocking for Senator Eugene McCarthy's 1968 presidential crusade. Since then she's volunteered on dozens of political campaigns. She registered and canvassed Nevada voters and phone banked in her congressional district in California for Barack Obama in 2008 and 2012.
She was going to sit out this year's presidential race. As recently as a month ago, Dentler -- who lives and works in Pasadena, California -- was undecided whether to vote for Sanders or Hillary Clinton. But then she got moved to sign up for the Sanders campaign.
"My three kids and five nephews are in their 20s and 30s and the more I thought about them, the more I got inspired. Then I saw Bernie on TV and that sealed it. I went on Bernie's website and decided to volunteer."
Dentler initially signed up for just one three-hour stint registering voters at Pasadena Community College.
"I got really inspired talking to those young people. Once you register voters, you want to make sure they vote."
She agreed to phone bank and canvass door-to-door, both of which involved texting and emailing on her cell phone. She quickly took on the responsibility of being the campaign's phone bank captain for her congressional district.
"I went from an undecided non-volunteer to a die-hard Bernie supporter and mega volunteer in the past month."
For the past few weeks Dentler has been working about 10 hours a day phone banking and canvassing, almost all of it by using her cell phone.
"I'm not a Millenial. I'm not a big texter. My husband doesn't text at all. Before working on the Sanders campaign, I would only text occasionally to communicate with my three children and close relatives."

As a Sanders phone bank captain, Dentler coordinates several other volunteers, and communicates with other many other Bernie supporters and volunteers much younger than her.
"They are giving this campaign their all. They are profoundly passionate. They text and email me at all times of the day," she explained.

"I feel like I have to get right back to them using my cell phone to be a part of it because it is a heavily text-driven campaign."
"When you feel like one more text message might make a difference and might get your candidate into the history books and help change the world, then what's one more text message?" said Dentler. "It never crossed my mind that I was hurting my body."
On Saturday she woke up at 1:15 am with an intense pain in her right arm from her shoulder to her wrist. She even felt nauseous.
"I'm in great health. I never take any medications. But I guess my thumb couldn't take it all that texting and emailing. I was in so much pain, my heart was pounding. I was really worried. I thought I might be having a heart attack and should go to the emergency room."
Instead, she took lots of ibuprofen. By Sunday morning, it hadn't gotten better. She's right-handed and couldn't raise that arm over her head.
So she took the day off from her volunteer work. Instead she went to a Dodgers game that afternoon but she could only do the wave with her left arm. She kept the right rested in her lap. She left the game early because she was in so much pain.
She hoped that the agony would subside by Monday, the day before the California primary. If it doesn't, she said she'd volunteer anyway through election day and cope with the pain.
"This is the way campaigns work these days," said Dentler. "The kids grew up with this new technology, but for us baby boomers, it's like learning a new language."
If Sanders wins the California primary, Dentler says it will have been worth her physical discomfort.
"I guess you could say that I really feel the Bern," Dentler said.
Peter Dreier is professor of politics and chair of the Urban & Environmental Policy Department at Occidental College. His most recent book is The 100 Greatest Americans of the 20th Century: A Social Justice Hall of Fame (Nation Books)

Calling all HuffPost superfans!
Sign up for membership to become a founding member and help shape HuffPost's next chapter