How important are women to the rapidly evolving practice of healthcare around the world? Look no further than the results of a recent multi-market survey of 9,200 respondents in the U.S., UK, Germany, Japan and Brazil titled "The Power of the Purse: Engaging Women Decision Makers for Healthy Outcomes." Conducted by The Center for Talent Innovation, led by Carolyn Buck-Luce, I recently had the pleasure of serving with nearly 90 industry leaders on this important primary research initiative.
The study's key findings make clear that women are now overwhelmingly the healthcare decision makers for both themselves and their families. They are setting healthcare agendas, making treatment decisions, selecting healthcare coverage and providers.
Regardless of marital status or whether they have children, 94 percent make decisions for themselves and 59 percent make healthcare decisions for others.
Ninety four percent of working moms of children under age 18 make decisions for others
This finding probably comes as no surprise to most women. But it is satisfying to finally have definitive proof about the role we play. Meet the new boss.
The study indicates that we women take this "Chief Medical Officer (CMO)" role very seriously. Fully 73 percent of respondents indicated that it is very important to them to be knowledgeable about keeping themselves and their loved ones healthy. And yet, it is a role that a healthy majority of women feel ill equipped to do. Nearly 60 percent say they are lacking confidence in their decision making.
Why? The study results strongly suggest that women are starved for healthcare knowledge. They don't know what information -- mostly accessed online -- to believe or trust. In addition, they are starved for time and trust in their insurance providers and pharmaceutical companies.
This challenging CMO dichotomy adds up to huge opportunity across the healthcare arena -- medical schools, payers, pharmaceutical companies, nursing, product marketers, executive leadership, talent managers, etc. For improving healthcare outcomes. For improving the bottom line. IF female "famines" can be properly addressed.
For starters, that means healthcare professionals and organizations need to change their current male-centric thinking. Women view health more broadly than the usual definition of freedom from illness.
Nearly 80 percent of the CMOs in the study defined health as "having spiritual and emotional well-being." Almost the same sample also cited "being physically fit and well rested."
The CMO perspective needs to be baked into marketing, clinical trial design, boardroom decision-making and more, especially direct communication.
But most important, the study indicates healthcare providers and organizations must change their behaviors in order to build trust that can lead to empowered CMO engagement. Women were asked what behaviors they found most satisfying from these entities. At the heart of every answer is improved, two-way dialogue and clear messaging that are sensitive to the female perspective.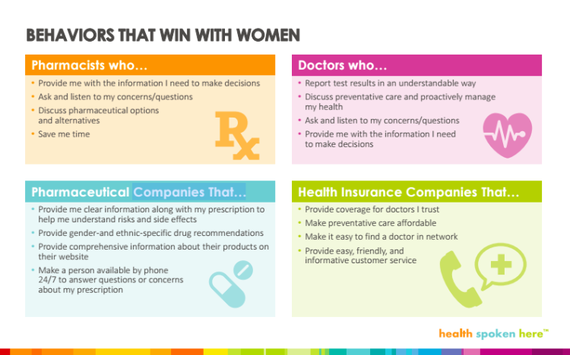 And while the industry needs to step up its game, so do women when it comes to caring for themselves. The study disturbingly found that a full 78 percent of working women with children under 18 believe they don't have enough time to maintain their health. Lack of time is an easy culprit to blame. And a bit foolish. Like ignoring the instructions for using oxygen masks on airplanes. Women simply can't keep shortchanging themselves if they are to be successful care coordinators for their families. The phrase "women first" comes to mind.
The "Power of the Purse" study offers an insightful blueprint for successful CMO engagement at the highest levels of healthcare organizations, throughout the marketplace and at the point of care. We marketing communications professionals have a golden opportunity to translate these findings into meaningful messaging and tools -- and prove further that communications is the cure. By working together, all sectors of the healthcare arena can contribute to properly preparing women to be effective, even revolutionary, healthcare advocates.
Best of luck in your new position ladies.
Visit talentinnovation.org to read the study report. Follow the conversation #POPStudy @lynnvos.
Calling all HuffPost superfans!
Sign up for membership to become a founding member and help shape HuffPost's next chapter