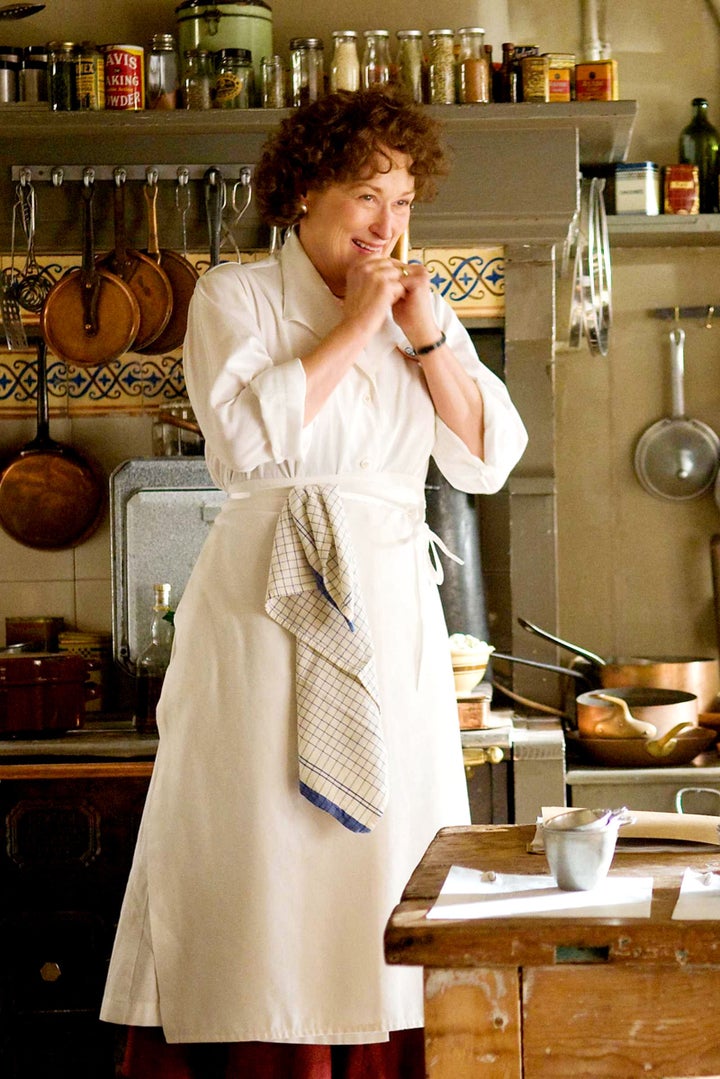 Relentlessly slick and undeniably entertaining, Nora Ephron's Julie & Julia tempts me to employ a recipe metaphor on its behalf -- but since that critical approach is likely to be dispiritingly common, I'll dodge the obvious and simply say that this project surprised me. Remember newspapers? Well, there are those of us who don't flip immediately to the comics section to read "Cathy." One would suppose that this movie -- about women, cooking, eating, and cooking again -- would score primarily with that demographic. But I'm a fellow who never reads "Cathy" -- and I emerged from Ephron's latest with a generally satisfied grin.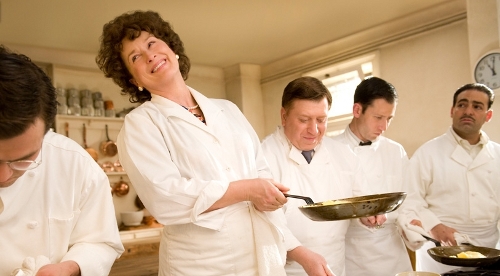 Meryl Streep as Julia Child: Look out, Swedish Chef.
(photo: Columbia Pictures / Sony)
Of course, when it comes to guaranteeing crowd-pleasing yuks, casting master-of-disguise Meryl Streep to whoop it up as 1950s-era Julia Child is like shooting des poissons in a kettle. Leaning closer to caricature than character, Streep deserves credit for keeping her particularly sugary soufflé from collapsing into itself and becoming sheer, Muppet-like silliness. Though breezy throughout, there is a ditzy dignity to her performance, which is craftily counterbalanced by her Doubt co-star Amy Adams, returning here as a beleaguered secretarial patsy who seeks Girl Power through recreating Child's recipes from half a century earlier and more than a world away -- oh, and through blogging.
Indeed, the gist here is that 21st-century Julie (based on blogger Julie Powell's online "Julie/Julia Project" and subsequent hard-copy publication) feels her life is a meek little wreck, so she turns to Child's epic Mastering the Art of French Cooking -- and in a thoroughly modern case of culinary exhibitionism, decides to prepare every recipe in the book throughout the course of a year, whilst publicly chronicling the joys and woes thereof via her increasingly popular Salon-dot-com blog (which, notably, is not only still up -- it's still boasting the Paypal-donation button mentioned in the movie). Meanwhile, in the 1950s, throughout Europe but mostly in France (one outdoor café of which I seemed to recognize as the Warner Bros. backlot commissary), Julia seeks Middle-Aged-Woman Power, via infiltrating, and eventually mastering, the complex and rather snooty world of chronic cruelty to animals -- I mean, French cuisine.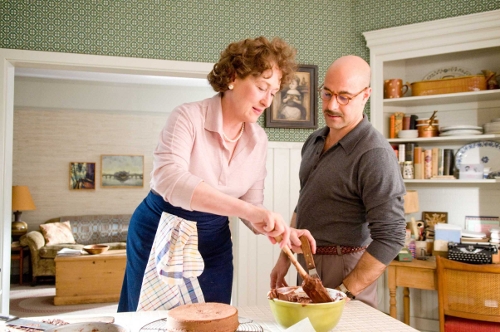 Boundless love: Streep and Tucci as the Childs
(
photo: Columbia Pictures / Sony
)
With executive producer Scott Rudin onboard, it's not far off to call Julie & Julia a sort of fun, frothy version of The Hours, sans Oscar-winning Silly Putty nose and sick guys plummeting from windows. The same narrative principle applies, as a powerful author from the past impacts easily-influenced souls decades later. Simplified to only the two eponymous leads (and very smartly edited by Richard Marks, who knows a thing or two about temporal shifts from cutting The Godfather: Part II), we get to explore a great many themes in these two hours, which is why, in addition to the movie's many broad knee-slappers, I can confidently recommend Julie & Julia to the half of the world's population which is going to drag the other half in anyway.
First and foremost, of course, comes the food; and although much of what is depicted here onscreen equals the vegan equivalent of a horror movie (Talking Heads' 1977 recording of "Psycho Killer" is retooled here as lobster-slaying music), I admit I've rarely seen bruschetta look so beautiful. Ephron (via the luminous work of cinematographer Stephen Goldblatt) so exults in both Julie's and Julia's culinary discoveries that even those of us who'd rather not watch someone molesting a duck carcass (or creaming over butter) must nod our cinematic approval. Via their efforts, there's a fresh duality afoot here, as modern Julie and her average-guy husband Eric (Chris Messina) inhabit a Movie Design 101 struggling-young-people apartment in Queens; whereas the considerably better-heeled Julia jokes to her man Paul (a very charming Stanley Tucci) that they're moved into "Versailles" -- but both women are searching: for elegance, for confidence, for (indeed) mastery of something, apart from being mere wives. Astoundingly, they create it all in the kitchen.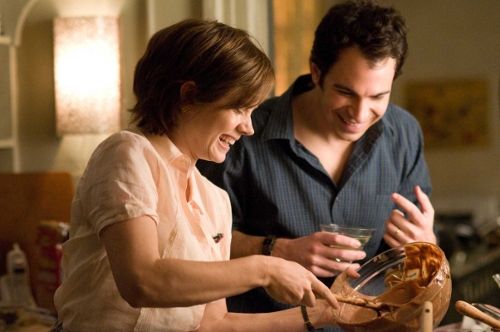 Modern love: Adams and Messina as the Powells
(
photo: Columbia Pictures / Sony
)
On the conjugal plane, the leads' relationships vary significantly. Lofty blueblood Julia seems to have achieved total marital perfection with Paul (who wryly "translates" a French fowl recipe in the boudoir: "Bathe the thighs in butter, and then stuff her until she just can't take it anymore"). But modern girl Julie (whose next real-life book, about her post-breakthrough infidelity, has been pushed to December, 2009) becomes so self-obsessed that she starts dressing like Child, eventually driving the very patient Eric to leave her (albeit only plot-point briefly, for a slice at the pizzeria downstairs). In the cross-cutting, some fascinating notions about relationships are revealed: The moneyed mid-century lovers seem fully beyond the concept of strife, while these scrappy 21st-century kids on their shoestring could well snap if that blasted blog eclipses their lives.
While many of this movie's laughs are golden (supporting player Mary Lynn Rajskub is a treat as always, and it's hilarious when one of Julie's bitchy friends yanks a carb-laden breadstick from her fingers with a curt "No"), Julie & Julia would flounder were it not for Ephron's deft touch in comparing and contrasting Powell's profanity-strewn blog with Child's more quaint and conventional memoir (written with Alex Prud'homme), My Life in France. Cutesy kitchen antics aside, one senses here -- across class lines, fifty years and an ocean -- huge shifts in the perception of romance, of profession, of identity. Adams does her plucky-earnest thing (which doesn't work for me), but one detects real trouble as her character's Texan mother crudely slams Julie's struggle for validation -- until, of course, the kid gets blurbed in the New York Times. Concurrently, Streep's hooting goofiness suggests that while upper-crusty Julia had to struggle with hard-core Conservative parents (plus HUAC-types gently hassling her husband), the venerable chef's biggest adversary in life may have been the chief instructor (Pamela Stewart) at Le Cordon Bleu.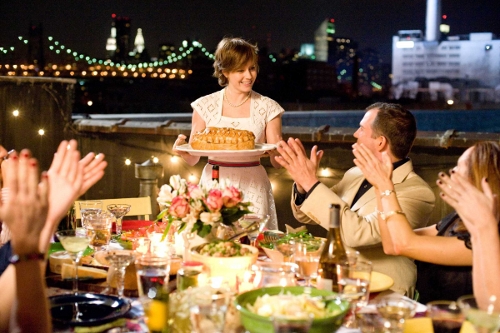 A dead duck and a new life: Julie channels Julia.
(
photo: Columbia Pictures / Sony
)
As with any complicated story, there's plenty to nitpick about Julie & Julia. Don't, for instance, come expecting a deep, thoughtful appraisal of Child's long life (though there's some nice epistolary material throughout). And Powell's idolizing of Child does wear perilously thin by the time the blogger starts throwing cutesy meltdowns on the kitchen floor. Plus, this is a Sony movie, but Julie is so obviously a Mac type that there's no way she'd be using a Vaio. Oh, and Eric (or Ephron) pilfers a popular Douglas Adams quote ("I love deadlines; I love the whooshing noise they make as they go by") -- but I couldn't tell if he murmured a credit to the late author or not, as the oldsters in my auditorium exploded into one of their many loud communal cackles. Which may tell you what you need to know about Julie & Julia: They dug it, I dug it -- and if you like food, friendship, romance, sex, comedy, Paris or New York, you'll probably dig it, too.

REAL LIFE. REAL NEWS. REAL VOICES.
Help us tell more of the stories that matter from voices that too often remain unheard.