Four years ago, I filed for a green card for my non-citizen spouse. It should have been a slam-dunk. But because we are both women and because federal law at the time did not recognize our marriage, the ball missed the hoop. It wasn't nothin' but net. It was nothin'.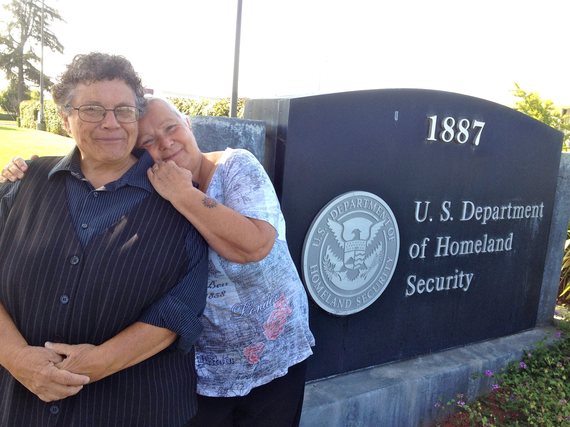 Judy and Karin at USCIS, application filed, 2012
We did get something, though. The USCIS held my application for further consideration. It wasn't rejected. So when DOMA (Defense of Marriage Act) was overturned by the U.S. Supreme Court, my application for Karin to be here with me was revived. We didn't have to start all over again. We kept moving, kept loving, kept believing, kept pushing that envelope.
Just like we did by committing to each other in 2006 after meeting in 2005.
Just like we did by becoming domestic partners in 2007.
Just like we did by attending the Senate Judiciary Committee hearing on same-sex binational marriage in 2009. There we met supporters like U.S. Senator Patrick Leahy, D-VT, U.S. Senator Charles Schumer, D-NY, and civil rights icon and former head of the NAACP Julian Bond. We also met couples and families facing our separation nightmare and fearing the worst.
Just like we did by contacting Elizabeth Gilbert (Eat, Pray, Love) and asking this ally to write the foreword for my upcoming book in 2010.
Just like we did by eloping, marrying in a state that recognized us, in 2011.
Just like I did by publishing Torn Apart: United by Love, Divided by Law, Findhorn Press, 2011, sharing the struggle of couples and families like ours.
Just like we did by talking to President Barack Obama on the rope line in Las Vegas in 2013 at his immigration speech.
Just like I did by speaking at The White House as a Cesar Chavez Champion of Change for Immigration (thanks to my nomination by Julie Rodriguez) in 2013. Then reinforcing our struggle with President Obama when the 11 of us met with him in The Oval Office.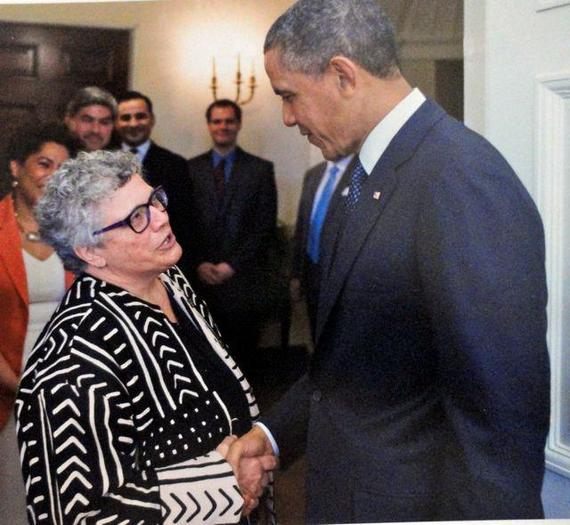 Judy in The Oval Office, 2013
Karin and I made same-sex binational couple friends and allies along the way, sharing struggles, celebrating victories. We joined existing efforts, appreciating and benefitting from work by Immigration Equality, Out4Immigration, The DOMA Project, attorneys Masliah and Soloway, U.S. Rep. Mike Honda (D, CA-17), U.S. Rep. Zoe Lofgren (D, CA-19), U.S. Rep. Anna Eshoo (D, CA-18) U. S. Rep. Luis Gutierrez (D, IL-4) and individuals from the greater immigration rights political effort who understood that immigration also intersects with LGBTQ folks and their issues.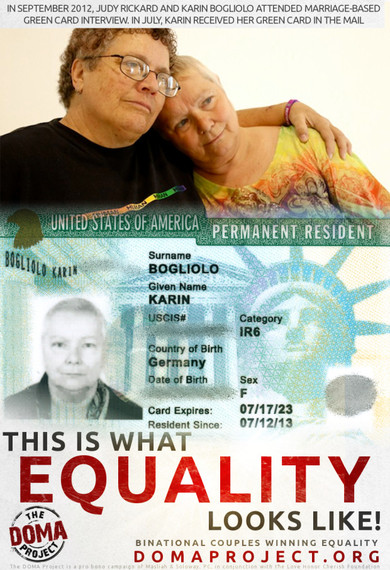 This is our road to safety, togetherness, and citizenship for Karin. It was invigorating at times. It was devastating at times. It was always expensive. Our savings, our goodwill and our energy have been heavily depleted. It's not easy living in two countries at once. It's not as much fun traveling when you have to, not because you want to.
Would we do it again? Yes - if we had to.
Would we want to do it again? No - no one should have to go through what we have gone through.
Because we kept pushing, Karin got the first green card in the state and the third in the country for a same-sex binational couple after DOMA fell. I drove her to USCIS this week for the first appointment of several to become a U.S. citizen. She had her fingerprints recorded and a photo taken. Next will be her citizenship test, date unknown yet. Then she will be sworn in as an American citizen if she passes. She will. That will be a big date - party time for sure!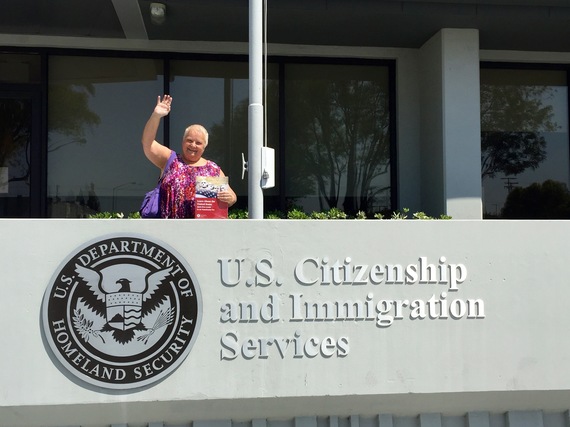 Karin at USCIS for biometrics appointment, 2016
These two old lesbians (Karin, 76 and Judy, 68) have faced a lot, seen a lot, heard a lot, done a lot. We're happy to be succeeding but sorry it took so much in terms of energy and money. We could have used all that differently more happily!
Popular in the Community