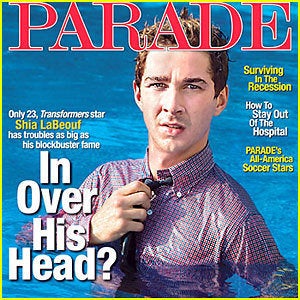 Shia LaBeouf, 23, is on the cover of the upcoming issue of Parade magazine. Inside Dotson Rader describes the Transformers actor as "foul-mouthed, resentful, funny, prickly, quick-witted, and charming -- a package of contradictions."
LaBeouf says the source of his humor is from "seeing my parents have sex, smoke weed, my mom being naked ... [and] twisted R-rated humor."
"The good actors are all screwed up. They're all in pain. It's a profession of bottom-feeders and heartbroken people," LaBeouf also says, describing what caused his split with China Brezner, whom he dated for three years.
"Maybe it was career pressure. ... Maybe I chose work. Every man has those feelings of escape and survival. I know you shouldn't be that way. I'm trying to understand it and find the answers. I don't have them now. Why did the love of my life and I break up? ... Man, I have no idea. What was that all about? I have no answers to anything. None. Why am I an alcoholic? I haven't a damn clue! What is life about? I don't know."
Shia said of hiving his life, "Sometimes I feel I'm living a meaningless life and I get frightened. I know I'm one of the luckiest dudes in America right now. I have a great house. My parents don't have to work. I've got money. I'm famous. But it could all change, man. It could go away. You never know."
Of his skyrocketing career he said, "I don't handle fame well. Most actors on most days don't think they're worthy. I have no idea where this insecurity comes from, but it's a God-sized hole. If I knew, I'd fill it, and I'd be on my way."
LaBeouf is often an outspoken in interviewee, telling Playboy that his mother is the sexiest woman he knows.
Popular in the Community