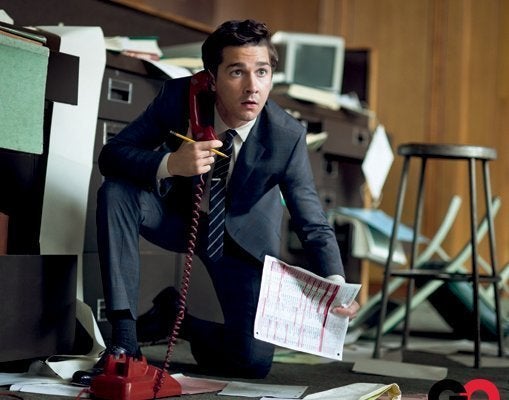 'Wall Street 2' has been delayed until September, but its star, Shia Lebeouf, dresses the part in April's GQ. Inside he opens up about his relationship with Carey Mulligan and working with Michael Douglas as his son was jailed for meth. Shia also slams "Kim Kardashian's sister" (Khloe) for her preachy comments on his 2008 car accident, which left his hand crushed and mangled.
On his girlfriend (and costar) Carey Mulligan:
"I never really had anything in my life that was off-limits. But with this, just out of respect, I just don't want to fuck around. She's an unbelievably thought-provoking actress, the most talented actress I've ever met in my life, by leaps and bounds. Neither one of us are fame whores. It works out. It's not like we're the premiere couple; we're not the red-carpet king and queen."
On his widely publicized 2008 car crash:
"I'd be watching the news, and they'd play my car crash, and every once in a while Kim Kardashian's sister would jump on TV and preach to me from the red carpet about how to live my fucking life. And I'm so upset, man. I'm so angry. Because this accident was not caused by me. I got hit. I had a green. This fucker ran a red light. And he flipped my truck, and he shoveled it on my hand. And my fingers are in the street... they're off, they're under the truck door, man. This is fake, dude," he says, lifting his newly reconstructed hand. "This is hip bone and the skin that was left over..."
On working with Michael Douglas:
"Michael Douglas was an open wound on the set. That dude is in pain. He was emotional putty on the set. A struggling man. We filmed a struggling man."
REAL LIFE. REAL NEWS. REAL VOICES.
Help us tell more of the stories that matter from voices that too often remain unheard.