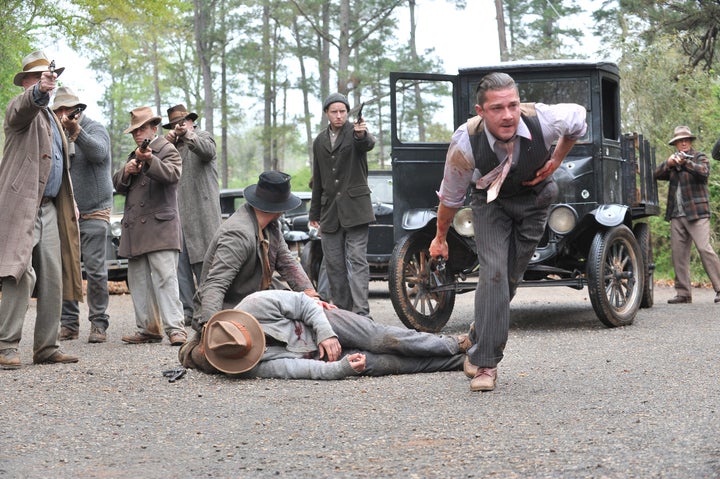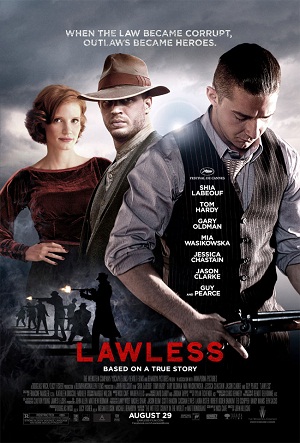 "Matt Damon and Ben Affleck and I gave birth to Shia," Harvey Weinstein said at the Cinema Society screening of Lawless last night, about the movie's star, Shia LaBeouf. "It's true," he told the tittering crowd at the Paley Center. "You've seen that John Ford movie, 3 Godfathers? That's us. We did a TV series, because we wanted to give something back after the great success of Good Will Hunting, that was called Project Greenlight. And one of the first movies that we made was on that show, and Shia was the actor. And I am so, so proud of him, and so are his other two godfathers."
Ten years later, LaBeouf is still willing to work hard for Weinstein. "I had to gain 40 pounds," the actor told VanityFair.com about the Lawless role. "That was probably the most physically arduous; you know, I've never had that kind of weight on my chest before. It's something to get used to."
The other thing he had to get used to in the Prohibition-era drama was driving the vintage cars. "You've got to learn how to drive these cars, and become one with them, and they're not easy cars to drive," LaBeouf said. "It's not like you've got a clutch and a throttle -- it's totally different; you've got pedals that you've never seen before. You look down at the floorboard -- there are 12 pedals there. You think you're flying a hover board. These old-school trucks were very difficult to drive."
Co-star Jessica Chastain, who is the ambassador for Manifesto Yves Saint Laurent, the evening's sponsor, said the hardest part of the film shoot for her was the old-fashioned girdle she wore under her period costumes. "I really asked for the actual vintage pieces, and it was really the metal zippers that you had to be very careful not to catch yourself in," the Vanity Fair Best-Dressed List cover girl told us.
On her entry onto this year's list, Chastain told us: "The one thing I'm just most excited about is, does it mean that I get to wear even better clothes? Because I'm like, the designers read it, so maybe that means that I'm going to get, you know, my pick of even cooler dresses!" Chastain said she's gotten some compliments on her shoot by Mario Testino, too, particularly on the photo where she appears (demurely) topless in a Venus de Milo pose.
Lawless is about a family of bootleggers, and at the post-screening party at Gallow Green, the McKittrick Hotel's lovely new rooftop space, some of the attendees got to talking about their own run-ins with the law. Chloë Sevigny reeled off a litany of minor offenses that included carrying open containers, fornicating in public, and urinating in public. Um, what? "Between cars in the street in Manhattan. I've done that before, when the club lines were too long," Sevigny explained. "When I was young," she clarified. "Not as of late."
Popular in the Community