A February 19 email from Sullivan allegedly reads:
"I'm too old for disagreeable situations. you're one hell of a great actor. Alec is who he is. you are who you are. you two are incompatible. I should have known it. this one will haunt me. you tried to warn me. you said you were a different breed. I didn't get it. Dan"
Another email signed "AB" (Alec Baldwin, perhaps?) adds more poetic intrigue to the story:
"SL I've been through this before. It's been a while. And perhaps some of the particulars are different. But it comes down to the fact that what we all do now is critical. Perhaps especially for you. When the change comes, how do we handle it, whether it be good or bad? What do we learn? I don't have an unkind word to say about you. You have my word. AB"
To see the whole Twitter showdown (and LaBeouf's audition tape for "Orphans") scroll through the slideshow below. For more on the actor's abrupt exit from what would have been his Broadway debut, read the original AP story here.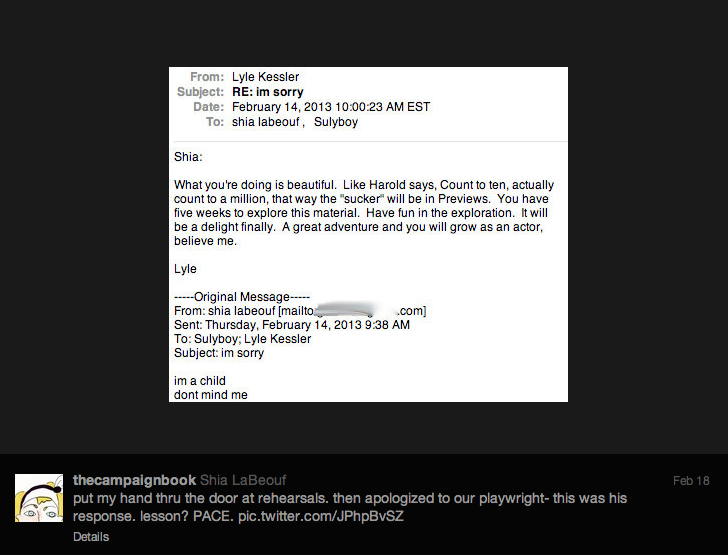 Shia LaBeouf Twitter Reactions
Egyptian Culture Minister Jailed Over Van Gogh Theft, Opens A Prison Art Exhibition: Egypt's former Deputy Minister of Culture, Mohsen Shaalan, took the fall for the not-so-strict security that allowed a pricey Vincent van Gogh painting to disappear from the Mohamed Mahmoud Khalil Museum in 2010. Now behind bars, he's focusing on his second profession -- being an artist. "Art gives you the freedom to use symbols that no one can take away from you," he said in a statement to Ahram Online. (ARTINFO)
The Vienna Jewish Museum Admits It Might Possess Looted Art: The Jewish Museum in Vienna has admitted that it may have hundreds of looted items in its possession. So far, a screening has revealed a whopping 490 objects and more than 980 books are in question. Director Danielle Spera assured The New York Times that the institute has every intention of returning any looted materials: "I feel it as a personal obligation. I'm absolutely passionate about that." (The New York Times)
10 Tidbits About Being An Artist That You Won't Learn In Art School: Want to know the honest truth about being a professional artist? The Guardian recently compiled a list of 10 nuggets of wisdom every creative person should know, including this encouraging thought: "A good body of work speaks louder than grades." (The Guardian)
The World's First Tumblr Art Symposium: "This is an exciting context for art on Tumblr," says Tumblr Arts Evangelist Annie Werner to Hyperallergic. "What was once floating out into the ether is now constructed in an official, curatorial format. It's an amazing experience for artists using the platform as a medium — we hope to see only more of it." (Hyperallergic)
Correction: In an earlier version of this article, we incorrectly listed Alec Baldwin's first name as "Alex" in the second paragraph. We apologize for the error.
Related
Popular in the Community