In a previous post, I blogged about my impressions of the World Economic Forum in Davos: about the increasing interest in mindfulness in mainstream circles, which co-exists with what might be called the "collective sleepwalking" of our elites--and ourselves. Here I share a recent experience that offers insight into the question: What does it actually take to awaken ourselves, the collective sleepwalkers?

Fields of Dormant Future Possibility
We live in a moment of profound disruption. Something is ending, and something else is wanting to emerge. There is a huge dormant potential in the world today that is waiting to be activated: a potential for profound renewal and change. People are tired of the usual conferences and approaches to organizational change that produce lots of talk but no substantive action. We are collectively creating results that nobody wants and will continue doing so until we can answer the question: How do we activate our future potential at the collective level?
I have spent the past 18 years pursuing this question. That quest has led me and my colleagues to create a "social technology" that blends leadership, mindfulness, and systems thinking. My colleagues and I have come to refer to this new social technology as "presencing." The presencing method uses a sequence of co-sensing ("observe, observe, observe"), stillness (co-inspiring or "connecting to sources of knowing") and co-creating ("acting in an instant") to help people bring about profound innovation at the level of the whole system.
Global Presencing Forum: Ego to Eco
Last week, along with my colleagues, I helped organize an event on the campus of MIT in Cambridge, MA, designed around the principles of presencing. We brought together 250 leaders and change makers from 28 countries; another 800-1,000 online participants watched the live-streamed plenary sessions, and some of them hosted parallel events in their local communities.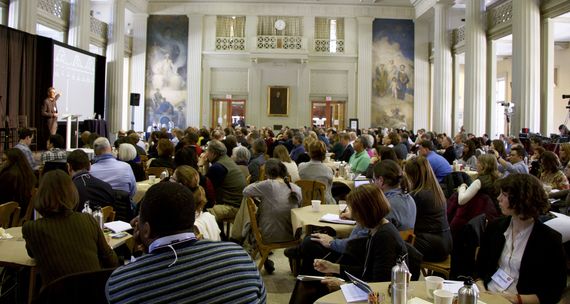 We called the event the Global Presencing Forum. Co-sponsored by MIT's Community Innovators Lab, the Presencing Institute, and the MIT Department of Urban Studies and Planning, the Forum brought together innovators who seek to generate profound change in social systems by shifting the awareness of the people within these systems, including themselves, from what we call ego-system awareness to eco-system awareness.
The Forum was designed to connect the four following groups:
•leaders and innovators from business, government, and NGOs
•grassroots movement builders and social entrepreneurs who come from, and work with, the most socially marginalized
•thought leaders in transforming the economy toward sustainable well-being
•pioneers in blending mindfulness with cognition science
Below I list some of the most interesting insights and initiatives that emerged during the two-day Forum. I also describe some of the methods we used.
Collaboration across boundaries:
Several new initiatives were launched. Equally important are the many new connections that were forged between existing initiatives and new partners.
For example, the Coral Triangle Initiative (CTI) on Climate Change, Coral Reefs, Fisheries and Food Security is a multilateral partnership of six countries formed in 2007 to address the urgent threats facing coastal and marine resources. Its current challenge is to build a collective capacity to deliver on its objectives, in a scenario of deep social, cultural, economic and political complexity. At the Forum, CTI representatives linked up with similar (smaller-scale) regional initiatives with the goal of collaborating more effectively across boundaries and building capacity toward a vision that is organized around cultivating the commons.
Shifting how individuals relate to each other and to the whole system:
Some participants observed and experienced subtle new ways of relating to each other. A long-time leader of a major global bank told me after the Forum: "I was so surprised by the quality of awareness and connection in the room. It happened very naturally. I have never seen anything quite like it." I asked him what qualities of connection he was referring to. He said: "There was very little ego in the room. The ego-awareness was gone, and the eco-awareness was activated in just about everyone. It was quite a natural process. Very different from what I experience otherwise. As if a dormant collaborative gene has been switched on..."
Activating the potential of online learning:
Additional feedback came from our online audience. One participant reported "an unexpected experience of being deeply connected," while another said "I never felt so connected and transformed before." Because, personally, I have never experienced anything transformative through an online medium, my colleagues and I are now inquiring into what this participant and others found to be particularly helpful or inspiring, in order to explore how it can be replicated in future online programs (such as the MOOC I will be offering later this year through edX).
Activating the Field of the Future
Here are seven tools and practices that we and the participants used in the Forum to co-sense and activate our best future potential.
1. A core group that "holds the space" with a common intention. Before the Forum began, 24 senior facilitators who guide presencing-based transformation processes around the world met for three days to share what we are learning through our work. The night before the Forum, we convened this same group along with all of the invited speakers. Forty of us sat in a circle and shared our aspirations for the highest potential of the Forum (picture). It was the power of this setting that helped this core group to collectively hold the space (collaboratively and without further planning) to maintain a high-quality learning environment for all of the participants over the next two days.


2. Mindful methods and tools. Activating the field of the future requires a method. We call this method "Theory U" or "presencing." It's a process that is grounded in our capacity to pay attention to our attention as the ultimate leverage point for life-enhancing change. To practice paying attention to our attention, Arthur Zajonc, President of the Mind & Life Institute and author of Meditation as Contemplative Inquiry, led us through a mindfulness practice for moving from focused attention to open awareness. For the rest of the Forum, participants were invited to use this mindfulness practice while listening to speakers and story presenters. This created a more empathic and generative quality of collective attention than people are used to experiencing at conferences, where too often we simply debate and re-confirm what we already know.
3. Experiential labs: storytelling and theater. During the afternoon of day one, each participant joined one of eight Experiential Labs. These blended stories told by leading change-makers with group dialogue, personal reflection, and a highly experimental form of collective sense-making we call Social Presencing Theater. In my Lab, Eileen Fisher, CEO and founder of Eileen Fisher Inc., and Michelle Long, Executive Director of BALLE (Business Alliance of Local Living Economies, the fastest-growing network of sustainable enterprises in America), reported on the outcomes of their participation in the Global Wellbeing and Gross National Happiness Lab. During the dialogue, one of the participants said, "I feel that I am watching the beginning of a new movement that blends the power of entrepreneurship with the power of mindfulness and compassion."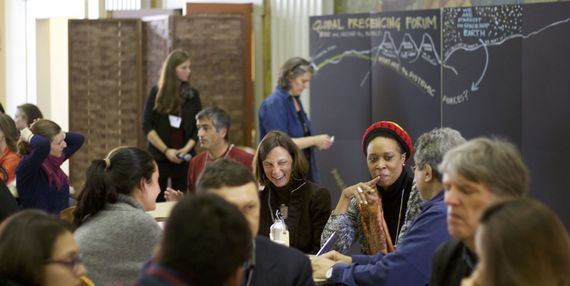 4. Connecting to source. During the evening of the first day, we hosted an East-West dialogue that explored how each of us can access deeper levels of individual awareness. Rabbi Marcelo Bronstein of congregation B'nai Jeshurun in New York City said the process requires us to stop, turn, and listen to what wants to emerge. Tho Ha Vinh of the GNH Centre in Bhutan shared the Bhutanese context of Gross National Happiness and its underlying values and principles. Ego, he explained to us, is essentially about craving and fear, while eco is about compassion and mindfulness. This dialogue echoed themes from earlier in the day when Kang Yoto, an elected leader and Islamic scholar from Bojonegoro, Indonesia, shared his interpretation of Al-Fatihah (the first chapter of the Quran), which, he said, communicates the importance of cooperation and giving to others as opposed to seeking gain for oneself.
5. Awakening the undocumented part of our story. On day two, Sofia Campos, chair of United We Dream (the largest immigrant-youth-led organization in the U.S.) and a Master's student at MIT, talked about the violence experienced by the deeply marginalized groups in U.S. society. She spoke uncomfortable truths: two million undocumented people have been deported since President Obama was elected (a rate of 1,500 each day); two million Americans are incarcerated, mainly black and brown men and most for non-violent drug crimes. The United States leads the world in both of these shameful categories.
Sofia finished by showing this remarkable video, which left many in the audience in tears. "Many of us have undocumented parts of our story," Sofia said. "In order to know others," she continued, "you have to know yourself." Emotions were strong because Sofia brought us back to our awareness of the "undocumented" parts of our collective social experience. In sharing her own story as an undocumented American who arrived as a child with parents fleeing terrorism in their native Peru, she emphasized how essential it is to have space in an open-hearted community that upholds and embraces those who are wrongly criminalized and despised by the larger society, and that does so based on dignity, love, purpose, and compassion.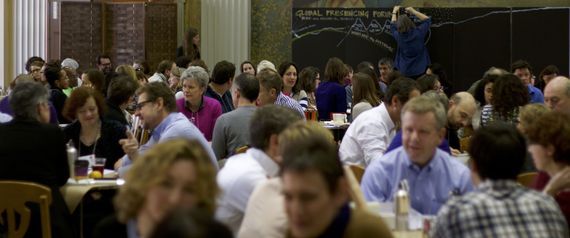 6. Prototyping the new. Nietzsche once said: Art is the only revolutionary force. In the presencing process, we employ a variety of artistic tools that help people crystallize intention into action: guided journaling, drawing, and theater, followed by a quick and chaotic process in which participants search for others with whom they can collaborate on an idea or initiative.
7. Weaving the field of the larger eco-system. At the close of day two, we invited participants to describe some of their emerging initiatives. The landscape of small and not-so-small initiatives and connections will be very interesting to watch and support as their momentum grows. Several individuals commented on the personal and relational shift they experienced over the two days. For example, more than 20 Brazilians attended the Forum, many of whom had not known each other or their projects beforehand. By the end of the Forum many had found connections and possibilities for collaboration; including an intention for a societal transformation "hub" in Sao Paulo that could be an ongoing source of support for these connections.
So, what does it take to awaken the sleepwalking entity that is our collective self? What does it take to sense and actualize the space of future potential around us?
What it takes is a social field and a social space that facilitates a turn, a bending of our beam of observation back onto ourselves, back onto its source. The bending of the beam of observation is called reflection when it happens as a mental process. It's called empathy or compassion when it happens as a process that activates the intelligence of our heart. And it's called entrepreneurship, or love, or collective action when it happens as a process that activates our deepest capacity to create. What I saw at the Forum was the beginning of a collective opening process on all three of these levels: opening the mind (reflection), the heart (compassion) and the will (creative core). When that opening happens, we still have the same problems, but we can approach them more in more present, more connected, and more co-creative ways.
Where have you seen conditions that allow groups to move from the state of sleepwalking (same old, same old) to waking up and co-sensing a new space of possibility? What examples come to your mind, small or big, and what can we learn from them?
Thank you for sharing!
And thanks to Adam Yukelson, Dayna Cunningham, Julia Kim, Katrin Kaufer, and Frans Sugiarta for contributing to this post--and to Kelvy Bird to creating these wonderful graphic recordings!


Related