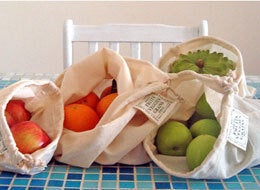 It was just a matter of time before HuffPost added its very own green home page, and I for one am happy to have a cozy section all of our own to share inspirations and ideas with you on a regular basis. Every day I get excited by some new story of green innovation. At stopglobalwarming.org, where over 1 million citizens are demanding solutions to stop global warming, people of all ages post emails to me about clever changes they are making to reduce their carbon footprint. Fantastic stories about people rethinking and re-examining business as usual. So I want to use this space to pass them on to you hoping it will get you re-thinking and re-imaging in all shades of green. If we are going to solve the problems bearing down on us we have to have a complete shift in consciousness. Personal change first. And once the shift begins to take hold, you will never be the same again. I wasn't.
When I first learned that leaving the cell phone charger in the wall after I unplug my phone continues to use energy I couldn't walk past it without unplugging it. Then I noticed that ever present plugged in electric toothbrush and started pulling that out too. OK, cross that one off the list ... next.
That's the point really because as soon as you change one behavior you start looking for other ways to do more. Easy shifts for me included refusing plastic bags at stores (100 billion are thrown away every year!!) and carrying reusable sigg water bottles whenever I can. Its funny how strange drinking from a plastic bottle feels after using the aluminum kind. My plastic obsession (plastic comes from petroleum!) now even extends to regularly refusing the oft unnoticed straw now turning up not just in your ice tea or soda but in glasses of water! Do we really need that trend to take hold? (OK, I'm possibly more obsessed than the average person!)
The next shift happens without even realizing it -- you start to influence your friends. And believe me, peer pressure works! Step three, we are on our way to a better, greener future! My motto is, it's not about everyone doing everything, no one can, but its about everyone doing something! When that happens, I believe we will be well on our way.
So helping us get there are people like Noah Horowitz. Noah, an NRDC engineer (and a guy who's been known to carry a CFL in his front pant pocket, in case he needs to show it to someone) took an item we walk past every day and hardly notice and re-thought it. You would probably be surprised to learn that there is now one soda machine for every 100 Americans! Some 3 million machines are humming away 24 hours a day, 7 days a week, using 10 times more energy than the average refrigerator (the biggest energy user in your home). Noah started looking at solutions like more efficient compressors, fans and lighting. He also rethought some of the simplest things like not having outdoor machines running all night in the middle of winter. The result is new machines that use half the energy of the old ones. And when Coke and Pepsi finish phasing in the new designs, the savings will be 5 billion kilowatt hours per year!
We are all a part of this problem, but the exciting thing is we can all be a part of the solution! Everyday my list of hero's grows. I'd love to hear who your hero's are, what great ideas you are hearing about, your questions and your suggestions. Let's inspire each other! Email your stories and questions to us at StopGlobalWarming.org using our contact form found on the bottom of the homepage. Signing off from the Green Zone, Laurie David
Action Tips:**ONE SOFT DRINK CAN RECYCLED BY EACH ELEMENTARY SCHOOL STUDENT IN AMERICA WOULD SAVE 24.8 MILLION CANS. THAT WOULD BE ENOUGH ALUMINUM TO CREATE 21 BOEING 737 PLANE** **TAKE SHORTER SHOWERS. WATER FOR BATHING ACCOUNTS FOR TWO-THIRDS OF ALL WATER HEATING COST****USING THE SCREENSAVER FEATURE ON YOUR COMPUTER ACTUALLY USES MORE ENERGY THAN LETTING THE COMPUTER GO INTO SLEEP MODE.
Related
Popular in the Community