When you start your Monday with good news and a delicious breakfast, it can lead to a great day. So we've partnered with Jimmy Dean to bring you the top feel-good stories happening across the country, perfect for sharing with family and friends. They remind us that together, we can make the world a better place.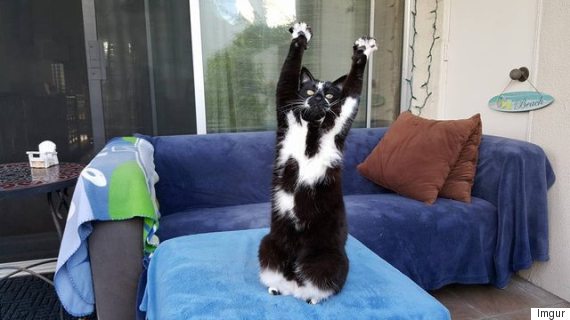 If You Need A Reason To Celebrate
Join Keys the cat in commemorating, well, everything, with an enthusiastic, paws-in-the-air celebration! Keys' photo went viral after being shared on Imgur this past weekend. Her human, Peter Mares, told The Huffington Post that she seems to enjoy her Internet fame, accepting treats as rewards for posing for the camera.
If You're Worried 'Kids These Days' Got No Respect
Meet Amelia Meyer. The 8-year-old brain cancer patient had one wish to be granted from Make-a-Wish Missouri. Instead of choosing that coveted trip to Disney World, she put her community first and asked to help clean up the parks of Kansas City -- which she did, along with hundreds of volunteers, last Saturday.
If You Love A Good Comeback
Get inspired by the monarch butterfly population, which has increased dramatically over the past year after dwindling to a scary number in 2013. The monarch's return to its winter grounds in Mexico City last October has sparked a huge population growth, according to the World Wildlife Fund, and the director of the U.S. Fish and Wildlife Service says we now have the capacity to save the North American population.
If All Those 'Bullying' Headlines Make You Sad
Know that there are many students who share compassion for their classmates. Take the fifth-graders at Mark Bills Middle School in Peoria, Illinois, for example. Several students have been giving up their recess once a week and replacing it with an American Sign Language to better communicate with a deaf classmate.
If You're Scared Of A Tech Takeover
Take a note from Chick-fil-A. The fast food chain is reminding us what really matters at dinnertime (besides food) with an innovation they call the "cell phone coop." To prevent restaurant patrons from staring at their screens, any party who keeps their silenced cellphones inside the cardboard coop for the duration of their meal wins free ice cream cones for dessert.
Jimmy Dean believes that better news and a better breakfast can lead to the most amazing day. That's why Jimmy Dean is encouraging everyone to Shine On with a photo contest that offers a delicious payout. Just snap a photo of your friends or family performing any act of kindness, and submit it to ShineOnPics.com or by using the hashtag #ShineOnPics on Twitter or Instagram. Jimmy Dean will award a lucky winner $500 each week. Get involved. #ShineOnPics
Calling all HuffPost superfans!
Sign up for membership to become a founding member and help shape HuffPost's next chapter