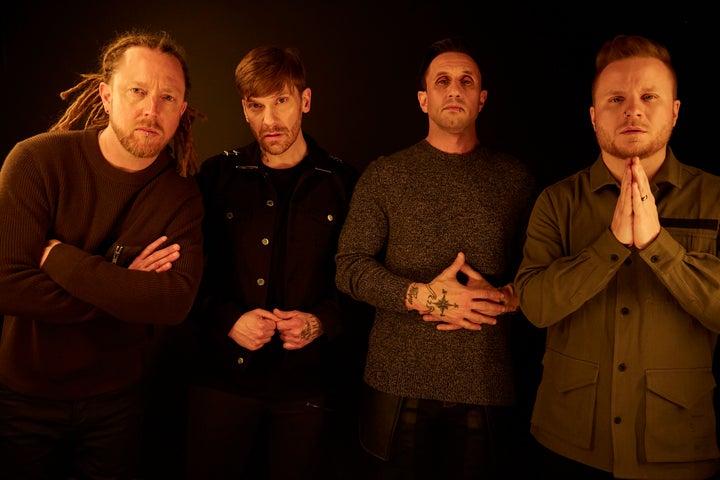 When Shinedown wrote "Get Up," the rock band knew they had something special on their hands. They just didn't realize how much it would resonate with fans.
The track ― which appears on Shinedown's sixth studio album, "Attention Attention" ― was co-written by frontman Brent Smith and bassist Eric Bass.
The two spent a total of 179 days together last year, writing and recording the album in Charleston, South Carolina. Bass had envisioned the music and melody for what would become "Get Up" back in 2016, but it took Smith's lyrics to pull it all together. And Smith felt inspired to write about Bass' experience with depression.
"This wasn't something that I wrote quickly because when he played me the music and we started to look at it, it hit me what it was going to be about. And I was a bit nervous to show it to Eric," Smith told HuffPost.
At some point, Smith finished the song and got up the nerve to play a demo for Bass.
"I remember when it came at me in the speakers, it really, really affected me because as it was playing, I was just getting extremely emotional about it. And it stopped. And I played it again. ... And I said, 'You know what it's about right?' And Eric said, 'Yeah, it's about me.'"
The two members of Shinedown said they always write from a personal place, but this song still felt different. It tackled their own personal issues in ways they had never done before. It also served to launch the rest of the album, which tells the story of an individual's journey from a really bad place to a stronger and healthier place. 
If you were ever in doubt / Don't sell yourself short

"Get Up" lyrics
"Him [Smith] putting the subject matter on me and my depression, and on the issues that I have, made it OK for us to continue writing this record about our demons. We can be really personal about this. Coming off the depression thing with me and writing about Brent's substance abuse issues and alcoholism really made this record about what we've been through the past couple of years," Bass said. "It was actually scary to come out and say, 'This is autobiographical completely,' but it was very liberating as well." 
Just being able to talk more freely about depression and mental health, Bass said, has been about "the best therapy" he's had.
"To have fans now at meet-and-greets and for them to go, 'That song has helped me so much, and for you to be able to talk about your problems has helped me.' It's helped me and continues to help me," Bass said.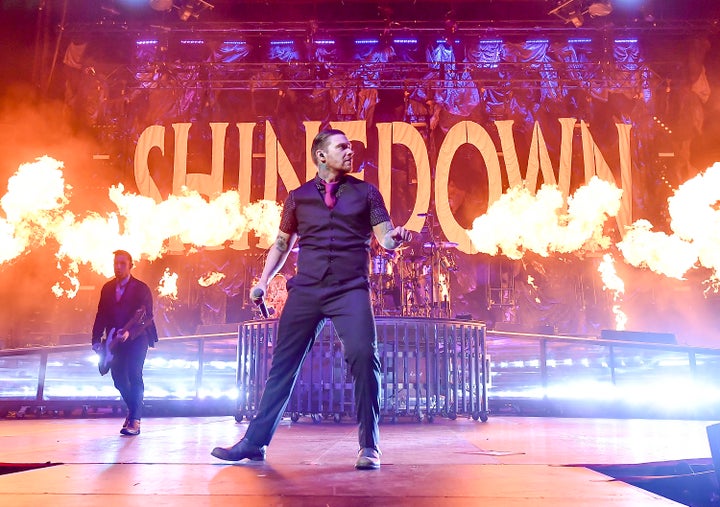 On Wednesday, Shinedown is unveiling the accompanying video for "Get Up." Directed by Bill Yukich (who did Beyoncé's "Lemonade"), the video echoes the sentiment of the song in a very cinematic and nuanced way.
"We didn't want the video to open up in a dark, dark place. … Bill was like, 'I don't want to do that. I don't want to do what everybody thinks we're going to do,'" Smith said. "So let's do something that shows a tremendous amount of heart but also shows a lift. … Of course, it's an emotional video. … We wanted to make the video uplifting and not in a cheesy way."
"Get Up," which began as a song written for a friend and bandmate, is now bringing its inspiring message to millions of listeners. 
"We don't want people to feel ashamed about what they're going through. …You're not going to be defined by your failures. You're going to be defined by the fact that you didn't give up," Smith said, adding, "The song is for the world in a lot of ways."
Calling all HuffPost superfans!
Sign up for membership to become a founding member and help shape HuffPost's next chapter
BEFORE YOU GO