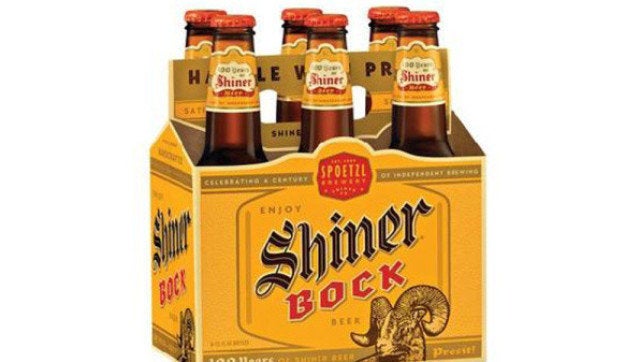 We always want what we can't have -- and for those of us in New York state, that thing is Shiner Bock.
Shiner Bock comes to us (well, not to us, but to other places), courtesy of Spoetzl Brewery. Founded in 1909 by Kosmos Spoetzl (he was German, can you tell?), it is Texas' oldest independent brewery and it churns out a product we just can't get out of our heads. Although the brewery does make other beers, Shiner Bock is its flagship brew. So, why do we love it so much? It's sort of hard to explain articulately (Texas, pipe in whenever you want to, here): Shiner is just great drinking beer. It goes perfectly with barbecue, has a deep, malty flavor but never feels overpowering or heavy. Also, maybe we just love that yellow label with the ram's head on it.
Here's what the brewery has to say about its signature beverage:
Bock reflects the tradition of genuine Bavarian beers as a brew only a craftsman like Kosmos Spoetzl, trained in the "Old Country," could bring to life. With its deep amber color, distinctive rich flavor and full body, Shiner Bock demonstrates the care of a handcrafted brewing process to bring forth a mellow taste free of the bitter aftertaste found in many micro, specialty and imported beers. Just think of it as Shiner smooth.
Originally considered a "lent beer," and only produced in the spring, the people spoke -- and when they spoke, they demanded Shiner Bock year-round. Why can't we get it here in New York? It's long been cited as a distribution issue -- Spoetzl Brewery has long-maintained the stance that they'd rather keep their beers closer to home than farm out production to other breweries. But, as of 2012, Spoetzl ranks as the fourth-largest craft brewery in America. So, we're keeping our fingers crossed.
But, something new is spurring on our hope to soon sip cold Shiners with our cheeseburgers: in the screenshot below, you'll see what happens when you click on New York in the "Find My Shiner" section of their website.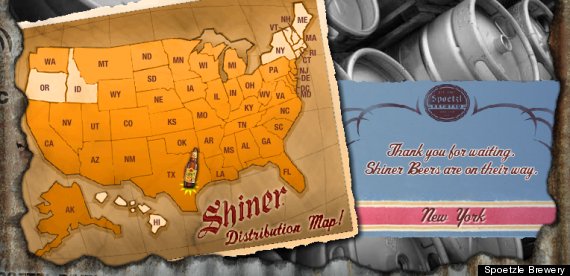 You hear that, NY? Shiner beers are on their way! Thanks for sharing, Texas.