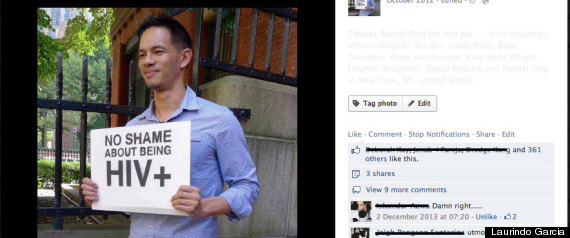 As the New Year kicks off, I look back at the last 12 months as reflected by Facebook. My "most liked" post of the year is a timeline photo from Dec. 1 that attracted over 350 likes. This Facebook statistic pales in comparison to the popularity of photo collages adorned with frolicking kittens, or fan videos of pop stars twerking up a media storm.
In contrast to kittens and pop stars, my post is a photo of me holding up a sign saying "No shame about being HIV+." At the time I thought that it would make an apt "profile pic" in honour of World AIDS Day.
That profile pic comes long after my first public disclosure, which took place in 2011 during a speech I made in Manila, Philippines, where I live. In that speech I spoke openly about being gay and HIV-positive. My disclosure went somewhat "viral" in 2012 in a YouTube video I filmed for the Here I Am Campaign.
My family and my partner of almost 10 years know my status, so by coming out in social networks and other media, I felt I had come to terms with the world knowing, too. But my World AIDS Day Facebook post last year pushed my personal comfort zone in ways only imaginable because of our interconnected "Web 2.0" world.
Over this festive period, I was introduced to a new friend at a big beach party while on a visit to Singapore; I live in Southeast Asia, so December is the perfect time to have sand between your toes. My new friend and I were building our acquaintance while dance music throbbed in the distance. We chatted away and after a few drinks, the perennial 21st-century question came up: "Are you on Facebook? Add me!" and a phone was handed to me with a gesture that I should type my name into his friends list. As I proceeded to type, the thought struck me: He's going to see that photo on my profile.
To be honest I thought my HIV status was old news. I've gotten used to the idea of being one of only a handful of gay Asian "poster boys," openly living with the virus. I assumed my very public photographic disclosure on Facebook was no big deal. But I had never expected my World AIDS Day statement to punctuate an introduction to new friends at a beach party; especially with ones whom, admittedly, I found cute.
In that sobering instant, my brain was awash with all the insecurities and fears that haunt almost everyone living with HIV: fear of rejection, shame that we're seen as "damaged goods."
I gulped down some courage, reminded myself of the original intent of the photograph and then passed the phone back to my new friend with my "no shame in being HIV+" pic in full view. The glow from his phone provided sufficient illumination to see him perplexed and looking twice at the small screen.
I broke the awkward silence by smiling, saying, "Yeah, that's me, it's my job", took another gulp of my drink and kept on dancing. That same scenario played out three times over the course of the party as I was introduced to more new people -- it was the festive season after all.
All three introductions resulted in similar perplexed reactions. And in all three cases that initial perplexity was swiftly overcome with warmth and appreciation of the meaning of my Facebook post and even a couple of big hugs. My own momentary flash of fear and shame melted away when I opened my eyes to comedy of the situation. I could only laugh.
That initial awkwardness from my new friends at the beach party, as well as my own insecurities, are all by-products of the unsettling and sometimes destructive machinations of stigma. Like it or not, HIV is the playground of stigma.
Yet after 30 years of the epidemic, advances in treatment prompted a group of clinicians to go public with the Swiss Statement in 2008. The statement proclaimed that the risk of transmission through sexual contact with a person living with HIV is estimated to be in the region of one in 100,000 provided that the person living with HIV has successfully suppressed the virus using ongoing antiretroviral medication. Odds like these are within the same realm as risking an accident when walking out your front door or crossing the street. Moreover, the Swiss Statement reminds us that there is no such thing as 100-percent safe sex. All sex, and in fact, all of life, comes with risk.
Yet despite the science, we humans are very good at flouting evidence and fanning stigma in its many forms. For some people, putting on a condom triggers a lack of trust between intimate partners. For others, going for an HIV test might signify that you've done something bad. And for many people living with HIV, hiding one's lifesaving antiretroviral medication from family, friends or in some cases government officials, is essential for avoiding retribution or worse.
We can credit stigma for enabling a culture of concealment; concealment fuels distrust, and thus a vicious cycle ensues.
I see this cycle play out everyday, when I get invitations to add friends with faceless Facebook profiles that use codified, HIV-related alias profile names. Many people, particularly gay men, have resorted to constructing a "poz" profile so that they can seek information about living with the virus anonymously. Is this the type of world we want: a world where people must hide in order to feel safer and stay healthy?
Stigma comes in many forms, and it's no surprise that it haunts marginalised groups around the world without exception. But a potent and proven antidote to stigma is visibility. The visibility of the oppressed has transformed many social justice agendas over generations; from the women's movement to the civil rights advocates combatting racial discrimination. Yet, in both these cases there is still so much work to be done.
Individuals indeed have an absolute right to privacy over their personal lives. Proper safeguards on an individual's medical data are intrinsic to this right. But nothing will change unless more individuals choose to step into the spotlight, making their voices heard so others can understand that regardless of HIV status, race, religion or the expression of one's gender we are all flesh and blood, and we all have the right to happiness.
We are in the midst of culture wars globally, where issues of sexual rights, sexual orientation, gender equality, identity and expression have become the battlefields. Stigma remains an insidious weapon in the arsenal of the conservative right in all these battles.
As we begin 2014 we are encouraged by recent strides towards the eradication of discrimination. But I wonder: what more can we do defeat stigma? The battle over stigma will not be won in parliamentary halls or courtrooms. It will won in people's homes, bedrooms, classrooms, at business lunches, family reunions and even at beach parties. My hope is that this year you will join me in confronting and combatting stigma in all its forms.