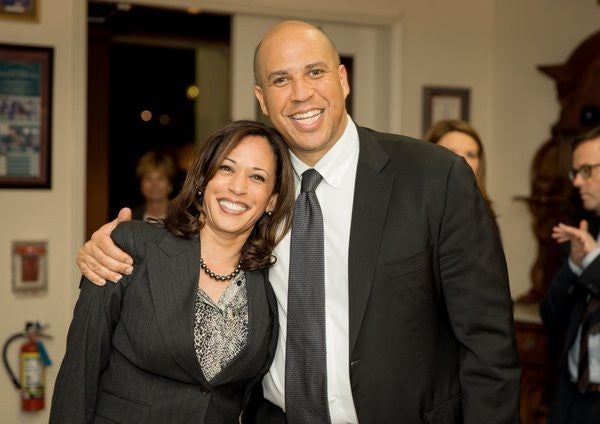 Spotlighting the Senate's rising stars Kamala Harris and Cory Booker who also happen to be showing their #blackgirlmagic and #blackboyjoy
During Black History Month its seems that we tend to recognize the same individuals from the past (Dr. Martin Luther King Jr., Rosa Parks, Harriet Tubman, Fredrick Douglass and you know the rest.) Not throwing any shade at these groundbreaking leaders, but lets change it up a bit for the first black history month during the Trump era. With only little over a month into the Trump administration and over 25 executive orders already signed, we need to spotlight some of our current black stars for this month also referred to as Black Future Month.
I was going to stay bipartisan and highlight all three senators, however that changed when Tim Scott decided to defend Jeff Sessions for the Attorney General position by disregarding his proven racism. Highlighting him after this event seems wrong for a Black History Month piece, so lets focus our attention on the other two black senators who may or may not run for president in the near future.
Let's start with the freshman Kamala Harris who has only been in office for a couple of months with many already knowing her name. Kamala has a strong resume being a graduate of America's oldest historically black university, Howard University. She also made history as the first African American AND first woman to serve as the Attorney General of California. You have probably heard her name for being one of the Democratic senators who spoke on the Senate floor in the all-night debate against the President's nomination of Betsy DeVos for Education Secretary. Kamala is putting her money where her mouth is and has already made initiatives going against President Trump's dangerous executive orders. Her first proposed bill addressed the recent travel ban, which would provide access to a lawyer to anyone held or detained while trying to enter the United States. Outside of her Senate office she stood alongside the women in Washington D.C for this year's Women's March bringing intersectionality to feminism. She peacefully and elegantly addressed how women's issues are simply issues affecting all of America such as the economy, health care, criminal justice reform, climate change, etc. Kamala's presence is essential to the representation of black females as she continues to defy the negative stereotypes associated with black women in society.
There is no doubt in my mind that we will continue to hear about Kamala Harris and Cory Booker, especially at a time where they publicly disagree with the current Commander-in-Chief. An issue that I expect to hear a lot from these two are criminal justice reform since Harris and Booker both have a history of trying to change our system. Booker is credited for the bipartisan Record Expungement Designed to Enhance Employment, or the REDEEM Act, which would make it easier for nonviolent criminals to be accepted into society. Personally, I got the chance to witness Booker speak on the issue last year when he came to my school, Montclair State University, and you can hear his passion on criminal justice reform in his voice. Unfortunately, I have not had the chance to witness a speech from Kamala Harris, but as a prosecutor she has much knowledge on the devastating effects of mass incarceration, which she touches on in her book Smart on Crime. In her career she has worked with California's police officers and has contributed to implementing the use of body cameras, standards for handling officer misconduct and extensive training on use of force.
Expect to hear much more about Kamala Harris and Cory Booker for a long time because I don't see these two being quiet anytime soon.
And of course, Happy Black History Month and Black Future Month!
Related
Popular in the Community