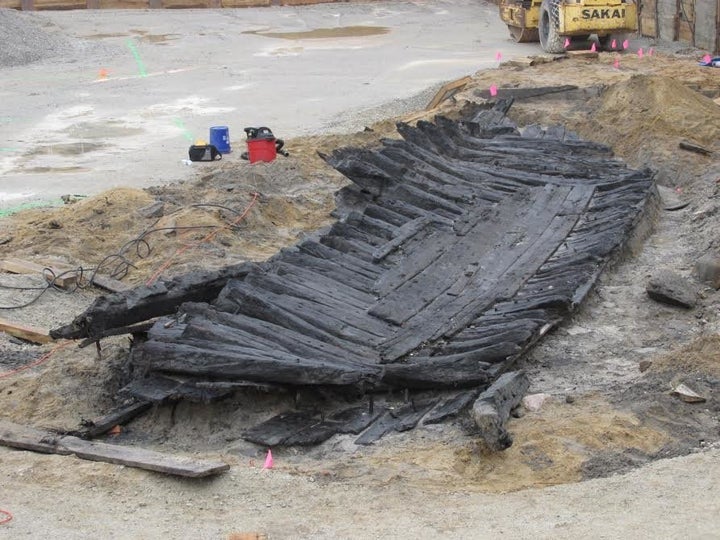 The remains of a Revolutionary War-era ship have been uncovered beneath a hotel construction site outside Washington, D.C., the second archeological find in the area in weeks.
A 50-foot-long wooden hull, estimated to be about 250 years old, is currently being excavated in Old Town Alexandria in northern Virginia after its discovery by construction workers last month, archeologists said.
"It's a fairly large ship so it was most likely a trading vessel or a warship," Boyd Sipe, manager of Thunderbird Archeology, told The Huffington Post Wednesday. Thunderbird Archeology is a division of Wetland Studies, the company that is handling the dig.
Archeologists describe the remains -- believed to be just one-third of the ship's hull -- as remarkably preserved, thanks to the area's oxygen-starved mud, where the ship was buried.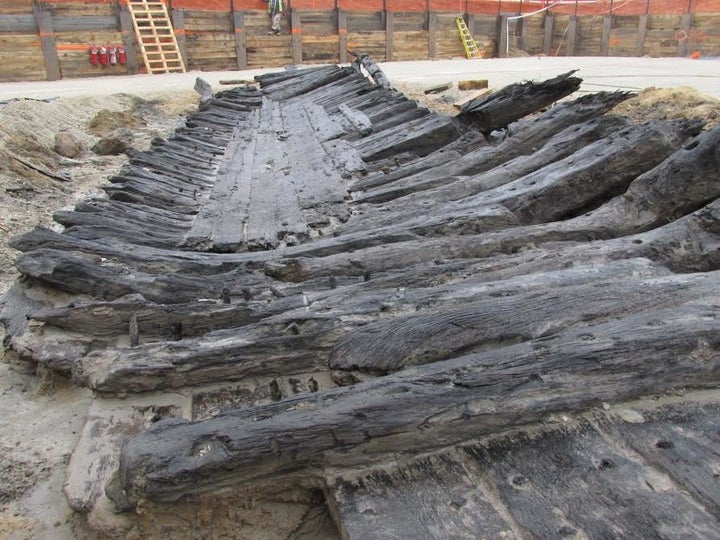 In a process called "banking out," 18th-century residents intentionally buried the scuttled ship and other wooden objects to extend the shoreline, filling in an area that was once part of the Potomac River. They then covered those structures with soil to create new land, Sipe said.
As it turns out, 18th-century man's trash ended up being 21st-century man's treasure.
"That's what archeology's all about," Sipe said. "We're the trash collectors for the dead."
On Tuesday flocks of residents and sightseers crowded around the excavation site, hoping to get a look at the city's centuries-old secret, located about 8 miles south of the nation's capital.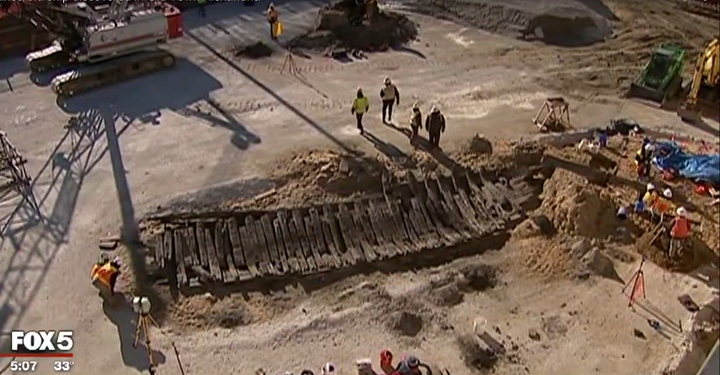 "It's like a great window into the past," said another.
Though the discovery is a surprise for many, it didn't come entirely out of the blue.
Just a few weeks earlier, the remains of what's believed to be the city's first public warehouse, built in 1756, were found near the same site.
Its timber, like the ship's, was also well preserved thanks to the soil, archeologists said.
Sipe said they have to keep the wood wet, if not completely submerged in water, to prevent it from rotting now that it's exposed.
"It's probably a few weeks to a month before you get sort of irreversible damage [like] mold growing on them," he said.
Another option, should funding not be readily available for the structures' preservation, would be storing the timbers in a lake.
"If they're submerged in a lake, that would arrest the decomposition process," Sipe said.
He expects to wrap up work at the site by early next week at the latest, he said.
Archeologists are currently working to document the site with photographs, 3D laser scanning and measurements. They'll then dismantle the beams and transport them to another site where the ruins can be further studied and possibly preserved, he said.
Wood samples have also been taken in hopes of analyzing the timbers' tree ring data to determine the wood's age and where it came from, he said.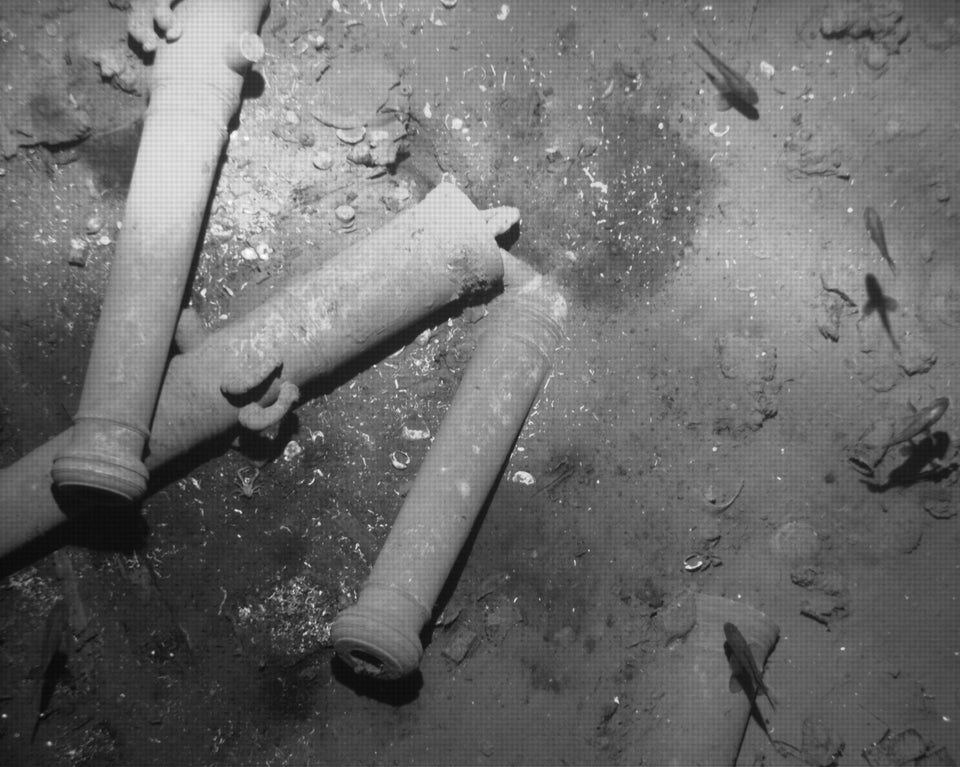 18th Century Shipwreck Found Off Colombia's Coast
Popular in the Community